Shorting stocks due solely to high valuations is often a dangerous task. First, the company may actually grow earnings and cash flow enough to make the valuation reasonable to the point where the share price doesn't decline significantly, or at all.
Secondly, waiting around for the market to figure out a company is overvalued can be quite counterproductive from the active trader's perspective. After all, what really is the difference between a multi-billion dollar company trading at 80 times earnings or 100 times earnings? How about an $11 billion company trading for 600 versus 800 times earnings? Either way, we can deduce that there are some seriously optimistic expectations priced into the stock.
That $11 billion company, as you probably guessed, is LinkedIn (NYSE:LNKD). While its excessive valuation adds to its appeal as a short, its poor business prospects are far more relevant for short sellers.
Strange Disclosure
Upon reading LNKD's 2011 10-K, I came across a rather peculiar disclosure:
We expect our revenue growth rate to decline, and, as our costs increase. We may not be able to generate sufficient revenue to sustain our profitability over the long term.
So they don't expect their torrid revenue growth of 88% per annum (from 2008 to 2011) to continue; fair enough. I'd certainly hope no investors expect 88% annual sales growth. However, the risk factor in stating that some investments may result in long term losses should they prove ill-advised is quite a statement for a company trading at 700 times earnings.
Further explanation notes that large-scale investments are necessary in LNKD's technology infrastructure, particularly security, website architecture, and so forth. Once again, quite a normal statement, but do they really feel the need to disclose that profits are so slim that, as a result of slower revenue growth, profitability might not last in the long-term? That's the kind of risk factor I'd like to stay away from when investing in a company that would take me 700 years to make my initial investment back if earnings never grew.
The disclosure essentially summarizes what is already apparent, however. LinkedIn is a marginally profitable social media company with few options to increase monetization.
Other Business Risks
Several risks to the sustainability of LinkedIn's long term business are not discounted in the current share price.
The first is that while LinkedIn's service offers a higher quality candidate than similar sites, the ability for behemoths like Microsoft (NASDAQ:MSFT), Salesforce (NYSE:CRM), Google (NASDAQ:GOOG), and even Facebook (NASDAQ:FB) to steal market share and reduce profitability for LinkedIn is extremely important to note. These companies already have access to extremely vast databases of professional information, and in Google and Facebook's cases, have the analytics and users that LinkedIn can't compete with.
This dynamic leads into the point that networking sites like LinkedIn have low barriers to entry, which make it exceptionally difficult to maintain margins, and thus profitability, over a period of several years. Over time, if firms like Microsoft, Salesforce, and Facebook find the professional networking space to be a profitable venture, they will enter the business and make sure LinkedIn doesn't earn above the normal rate of return; this is a simple microeconomic concept for firms in businesses with weak barriers to entry.
Granted, it takes time to build a network with strong visibility that LinkedIn has today. The important factor from an investment standpoint is that it can and will be done should the aforementioned firms, or other competitors, deem it a potentially profitable decision. Therefore, LinkedIn's present earnings and cash flows should be discounted far more heavily than they are today. The discount rate for cash flows is the normal rate of return plus an appropriate risk percentage rate; there are no long-term contracts binding users to social networking sites like LNKD, few barriers to entry, and the risk discount rate increases incrementally the further we project out due to unpredictability and rapid change of internet firms. Today's share price simply doesn't discount cash flows in an appropriate manner.
Shareholder Risk
According to its 10-K, executive directors, officers, and other employees own 94% of the voting power, due to the dual share class structure that was in place before the IPO. As a result, owners of class A shares have essentially no say in important business operations.
Quality Of Users
LinkedIn has had significant issues regarding spammers on its site. Though the company claims to have over 150 million users, it seems likely that a good portion of these accounts are either inactive or spam. Additionally, with roughly half of LNKD's users coming from emerging markets, the attractiveness to advertisers, and thus the potential monetization of those users, is far less than the market is currently pricing in.
What Does The Market Actually Expect From LinkedIn?
Though shorting based on a quick look at valuation is generally foolish, the failure to meet unrealistic expectations will often make a stock a solid catalyst for downward pressure.
LinkedIn is expected to grow earnings at a rate of 65% annually over the next five years. In five years, that means earnings would come in at about $2 per share. After five years of torrid earnings growth, LNKD would still be trading at over 50 times earnings. Of course, this assumes the stock doesn't rise at all; quite a poor rate of return for five years with no dividends to speak of.
It's a pretty simple dynamic: in order for LinkedIn to outperform the market (which is a necessity if you are going to invest in anything but SPY), earnings must drastically exceed lofty analyst expectations over the next few years.
Even worse, however, is cash flow generation. Over time, valuations follow cash flow far more closely than earnings. Over the past four quarters, LNKD has generated a measly $74 million of free cash flow, and growth in this figure has been inconsistent on a quarterly basis. LinkedIn is trading at 150 times FCF. In five years time, at current prices, LNKD should be generating at least $500-$750 million in FCF. The mid-case scenario requires 745% FCF growth over that time; unlikely to say the least.
Technical Picture & Entry Point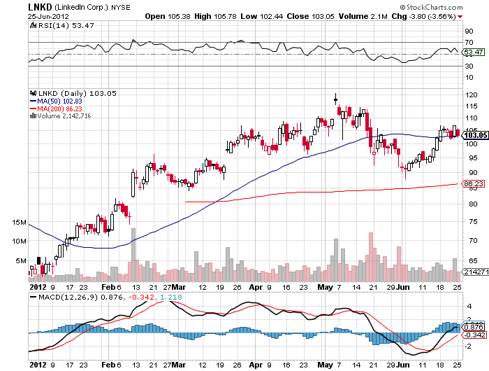 LinkedIn's stock price appears to be losing steam around its 50 day moving average. With such a rapid selloff after topping out in May, there is going to be an excessive amount of sellers (who want to break even) coming into the marketplace if LNKD's stock ever gets to $115 again.
With European and other macroeconomic issues still swarming in the market, expect another leg down in broader equities, which will hit richly valued stocks like LNKD particularly hard.
Conclusion
Overall market weakness over the coming months is going to begin to reattach LinkedIn to its fundamentals and intrinsic value. Look to see what the stock price does over the next few weeks in particular; a significant break under the 50 DMA should result in another test of the $90 region. Should the stock test $110-$115 and make new highs, wait for it to run out of steam before initiating a short position.
Disclosure: I have no positions in any stocks mentioned, and no plans to initiate any positions within the next 72 hours. We will likely purchase put options on (LNKD) within the next few weeks.