Arena Pharmaceuticals (NASDAQ:ARNA) just got its anti-obesity drug approved by the FDA. Belviq, a drug that is in pill form, is designed for obese and overweight people.
Arena did have previous problems with the drug after the FDA initially rejected the drug in 2010. However, Arena's new data showed less risk than the previous data that was submitted to the FDA. This is not only an important development for Arena, but also for the healthcare industry. Its been almost 13 years since a similar drug was approved.
Arena shares are already up more than 30% on the news. However, I believe the stock has the potential to nearly double. I estimate the stock could be worth $20 per share.
Obesity is on the rise in the United States. There are no signs of growth slowing down.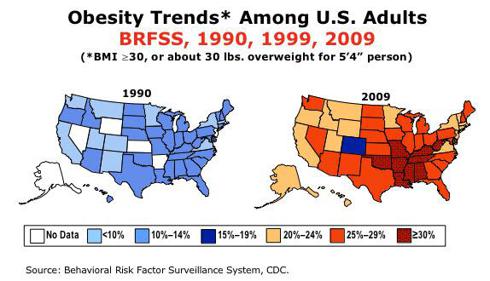 If we got back to our $20 price target, that places the market cap of the company at $3.6 billion.
It's estimated that the U.S. weight loss market is worth $60.9 billion. Marketdata expects OTC diet pills to increase 3.3% annually until 2014. This growth rate is more than the GDP growth of the United States. Keep in mind that this is just the market for OTC pills.
Arena is entering a domain, where there are few competitors and high barriers to entry. A $3.6 billion valuation is fairly reasonable for a company that will have large market share in a profitable segment with a lot of growth.
I expect the company can net $300 - $500 million in annual income if they are able to properly monetize on the market. This would easily justify a $20 share price.
Investors should consider buying the stock after today's news. Even though the stock has jumped up, the company might be a market leader in the diet drug space. There is plenty of growth ahead in this market. I do believe that Belviq can turn Arena into a $3.6 billion company.
Disclosure: I have no positions in any stocks mentioned, but may initiate a long position in ARNA over the next 72 hours.