Exxon Mobil (NYSE:XOM) has an extremely bright future ahead of it, but my crystal ball tells me that this future is not as clear as the ball itself. Exxon may be situated in an industry that will be needed as far as the eye can see, but this does not mean the path will be easy. Whether our energy attention turns to other sources is irrelevant because Exxon is or will be able to enter different markets with relative ease. In other words, it is difficult to determine which energy sources will be used in the future, but Exxon has the means to acquire its way into any market.
With that said not all is quiet on the western front. Since the majority of Exxon's revenue and margins are based upon oil prices then the energy giant will be at the mercy of oil prices. In fact there is a strong correlation between Exxon's revenue, income, profit margin, and stock price with the price of oil over the past decade.
This is important to discuss and note for several reasons. The first is that if oil prices climb then Exxon will be a great stock to have in your portfolio. Unfortunately I do not expect this to happen. As I have stated before, the majority of consumers are not willing to pay for gas as it gets up in the high $4 per gallon range. Therefore if oil and gas prices continue to climb then demand will drop and the subsequent buildup in supply will cause oil and pump prices to decrease. However, inflation and/or wages can counter this. If inflation and/or wages increase to the point where $5 or $6 per gallon is equal to $3.50 then demand will increase.
Furthermore, Exxon's financial sheets and share price will struggle if oil prices maintain depressed levels. Unfortunately oil prices will remain depressed because we are in the midst of an oil drilling bubble. The oil drilling bubble is consequently causing oil supply and inventory levels to increase. In summary, due to the increased price in oil over the past 5-6 years more businesses see a strong risk/reward profile for drilling. Thus causing a bubble that will ultimately keep oil prices down.
Most importantly, these trends will lead to a decline in oil prices and pump prices. We have seen hints of this very recently as oil reserves have increased causing oil and pump prices to decrease. And with gas companies attempting to build higher profit margins via high pump prices that do not correlate with the price of oil then demand will not increase.
With that said, we can add some meat to our qualitative bones. The last time we saw oil prices skyrocket was in 2008. WTI crude was trading over $140/ barrel and consumers were spending more at the pump then ever seen before. In turn Exxon, Marathon Oil (NYSE:MRO), British Petroleum (NYSE:BP), and Royal Dutch Shell (NYSE:RDS.A) were trading at all-time highs of about 93, 60, 78, and 87 respectively. And by viewing revenue, income, and margin data it is easy to see why the stocks were trading so high. Exxon was fresh off 10% profit margins in 2005, 2006, and 2007 due mostly in part to a sharp increase in oil prices during the period. In 2008 net margins slid to 9.83%, which is understandable because oil prices slid for the most part of 2008. Despite this, revenue for the energy giant soared to $459.6 billion in 2008; which was a 17.7% increase on a year over year basis.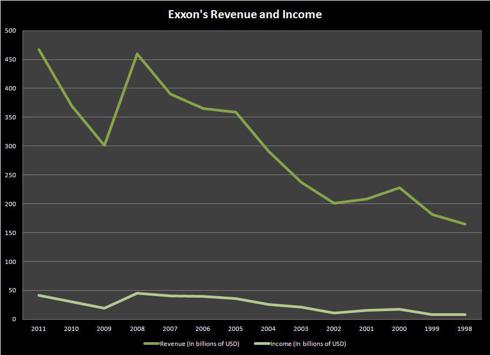 (Source: StopETFs.com)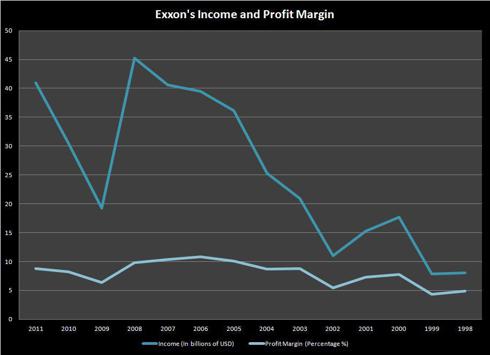 (Source: StopETFs.com)
Similarly, Chevron (NYSE:CVX) set a revenue all-time high in 2008 by producing $264 billion on a 9% profit margin. There is one key difference though. Chevron was at all time high levels in March. This is important for two reasons. The first, is that if oil prices rise then Chevron's share price will move higher compared to Exxon because Chevron has stronger margins.
Secondly, since Chevron has been able to keep margins at relatively strong and stable levels, we will not see Chevron's relative income decrease as substantially as Exxon during periods of weakness. This is important for Chevron's stock price because during periods when revenue decreases it can help to sooth investors if a firm shows that relative income is increasing.
Moving forward, it is important to note the increase in the growth rate for the price of WTI crude and the increase in Exxon's revenue and margins in 2006, 2007, and 2008. Up until about July and August of 2006 the price of crude was inching higher, but in the summer of 2006 the growth rate increased. After 2008 oil prices plummeted along with the American economy and it was no surprise that Exxon's income statement turned ugly for the year 2009. A nice 34% decline in revenue on a year over year basis caused Exxon's share price to dive. Not to mention Exxon's 2009 net margin of 6.4% was the lowest since 2002; which also happened to be a disastrous year for oil prices. Prior to 2002, the worst net margin was 4.34% in 1999.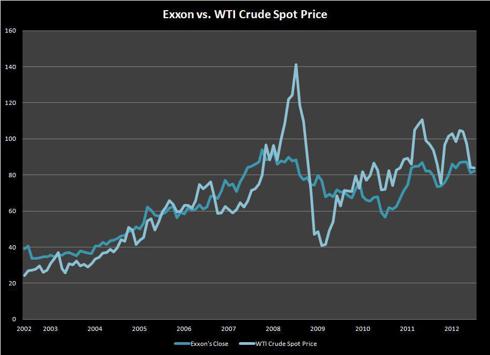 (Source: StopeETFs.com)
After the 2009 bottom we have seen the price of WTI crude increase at a rapid rate. This has helped Exxon increase revenue 22.9% in 2010 and 26.2% in 2011 on a year over year basis. To go along with this, Exxon's profit margin increased back above 8%. Unsurprisingly Exxon's stock came close to an all-time high last year due to the higher than average crude price throughout the year.
By now a crystal clear pattern should be forming. This pattern is that as WTI crude prices increase, Exxon's share price and income statement improve. Or the converse, which is that as WTI crude prices decrease then Exxon's share price and income statement worsen. This should not be surprising and making this connection does not deserve a Nobel Prize but what is important to note is that moving forward I expect to see WTI prices stagnate in the 85-95 range. We will inevitably see spikes that take the price lower and higher, but overall we will not see another extreme spike that takes oil up to 140. There is simply too many forces against that. Unless inflation and/or wages increase causing 140 to be the new standard.
What does this mean for stocks such as Exxon and Chevron? Well, we have seen oil prices increase over the past two years and consequently we have seen both firms perform extraordinarily well. Assuming oil prices stagnate, I expect to see Exxon and Chevron continue to increase revenue. But the key will be how well either firm improves on the margin side of the equation. In fact, revenue can easily be increased via acquisitions, opening new stores, and/or drilling for more oil. This is why margins will be the key.
If oil prices recede lower than anticipated then we will see some big misses from Exxon and other oil companies. This will take its toll on Exxon's stock price because investors and traders will need to reduce the stock price in order to match the prospects of Exxon's future. Most importantly, this is the scenario I expect to play out. One clear trend we have seen is that consumers do not like to spend their paychecks at the pump. Not to mention automakers are developing more efficient vehicles. Again though, this is why maintaining tight margins is the key. Without improving margins investors will see Exxon struggle over the next several years.
Disclosure: I am long XOM.