Pembina (NYSE:PBA) an energy transportation and service provider company in Canada that operates in Conventional Pipelines, Oil Sands & Heavy Oil, Midstream & Marketing, and Gas Services has recently listed on the New York Stock Exchange due to its purchase of Provident Energy. This stock may have caught some shareholders by surprise due to its recent increased in volatility. Much of it can be attributed to its listing on US markets which has made the stock itself more susceptible to institutional scrutiny and manipulations as well as being traded in two currencies thus moving with currency fluctuations.
Pembina has also been more volatile since investors are seeing it as less of a pure play pipeline stock due to its acquisition of Provident Energy, which had a large portion of its business in natural gas liquids infrastructure. With this addition Pembina has now become one of Canada's largest pipeline and natural gas processing companies, making it much more integrated than it was before. As seen from Pembina's June Investor Presentation slides, the majority of the company's business is still largely storage and transportation of oil and gas with a small portion coming from gathering and processing natural gas.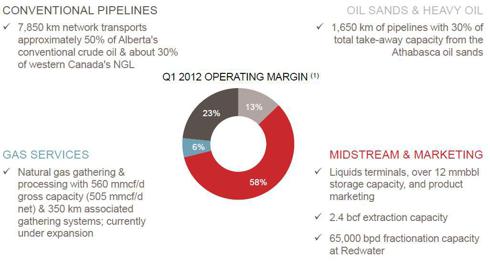 Pembina's management has always been consistent and has expansive growth plans in the years to come, as per the company's Q1 presentaton they intend to add approximately $120-160 million to their EBITDA by 2014 through new expansion projects. Pembina has also paid out over $2 billion of dividends since inception and has raised its dividends consistently from $0.088 per month in 2005 to $0.135 per month currently, which yields 6.56% based on the Monday June 25th close of $24.69.
Since the markets have such large uncertainties due to Europe's debt situation, China's slowing growth, along with the American economy's recovery, it is sound to be in high dividend yielding stocks that pays investors to wait. Usually, utility sectors outperform the markets during prolonged declines.
Based on the companies current downside movement it is looking like an attractive buy. Much of the downside move has been created out of panic in the general markets, along with the drop in oil prices which usually spills over to affect utilities to a small degree even though many are fee based and do not actually get affected by price fluctuations.
Based on stockcharts.com Pembina currently has an RSI of 29.55 which based on contrarian investing would mean that the stock has now become oversold since the relative strength has reached below 30.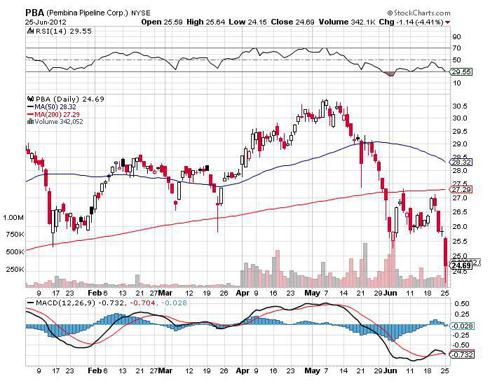 Although Pembina is quite richly valued it does provide a steady stream of cash flow along with a compelling management team and with the new Provident assets the company will be able to take advantage of its economies of scale to increase profitability through expansive growth projects and efficient capital budgeting. In the long term Canada's oil sands will continue to be exploited for its large natural resource deposits which will continue to increase the demand for Pembina's pipelines. To put it in perspective, in a recent news article, the National Energy Board reports that Oilsands production in Canada will likely triple by 2035, which evidently will demand an increase in transportation and storage of the extracted fluids.
Disclosure: I have no positions in any stocks mentioned, but may initiate a long position in PBA over the next 72 hours.