Today, the FDA approved Arena's (NASDAQ:ARNA) weight-loss drug Lorcaserin. The share price soared to as high as $13 right after the news broke out.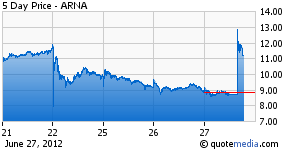 One of the most actively traded stocks lately, Arena has attracted many traders betting on either side of the FDA's decision. Short term options became the perfect medium for betting on this event among traders with gambling habits. Were options really the right trading vehicle for this bet?
Today, after the news, both out-of-money call and put options expiring in June lost money (see the table below). What a miserable lose-lose situation for gamblers on both sides of the aisle.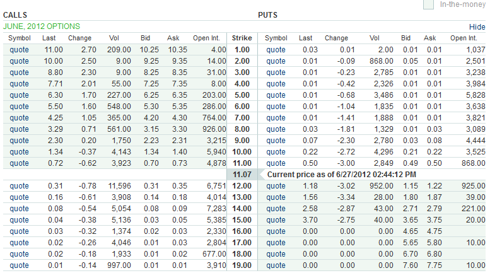 Click to enlarge
Arena closed at $8.85 yesterday. It is not surprising that those who bet on FDA rejection and bought put options all most money. However, even those who bet on FDA approval and bought call options with strike price at $10 and above lost money.
This is such a nightmare for option gamblers. This however, is not the first time, and perhaps not the last time that misuse of options for betting purpose leads to terrible trading losses.
In an event like drug decision by the FDA with a known date, it is almost rarely very profitable to put directional bet using call or put options. The reason is mainly because prior to an event like this, the implicit volatility of options rises like crazy, since the market expects large stock price movement. This in turn pushes both call and put options to become insanely expensive. Unless the price movement is huge (for example, at least 50% in either direction), people betting on either direction using options will lose money.
History is repeating itself.
On October 20, 2010, Amylin Pharmaceuticals (AMLN) was getting pounded, losing half of its value when the FDA declined to approve Bydureon as a potential diabetes drug. The FDA requested more testing. On that trade, the call options were wiped out, and the put options made some money, but doubtfully worthwhile for the kind of risk taken.
On November 2, 2009, the FDA rejected the GTx (NASDAQ:GTXI) experimental drug to reduce fractures in men with prostate cancer. GTx was similarly asked to conduct another study. The company's shares were down 40% on that morning. No call or put option bets made much money off this event.
When are option bets more likely to be profitable then? When the implicit volatility is low and the market doesn't have a sure expectation for news.
For example, in September 2009, Osiris Therapeutics (NASDAQ:OSIR) reported preliminary results from two Phase III trials evaluating Prochymal for the treatment of acute graft-versus-host disease. Unfortunately, neither trial reached its primary endpoint, sending shares from $14 to a 52-week low of $5.35 by November 2009. Since this announcement didn't have a known date publicly, bearish bets could potentially be very profitable.
Disclosure: I have no positions in any stocks mentioned, and no plans to initiate any positions within the next 72 hours.