Well I'm heavenly blessed and worldly wise
I'm a peeping-tom techie with x-ray eyes
Things are going great, and they're only getting better
I'm doing all right, getting good grades
The future's so bright, I gotta wear shades

"Future's So Bright, I Gotta Wear Shades" -- Timbuk 3

Let's be honest, Apple (NASDAQ:AAPL) bulls have their shades permanently attached to their faces. Who cares about stagnant global economic growth? All is well in Apple-land, right?
We've written a few articles on Apple over the past month or so, all of which have had an overriding cautious tone (not negative, but cautious). While we own Apple stock and we like the company, we feel that Apple investor's expectations have become too high.
It's almost comical to read the defensive, one-sided comments in our past articles from the Apple faithful. They refuse to even consider the possibility that Apple might not hit their lofty projections this quarter.
It's truly amazing how much conviction Apple bulls have about the bright future for the stock ... and they are so quick to put anyone who disagrees in their place. This is the exact reason why we continue to tread with caution.
Analysts Have Been Wrong For Years
Let's face it, Apple analysts have been dead wrong for the past few years. It just so happens that they have historically underestimated Apple's earnings growth. No harm, no foul, right?
Humor us for a minute and consider the possibility that Apple misses earnings to the downside. It may not be highly probable, but it is certainly possible.
Analysts' expectations have increased exponentially for Apple over the past six months. Bank of America (NYSE:BAC) currently has one of the highest estimates for 2012E EPS ($49.60). This estimate is up almost 14% from their estimate in late January ($43.65). How can you hang your hat on that?
Personally, we think investors are being somewhat overly optimistic about the China Mobile (NYSE:CHL) iPhone and the iTV. The stock is most likely priced for perfection with these two products.
Valuation And Dividend Yield Support Levels
Many analysts talk about technical support and resistance levels for stock prices, but we also believe that fundamental resistance levels exist as well. The analysis below calculates forward EPS and dividend yield for a range of downside prices. The analysis also computes the cumulative percent decline from Apple's peak price ($644.00) for each downside price.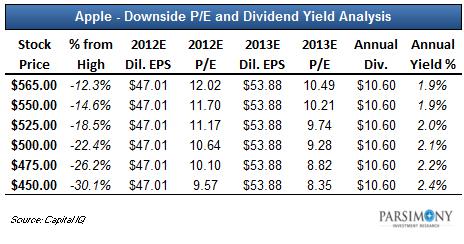 For Apple, we believe that there will be a downside floor on price based on valuation and dividend yield. For 2012E P/E, we believe that the downside floor valuation is between 10.0 times and 11.0 times, which is the level where we think institutions will strongly support the stock. In addition, we think that the a dividend yield over 2.0% will also be extremely hard to pass up for institutions. This equates to a downside price range of $475-$525 for the stock (see table above).
In addition, we also try to estimate the maximum peak-to-trough decline in a stock to determine how far the rubber band could stretch to the downside. For Apple, we think the current peak-to-trough decline will be in the 20%-25% range (based on past corrections). At $570, the stock is already down over 11% from its recent high of $644.
Even though we think the stock could go as low as $475 based on the fundamental resistance discussed above, $525 is the magic 2.0% dividend yield level for Apple shares. We would feel comfortable starting to add to our position at this level.
Consider Taking Your Shades Off
It's OK to be bullish, but investing with shades on is a dangerous game. We hope that Apple continues to outperform in the coming years as we own the stock and will continue to do so. We just encourage investors to also consider the possible downside in Apple shares.
That said, we certainly won't be "surprised" if Apple misses their inflated expectations sometime in the near future ... will you be?
Disclosure: I am long AAPL.