The launch and subsequent traction of the Fiat's (FIATY.PK) Fiat 500 may have negative impacts for Ford (NYSE:F), given Ford's popular Fiesta model and desire to grow outside the US in the smaller car segment.
Ford does not disclose how many Fiestas they sell but in a recent SEC filing mentioned that "B-segment platform (Fiesta, B-MAX, EcoSport, etc.) is providing an annual platform volume of greater than 2 million." Given that Ford's total volume in 2011 was 6 million, small cars are a significant part of Ford's business.
The Strategic Importance of Small Cars To Ford
Ford's "One Ford" strategy involves significant focus on emerging markets. This is understandable given Ford's profits are largely made in the US today. In fact in 2011, 98% of Ford's automotive profits came from the US. In order to succeed in emerging markets, Ford must produce smaller cars. Smaller cars also tend to be lower margin, but will enable Ford to expand globally.
Ford's Market Share By Region Q1 2012
The chart below shows Ford's market share by region. Though strong in the US, Ford has lower share globally, especially in emerging markets. Successful smaller cars will help in these markets, but innovation such as the Fiat 500 presents a significant threat to Ford's desire to innovate.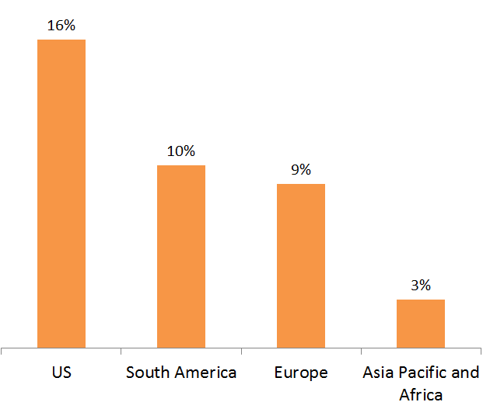 The Fiat 500 Launch
Since its launch two years ago, and more recently with the Cabio and Abarth models in the US, the Fiat 500 has attracted attention in the sub-compact category. This matters particularly to Ford as their Fiesta is dominant, as Google search activity, as a proxy for purchase intent shows. But note that Fiat 500 is close behind, creating a real competitor in a category where Ford's Fiesta had a strong presence.
Google Search Activity On Sub-Compact Cars
Last 12 months
source: Google Trends
The Impact To The Ford Investment Case
An investment case for Ford can still be made given Ford's attractive financial metrics and reinstatement of the dividend, but market share stagnation in this important segment is a concern.
Conclusion
Competition in the subcompact market is a key element in the Ford investment case. However, which with a 2% dividend yield, 5.9x forward P/E and recent debt upgrade to investment grade, Ford is attractive on various financial metrics, and you do not have to assume much to make the valuation work, especially if Ford's plan to de-risk the pension issue through fixed payouts is successful. Note that Ford's pension fund in underfunded by approximately $15B relative to a market cap of $38B. Nonetheless, growth is central to equity performance over the long term, and the Fiat 500 is creates a significant headwind in an important and strategic market for Ford.
Risks
Using search data as a proxy for consumer behavior is an emerging trend that lacks detailed historical data.
Disclosure: I have no positions in any stocks mentioned, and no plans to initiate any positions within the next 72 hours.