A few noteworthy pieces of news came out today about the state of driving our automobiles in the U.S. today. First, we learned that the average age of our car fleet has reached a record age of 11 years. All we need to see are the number of new car registrations to see why our car fleet is aging.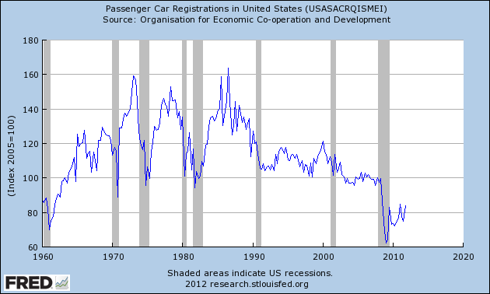 According to this index, we're back to the levels not seen since 1960!
At the same time, and this goes along with the idea of the impact of the baby boomer generation has had on the U.S. economy, when we look at the chart of the percent of our population to employment ratio, we have to appreciate we're giving back all the gains from the 1980's up to 2000 and reverting back to the levels of the 1950's and 1960's in my judgment. Simply put, you get a job, you go out and buy a car. You or your spouse lose a job, you go from a 2 or 3 car family to a 1 or 2 car family.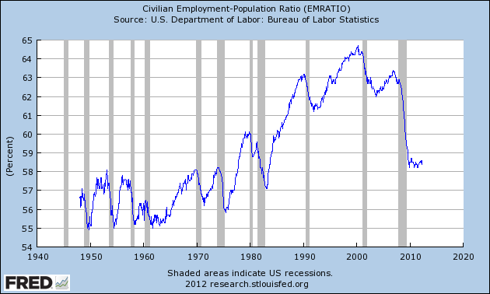 The second news release today comes from Mastercard Inc. (NYSE:MA) about gasoline demand. They cite:
"Fuel consumption was 3.5 percent below the year-earlier level, the 43rd straight drop in that measure. Year-to-date gasoline demand is 4.7 percent below 2011.

Fuel use over the previous four weeks fell 3.2 percent below the same period in 2011, a record 66th consecutive drop in that measure."
The average price of gasoline has fallen from a high of $3.94 on April 6th, to $3.48 this past week.
A better way of seeing the price of gasoline change is the year over year change in price year to date per this chart below: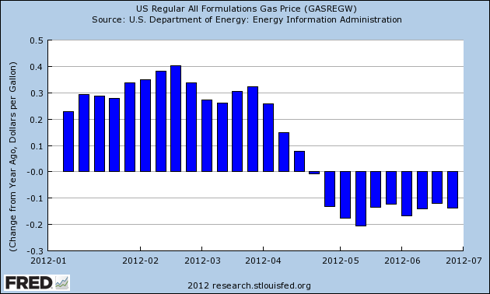 While we started out much of the year with higher gas prices over the same time in the previous year, the recent figures indicate lower prices from last year. That lower price however has yet to translate into higher demand.
In 2011, gasoline averaged $3.53 a gallon, a record high yearly average. The average American household was estimated to have spent $4,155 on gasoline, which would be 8.4% of an average household income in 2011, the highest percentage since 1981.
The higher prices during the first 4 months of the year must have been the straw that broke the drivers back and even with lower prices today Vs. last year, demand is still down.
This chart below of the year over year percent change in miles driven on U.S. roads shows that when the price of gas was high like in 1981, demand was down then too.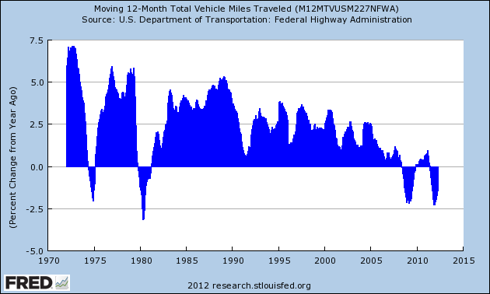 I would argue Americans want to drive. We want to visit our friends and family. We want to take family outings or vacations by car. But when we're spending an average of $4,155 a year on gas, like in 2011, it makes us think twice about such road trips and thus, aggregate demand for gas goes down as we put off our discretionary outings.
In the meantime, this trend continues to be down and demand remains weak. Our greater recession continues a pace.
Disclosure: I have no positions in any stocks mentioned, and no plans to initiate any positions within the next 72 hours.