TJX Companies (NYSE:TJX)
In the never ending search for large non-cyclical companies with a strong balance sheet, I found one that I missed the boat on long ago: The TJX Companies. Here in Part I some of the competitive advantages will be discussed along with past performance compared to a handful of other retailers. Part II will try to determine if the valuation still makes it worthy of a purchase even though it is near 52-week highs.
Company Overview/Recent Results
Taken from the most recent 10-Q here there are four business segments: Marmaxx (T.J. Maxx and Marshalls stores), Homegoods, TJX Canada (Winners, HomeSense and Marshalls), and TJX Europe (T.K. Maxx and HomeSense). Marmaxx net sales grew 10% year over year in Q1 for fiscal year 2013, and saw strong sales in misses, men's and shoes. There are a total of 1,878 stores in the country (up from 1,828 at the end of the prior year period). The segment profit percentage also increased from 13.9% to 15.5%. HomeGoods offers high end designer goods, and receive new shipments at least weekly to keep the bargain hunters coming in on a regular basis. The company was able to increase net sales by 18%, and improve the margin from 9% to 11.7%. TJX Canada increased net sales by 8%, even with negative development of 2% due to currency exchange translation. Segment profit margin also increased from 6.1% to 11.1% At the end of the period there were 318 stores compared to 303 the year prior, showing a continued commitment to growing the business. TJX Europe is made up of 335 T.K. Maxx stores and 24 HomeSense stores. This is an increase of 19 T.K. Maxx stores from the prior year. Net sales increased by 14% and the profit margin went from (5.3%) to 1.7%. Currency translation negatively impacted sales by 3.8%, and will continue to be a drag as the euro has continued downwards this quarter against the dollar. The turn to profitability in the European segment bucks the trend of cyclical companies, and is a reflection on its inventory management and reputation as a discount retailer.
In the 1st quarter of fiscal 2013 overall company net sales increased 11% to $5.8B which reflected an 8% increase in same store sales increased, a 4% increase from new stores, and a 1% decrease from foreign currency exchange rates.
One of the main competitive advantages that TJX has is the ability to carry brand-names at a discount price. In a lot of discount stores it is clear that the quality of the products are a step below in both a fashion and material sense. The company goal is to price items 20-60% below the everyday department store prices. While this is a large range, the 60% figure is really what draws in the crowds. The bargain hunter loves stepping up to the plate knowing the worst they can do is single with the real potential for a home run. The check out lines have been designed to have a long cattle line to multiple registers which minimizes the wait and improves the experience. All along the line are products that people are actually likely to buy (snacks, headphones, DVD's, drinks, candy).
Rapid inventory turnover is the goal so shoppers know there will be fresh products from week to week. The lack of stale products limits the additional sales required to move the merchandise (limits markdown exposure). Buying later in the inventory cycle allows for the purchases at such a discount (think of when you are buying a winter jacket in a Macy's in February) since they are likely to flip it quickly. TJX has stated they will continue to invest in the supply chain to continually deliver inventory more efficiently. Falling diesel prices will also be a tailwind going into the second half of the year. This will also allow for future diesel hedges to be entered into at lower prices to keep shipping costs down. These savings can be used to keep prices where they are at a higher margin, or price more aggressively to try and increase foot traffic in stores.
Share Repurchases
When executed properly, stock buybacks can be a great use of excess capital to decrease the outstanding share count and improve EPS over time. For a company as mature as TJX with a pristine balance sheet, this is being executed very well. The current market cap is 31.45B, and repurchases are expected to be approximately $1.2B - $1.3B in common stock during this fiscal year. This will likely result in retiring 4% of the existing shares this year. The current dividend yield is only 1.1%, but it is continually being raised, and hasn't kept up with the share price appreciation. The investment in the share repurchases has clearly benefited shareholders more as the retired shares were all purchased much cheaper than the current price.
Financial Condition
Any company that is paying a dividend and aggressively buying back shares should have manageable debt, otherwise their capital management is pretty questionable. TJX had total cash from operating activities over $1.9B in fiscal year 2012. Long-term debt consists of $375M 6.95% notes due in April 2019, $400M of 4.2% notes due in August 2015, and two $500M revolving credit facilities at a cost of 17.5 basis points and 12.5 basis points. This debt level along with the terms is very minimal in relation to the amount of business being done. There is no reason to suspect another share buyback won't follow when the current one expires, along with a perpetual increase of the dividend
Performance Comparison to Other Retailers
Below is a long-term view of what $10,000 invested in Macy's (NYSE:M), Sears (NASDAQ:SHLD), Target (NYSE:TGT), JCPenney (NYSE:JCP), and TJX Companies at the start of 2007 would be worth as of 6/22/2012 assuming all dividends received were immediately reinvested in the stock (taxes not included). This incorporates the effects of The Great Recession, and the subsequent muddle along recovery. While TJX would be worth $32,456, Target comes in 2nd at a measly $10,991 while Macy's is just down at $9,924. Sears and JCPenney have been a complete disaster, and the early stages of JCP's transformation are not giving investors much comfort that a turnaround is imminent. If anything it is funneling customers over to Macy's and TJ Maxx.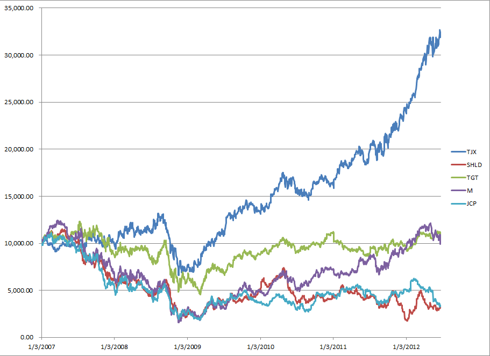 Click to enlarge
Below is the same mock $10,000 from the start of 2011 to current. TJX is still coming out on top with much less volatility.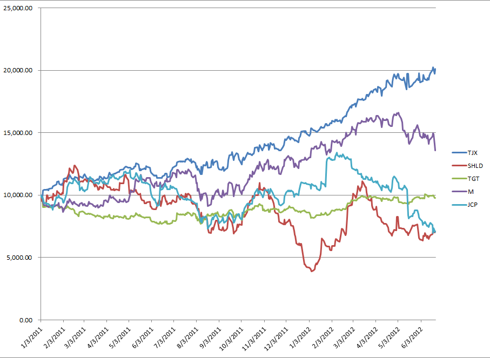 Click to enlarge
After looking through some of the fundamentals and a bit of their cash management TJX looks very sound. Up next will be to see if the market has already increased the stock to the point where it is trading at a premium to competitors due to all of its advantages. Is this now priced to perfection where a slight miss or weaker outlook could send the long-term happy investors to the hills? Everyone who has bought TJX over the last few years is carrying a profit, so they may be a bit quick on the trigger to protect those gains.
Disclosure: I have no positions in any stocks mentioned, and no plans to initiate any positions within the next 72 hours.