Sempra Energy (NYSE:SRE) is a natural gas and electricity utility that provides energy services to approximately 31 million customers worldwide. It is divided into four major segments: Southern California Gas Co., San Diego Gas & Electric, Sempra US Gas & Power, and Sempra International. Southern California Gas is involved in the distribution and storage of natural gas, and it is the largest US gas distribution utility. San Diego Gas & Electric is involved in the generation, transmission, and distribution of electricity, and it is involved in the transmission and distribution of natural gas. Sempra US Gas & Power is involved in renewable energy, natural gas infrastructure, and non-California distribution utilities. Sempra International is involved in electric utilities in Chile and Peru, and it is involved in natural gas infrastructure in Mexico.
The chart below of the EPS Growth forecast gives a good overall image of the company.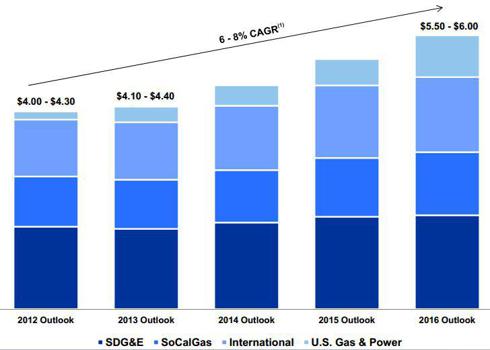 Aside from EPS growth forecasts SRE had some notable accomplishments in 2011, which reflect well on its future growth.
SRE increased adjusted EPS by 14% in 2011 with strength across all segments.
SRE got Sunrise Powerlink 70% completed on budget. It has already finished this $1.9B project in 2012. The project establishes a 500,000 volt transmission line connecting San Diego to the Imperial Valley, a key renewable energy region in California. This project includes a 500kV transmission substation. In the initial stages, the project will be able to transmit 800 megawatts of power. Later it will be able to carry 1000 megawatts. At that point it will be able to provide power for 650,000 homes. To go along with this, SDG&E has signed eight renewable agreements each for more than 1,000 MW of solar and wind power from projects in Imperial County. Imperial County sources will be a main contributor to the company's goal of generating 33% of its energy from renewable resources by 2020.
SRE closed a highly accretive acquisition of South American utilities.
SRE had nearly 1,000 MW of renewable energy projects in operation, under construction, or contracted in 2011.
SRE increased the 2011 dividend by 23% over 2010, and it completed a $500 million stock buy back program. Doing one of these would have been impressive, Doing both in the same year is fantastic.
SRE is not just interested in growth. As any well managed utility would be, it is interested in its customers. The Southern California Gas Company segment provides an example of how interested. It has been rated the highest in customer satisfaction by J.D. Power & Associates. Its customer gas prices are among the lowest in the nation. Its residential bills are among the lowest in the state, and they are about one half the national average. That's great management when you still manage to generate good profits.
The southern California Gas Company does also care about profits. It has filed a $2.1B revenue requirement for 2012. This should increase the 2012 rates by 6% over the 2011 rates. The rates would be retroactive to Jan. 1, 2012. There is a mechanism to increase the base margin by 3% per year from 2013 to 2015. The final decision by the CPUC is expected in 2H 2012. This is at least partially to help pay for the Pipeline Safety Enhancement Program, which will cost $3.1B for phase 1. The other divisions seem to be managed in much the same vein -- well.
SRE sees huge opportunities ahead. Some of the items they have identified are:
US utilities are expected to need approximately $1T in investment over the next decade to replace and upgrade infrastructure.
Increasing cheap natural gas supplies will lead to new demand sources.
EPA and states' new regulations will cause a move from coal to natural gas in power generation.
SRE has an LNG plant in Cameron, Louisiana that it is tentatively planning to convert to a liquefaction (export) LNG terminal. It is looking for a JV partner on this to decrease the expense risk.
Demand for renewable energy generation is growing due to both decreased expense and favorable incentives and/or rules requiring it.
SRE's International segment should have huge opportunities for growth as 60% of global growth is expected to come from emerging economies.
With SRE's management acumen it is easy to see that the company should be successful in the long term. This should be a stock that you can invest in without thinking about it too much. You can sit back and collect the 3.54% dividend, which the company is making strong efforts to raise. SRE looks like it wants to be viewed in the same category as such well managed stalwarts as Consolidated Edison (NYSE:ED), Southern Company (NYSE:SO), and Duke Energy (NYSE:DUK). It is close to being there. A bit more dividend and investors might let it in the club. This could come soon.
The two year chart of SRE (below) shows that it along with the above listed stalwarts is in a strong uptrend.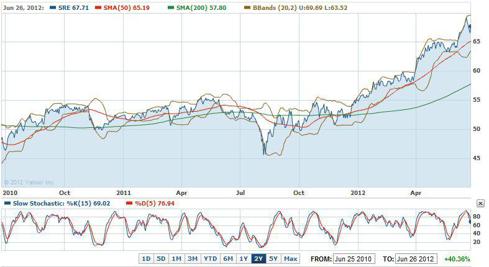 The slow stochastic sub chart shows that it is near overbought levels. The main chart shows both the price line and the 50-day SMA are far above the 200-day SMA. The price line is far above the 50-day SMA. You may want to wait for a pull back to the 50-day SMA before you buy, or you may choose to average in. In this kind of market, averaging in is a good idea. The PE of 12.23 seems quite reasonable for such a stable utility stock. If you are buying this stock you are buying it for its dividend and for its stable growth. The stock price did increase 40%+ in the last two years, but you cannot expect this all the time. It does seem to have better growth prospects than many other utilities though with a Next 5 years EPS Growth estimate per annum of 7.05%.
Note: Some of the fiscal Financial data came from Yahoo finance.
Good Luck Trading.
Disclosure: I have no positions in any stocks mentioned, but may initiate a long position in SRE over the next 72 hours.