Research In Motion (RIMM) releases earnings Thursday June 28 after the close. The stock closed June 27th at $9.18. At one time RIMM was a Wall Street darling, but it is now in the doghouse. Let's compare the price to book value of Apple (NASDAQ:AAPL) with Research in Motion. As the chart shows Research in Motion is trading at roughly 50% of book value compared to Apple trading at over 5 times book value.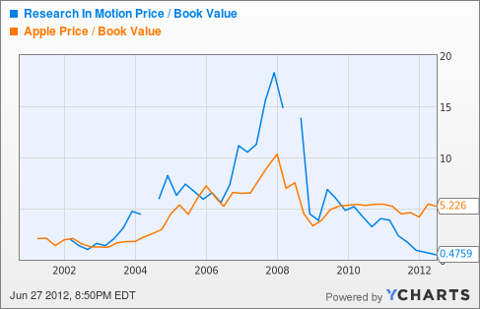 Click to enlarge
RIMM Price / Book Value data by YCharts
The price earnings ratio has collapsed from over 60x to under 5x, see chart.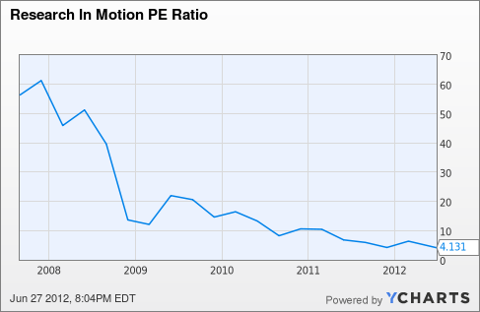 Click to enlarge
RIMM PE Ratio data by YCharts
The stock price has fallen off a cliff.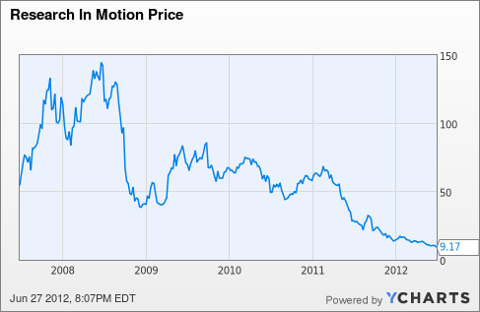 Click to enlarge
The stock is trading below book value, suggesting that the "Street" and investors have lost faith.
Click to enlarge
RIMM Book Value per Share data by YCharts
New products are expected soon, but RIMM has a history of missing launch dates. But there is hope that this will change under the new leadership. Time will soon tell.
Spread Trade Idea: Long July 21 $9.00 call / Short June 29 $10.00 call for $0.61 debit or less.
The premise for entering a long July $9 call short June $10 call spread is that things are going to change for the better at RIMM. That RIMM will match or beat the Street expectations, which are low. There have been a number of recent street downgrades. An announcement that the BlackBerry 10 phone will launch early would be a welcome surprise. Or that a number of enterprise customers have signed on with pre-orders would be good news. Any encouraging news from the earnings conference call might be enough to halt the stock's decline.
The June 29, 2012 $10.00 strike call ended at $0.13 bid with the July 21, 2012 $9.00 strike call closing with a $0.74 offer. The more risk adverse way to play RIMM would be long the July 21 $9.00 call and short the June 29 $10.00 call for a debit of $0.61 or less.
Should RIMM not increase above $10.00 at the Friday close then the June $10.00 call should expire worthless, leaving the long July 21 $9.00 call. There would be time value remaining and the opportunity to sell another weekly $10.00 strike call against it.
Should RIMM pop above $10.00 at Friday's close then the spread should be worth at least $1.00, for a $0.39 gain or 63%.
The figures used ignore commissions, so the realized gain would be less.
Options are high risk may not suit your risk-reward profile. This example is for illustration only.
Disclosure: I am long RIMM.