We entered into a long position in Visa (NYSE:V) last April, two months before the Federal Reserve announced that it was modifying the Durbin Amendment. Before this modification, investors were worried that the debit card price caps of $.12 per transaction that banks charge merchants was going to hurt Visa and MasterCard (NYSE:MA). We found that to be extremely unfounded as Visa and MasterCard don't issue bank debit and credit cards, but rather operate a payment processing network.
While we were concerned that the companies may end up with a negative indirect impact, we did not see it impacting the underlying bull-case thesis of increased penetration of electronic payments, especially in worldwide non-US markets. The modifications to Durbin allowed for a debit card price cap of $.21 per transaction, plus 0.05% of the transaction. Card issuing banks can also charge an extra penny per transaction if the banks comply with certain fraud protection protocols.
Visa's performance since we have held it has been simply outstanding. The company has beaten consensus EPS estimates by $0.03 per quarter from Q2 2011 to Q1 2012 and it smashed through Q2 expectations with $1.60 in adjusted EPS, $.10 ahead of the $1.50 consensus. This was well above the $1.23 earned in Q2 2011 and benefited from the following growth drivers:
Organic revenue growth (14.8% Total Revenue Growth)
Bolt-on acquisitions
A reduced outstanding share count and
A one-time tax benefit of $208M due to California State tax law changes ($.31/share)
We were pleased that Visa raised its 2012 EPS estimate percentage growth rate to between the high teens and the low 20s. We responded by increasing our 2012 EPS estimates by $.11 and our 2013 EPS estimates by $.10. During the quarter, Visa's credit and debit payment volumes worldwide grew 14% and 7%, respectively. Cross-border volume also posted healthy gains, increasing 16% globally. Processed transactions grew 8%. In the U.S., payment volumes increased 6% for all products.
We are especially pleased that 9 of the top 10 Visa-client multiyear partnership agreements have been signed into fiscal 2015 and beyond. From a volume perspective, that equates to more than three-fourth of Visa's U.S. credit volume secured into 2015 and beyond. Visa secured two important airline co-branding relationships, one with Alaska Airlines and the other with United Continental's Mileage Plus frequent flyer card program. We are especially pleased that Visa has shown strong revenue growth on a linked-quarter basis; linked quarter revenue has either been stable or growing since Q1 2010.
Click to enlarge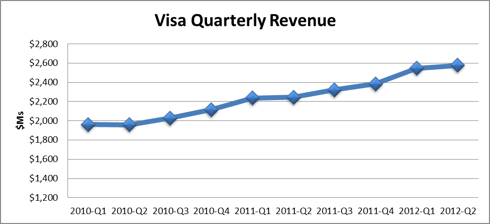 Click to enlarge
Source: Morningstar Direct
Visa complied with the new provisions of the Durbin Amendment well before the April 1 deadline to do so. Visa has two debit products, Visa Debit and Interlink, independently. Visa Debit, also known as Visa check cards, saw a modest, albeit slowing, payment volume growth during the March quarter. This slowdown resulted largely from U.S. issuers deemphasizing debit reward programs in the issuers' own marketing activities.
Turning to Interlink, Visa Interlink posted negative payment volume growth in each month of the March quarter. More recently, between the compliance deadline of April 1 and April 28, Interlink payment volume has experienced notable deterioration. Keep in mind, though, that in the March quarter, Interlink contributed less than 10% of U.S. debit revenue and about 2% of Visa Inc.'s overall revenue and was Visa's lowest yielding product in the U.S. market.
We believe Visa will experience the greatest impact to U.S. debit payment volumes and recalibration of market share during Q3 2012. At least Visa has maintained all of its major issuer relationships for the Visa Debit and signed 14 of its 15 largest U.S. debit issuers to agreements that go until at least fiscal 2015 with the majority spanning beyond that.
Visa saw greater growth internationally, as we expected. Visa International posted healthy payment volume gains of 15% on a constant dollar basis in the December quarter, driving approximately 64% of Visa's revenue growth this quarter and now represents 47% of Visa's net revenue. Visa Latin America has experienced 9 consecutive quarters with payment volume growth on a constant dollar basis exceeding 20%.
Visa's Asia Pacific and CEMEA regions delivered a strong combined 16% payment volume growth for the two regions during the March quarter. This performance was driven by continued execution of Visa's locally tailored growth strategies, which includes increasing penetration and usage of debit and premium credit products, expansion of our acceptance footprint and driving cross-border transactions.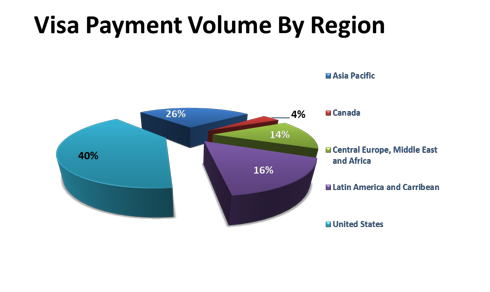 Click to enlargeSource: Visa Q2 Earnings Press Release
Visa reached agreements with some of the world's largest mobile network operators and mobile device manufacturers to extend Visa's payment functionality to mobile subscribers. Vodafone, the second largest mobile operator in the world, plans to develop a virtual wallet with a Visa mobile prepaid account preloaded. The wallet will be offered to 390 million of Vodafone mobile subscribers in more than 30 countries. This agreement is the largest of its kind between a mobile operator and a global payments network. Orange telecom has agreed to offer their customers in seven geographies across Africa and the Middle East a Visa prepaid account linked to their mobile phone number.
In conclusion, we are not only maintaining our holding in Visa, but we reiterate our accumulate recommendation. Furthermore, not only are we raising our fair value target price per share, but we also recommend that investors opportunistically take advantage of the market volatility to enter into a long position in Visa. Between Visa and MasterCard, an investor simply can't go wrong by investing in these industry leading credit card companies.
Disclosure: I am long V.
Additional disclosure: Saibus Research has not received compensation directly or indirectly for expressing the recommendation in this report. Under no circumstances must this report be considered an offer to buy, sell, subscribe for or trade securities or other instruments.