So far, this week has been very exciting in the Bio Pharma segment. One company received an FDA approval for a potential block-buster drug, while another company looks poised to see an important patent issuance for its potential block-buster treatment. The last company mentioned in this article could provide the best short term, and longer term percentage gain opportunity in my opinion.
Arena Pharma (NASDAQ:ARNA) as I predicted, received FDA approval for the weight-loss drug Belviq. (formerly known as Lorcaserin).
Belviq is intended for weight management, including weight loss and maintenance of weight loss. According to the Centers for Disease Control and Prevention, more than one-third of US adults were obese in 2009-2010. Studies have shown that a weight loss of 5% to 10% of body weight from baseline can result in meaningful improvements in cardiovascular risk factors (e.g., lipids, blood pressure and blood glucose), quality of life and functional capacity, and a significant reduction in the incidence of type 2 diabetes. There are currently limited pharmaceutical treatment options to help patients lose weight.
Belviq becomes the first FDA drug approved to treat obesity in over a decade. The stock was halted prior to the FDA decision to approve the drug. When the stock resumed trading, it hit a 52 week high of $13.50 a share before closing the day's trading session at $11.39

2.54(28.70%). I think now that Belviq has gained FDA approval, the buying of the stock will begin to slowly wind down, and because a lot of shorts are stuck upside down in deep doo-doo, a bear raid looks likely to be coming soon in my opinion.
Arena's management must now show it can execute with its U.S. marketing partner, Eisai Pharmaceuticals, to produce and market Belviq correctly. In other words, Belviq must now live up to the speculation hype and bring home the profits and revenues in order to justify a higher and sustained stock price for Arena.
To give an example of speculation hype that management flubbed on, a couple of years ago Dendreon's (NASDAQ:DNDN) management failed to correctly execute sales for its Prostate cancer drug Provenge, and the stock price plummeted and has never really recovered. When all is said and done, long term stock price appreciation is determined by company fundamentals and proper management execution.
Vivus (NASDAQ:VVUS) saw its stock price and volume surge on the news of Arena's Belviq gaining FDA approval, closing the trading session at $28.33

1.94(7.35%). Vivus has its own weight loss drug, Qnexa, up for FDA approval decision by July 17th, 2012.
Qnexa (phentermine and topiramate) extended-release capsules is an investigational, once-per-day, weight-loss therapy that combines low doses of two agents approved by the Food and Drug Administration (FDA), phentermine and topiramate, in a controlled-release formulation.
On April 4, 2012, following the FDA's request, VIVUS submitted a Qnexa Risk Evaluation and Mitigation Strategy, which was considered a major amendment to the NDA. Since the receipt date was within three months of the PDUFA, the FDA has extended this date by three months to provide time for a full review of the submission.
Adam Feuerstein released a report for thestreet.com recently, documenting how the discussion among panel members played out from the February 2012 Qnexa advisory committees' 20-2 vote in favor of Vivus' Qnexa, summarized in the panel minutes:
The committee members who voted 'YES' in question #5 noted that obesity is a disease for which there are inadequate treatment methods and that phentermine/topiramate (Qnexa) was shown to be effective in treating obesity with minimal adverse effects. However, they supported the requirement for a post-approval long-term cardiovascular (CV) safety trial which should be conducted expeditiously. It was noted that the sponsor should be held accountable for conducting and completing this CV trial. Additionally, these committee members agreed that the phentermine/topiramate REMS should capture additional data on long-term adverse events such as heart rate, psychological, cognitive functions, and birth defects. Several members highlighted the need to require treating physicians to be certified prior to treating patients with this agent and that the same requirement should be instituted for dispensing pharmacies. Lastly, the FDA was also urged to require the sponsor to continue to re-analyze any available data regarding reproductive outcomes such as birth defects.
The advisory panel minutes from above on Qnexa look positive, but I still maintain that Qnexa is not as safe as Belviq, but more effective. Since Belviq has gained approval with the FDA, investors seem to be betting on Qnexa receiving the same - I tend to agree with them that Qnexa will likely be approved, but I am not as convinced as I was with Arena's Belviq gaining approval. My opinion on the odds for a Qnexa approval are about 70% in favor.
Also on the heels of Arena's Belviq, Orexigen Therapeutics (NASDAQ:OREX) saw its stock price and volume surge as well, ending yesterday's trading session at 4.92

0.83(20.29%).
Orexigen, like Arena and Vivus, focuses on the development of pharmaceutical product candidates for the treatment of obesity. While the current focus is on both Arena Pharma and Vivus with their respective weight loss drugs, Orexigen's lead weight loss drug candidate Contrave, has become lost a bit in the shuffle.
Orexigen, which makes naltrexone/bupropion in partnership with Takeda Pharma, is seeking for a 2nd time after being denied in 2010 by the FDA, approval for treatment of obesity and weight management in patients with a body mass index of 30 or above, or 27 or above and with one or more risk factors (e.g., diabetes, dyslipidemia, or hypertension).
Contrave works by combining naltrexone, an anti-addiction drug prescribed for opioid addiction and alcohol dependence, and bupropion, used to treat depression and smoking cessation.
While the original data presented to the FDA in 2010 on Contrave was less than stellar, and even though it was rejected by the FDA, the drug did show some promise. Contrave has an uphill battle to gain FDA approval, but in my opinion, the hill just became a bit less steep with the Belviq approval.
Amarin (NASDAQ:AMRN) is poised to receive patent protection for AMR101 which should protect the formulation from generic competition through 2030.
Jefferies & Company is confident AMR101 will be approved, and restates its Buy, raising the price target on shares from $24 to $26. The analyst for Jefferies also started that the USPTO on Tuesday posted unexpected positive actions on three key Amarin patent applications that appear to indicate that Amarin will receive the patent protection it is looking for.
AMR101 is an investigational ultra-pure omega-3 fatty acid in a capsule, comprising not less than 96% icosapent ethyl (ethyl-EPA) in a capsule. Amarin is developing AMR101 for the potential treatment of patients with very high triglyceride levels and high triglyceride levels, or hypertriglyceridemia. Triglycerides are fats in the blood. Amarin's cardiovascular strategy leverages our extensive knowledge and experience in lipid science and the potential therapeutic benefits of polyunsaturated fatty acids in cardiovascular disease.
The main patents AMRN has been working on are the '889, '620, '598, and '885. The '889 is a methods patent for treating very high triglycerides, and the '620, '598, and '885 are all iterations of Amarin's composition patents.
Amarin had earlier filed for the key '889 patent for the treatment of high triglycerides that was rejected by the patent office in August 2011, and the stock sold off eventually hitting a low of $5.99 on Dec. 15, 2011.
I reiterate my opinion that a move to over $16 a share is coming soon for Amarin.
I have been hearing a lot of buzz lately about another company that is similar to Amarin, Neptune Technologies & Bioresources, Inc. (NASDAQ:NEPT), $4.37

0.19(4.55%).
Neptune develops and commercializes products for the nutraceutical, medical food, functional food and over-the-counter markets. Neptune's products are based on Omega-3 fatty acid phospholipids extracted from Antarctic krill, a tiny crustacean.
Pre-clinical and initial clinical testing have shown NKO™ (Neptune Krill Oil) to be beneficial in LDL & triglyceride reduction as well as HDL elevation, all of which are essential in treating chronic cardiovascular conditions. In addition, Neptune focuses on inflammatory and neurological disease management. Neptune has two subsidiaries, Acasti Pharma Inc. (Acasti, APO - TSX.V) and NeuroBioPharm Inc. (NeuroBioPharm). Acasti (57% owned) is developing a product portfolio focused on treatments for chronic cardiovascular conditions within the OTC, medical food and prescription drug markets. Acasti's drug candidate, CaPre™, leverages off NKO™ and is conducting a Phase II clinical trial in Canada. NeuroBioPharm (100% owned) is pursuing pharmaceutical and medical food neurological applications aimed to improve the cognitive and emotional health of children and adults.
Neptune's pipeline is based on phospholipid omega-3s extracted from Antarctic krill, a tiny crustacean. The company plans to take advantage of the higher absorption and potential superior efficacy of krill omega-3 compared to fish oils.
On Tuesday of this week, shares of the company started to move ahead of a speculation that an announcement is coming soon regarding the pending dividend of Neurobiopharm stock and warrants to all Neptune shareholders.
It appears the Neuro structure is similar to that utilized for the dividend of Acasti warrants to NEPT shareholders, which to this point have provided several hundred percent returns from the original $0.47 exercise price. Acasti warrant holders ended up exercising their warrants prior to the listing on the TSX Venture Exchange as the strike date for the warrants was reached before Acasti was publicly listed.
The company's product portfolio consists of MPL VI, MPL VII, MPL VIII, and MPL VIX, each a proprietary highly concentrated phospholipid extracted and purified from different marine species and each being at different development and/or validation stages before commercialization.
Investors/traders might want to take a close look at Neptune, as the company might have a treatment potentially even better than Amarin's AMR101.
It is my opinion that the Neptune stock will see a short term move to over $5 a share, possibly as high as $5.50 soon based on the chart alone:
(click to enlarge) *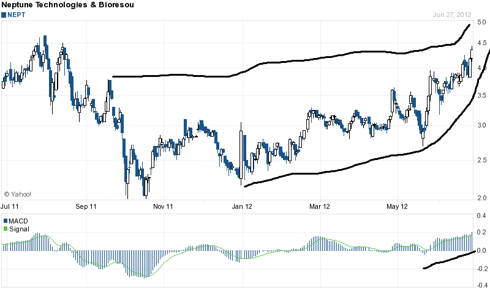 Click to enlarge
The chart above looks rather similar to Amarin's chart in my opinion. There have been no gaps in the longer term uptrend channel, and the pattern is forming a tight wedge. At the end of the bottom black line, we can see tighter banding which seems to me should force the top black line strongly upwards in the short term and mid term. The volume has been increasing the last 3 trading sessions along with the stock price:
| *Date | Open | High | Low | Close | Volume | Adj Close* |
| --- | --- | --- | --- | --- | --- | --- |
| Jun 27, 2012 | 4.19 | 4.44 | 4.13 | 4.37 | 702,700 | 4.37 |
| Jun 26, 2012 | 3.83 | 4.20 | 3.83 | 4.18 | 675,800 | 4.18 |
| Jun 25, 2012 | 4.03 | 4.03 | 3.81 | 3.87 | 253,800 | 3.87 |
After doing some due diligence, I found a video on YouTube about Neptune I found interesting, along with an additional video that investors might want to take a look at. I will be releasing a feature article soon on Neptune, so keep an eye out for it!
*Chart and data sourced from Yahoo Finance.
Disclosure: I have no positions in any stocks mentioned, and no plans to initiate any positions within the next 72 hours.
Additional disclosure: Family members are long NEPT, I hold no shares in my account.