I have stated in prior articles that when a company is in distress, investors should pay attention to where the bonds of the company trade as they are senior to common and preferred shareholders in bankruptcy. This seniority means that shareholders (preferred and common) get whatever is left after trade creditors, banks and bondholders. The current price of the bonds - or CDS - helps assess the feelings of the senior claimholders and their thoughts on a corporate recovery and/or principal recovery.
I have written about the Nokia (NYSE:NOK) bonds for this purpose twice before (here and here) as the equity and the bonds have been somewhat volatile. While I typically avoid writing too many updates on a company (especially one with as many articles as Nokia as I don't want readers to choke on too many articles on one company), I was asked by a reader to update the bonds and the possible inferences on the equity. With this little caveat in place, let's see what the market is telling us (all bond data is from FINRA).
As a reminder, In my June 6, 2012 article "Nokia: Bonds Holding Firm", I stated:
Bottom Line: For those investors who currently hold Nokia equity or are considering starting a position, the bonds are supportive of the stock. Similar to my last article, if you feel Nokia has what it takes with its new line of handsets and its Microsoft (NASDAQ:MSFT) connections (via the payment to put Microsoft's OS on the handset and potential further support), the bonds look stable here and a bond plus call strategy could be used, a bonds alone strategy or straight equity.
Unfortunately, I was wrong (hate saying it, but it is true and readers should know it). The NOK 5.375% 2019 (cusip: 654902AB1) was then trading at $82.25 and the equity was trading at $2.85 (it is down 24% from my last update).
As of the June 6th update:
| | | |
| --- | --- | --- |
| Issuer | Nokia | Nokia |
| CUSIP | 654902AB1 | 654902AC9 |
| Coupon | 5.375% | 6.625% |
| Maturity | 5/15/2019 | 5/15/2039 |
| Ratings | Baa3/BB+/BB+ | Baa3/BB+/BB+ |
| Price | $82.25 | $79.25 |
| Yield to Mat | 8.86% | 8.62% |
| Mod Duration | 5.47 | 10.80 |
Currently, the bonds have the following characteristics:
| | | |
| --- | --- | --- |
| Issuer | Nokia | Nokia |
| CUSIP | 654902AB1 | 654902AC9 |
| Coupon | 5.375% | 6.625% |
| Maturity | 5/15/2019 | 5/15/2039 |
| Ratings | Ba1/BB+/BB+ | Ba1/BB+/BB+ |
| Price | $79.25 | $76.75 |
| Yield to Mat | 9.56% | 8.92% |
| Mod Duration | 5.37 | 10.52 |
Graphically, the 2019s show the following pattern:

Click to enlarge
and the 2039 show the following:

Click to enlarge
Since June 6th, the 2019s have fallen 3.6%, the 2039s have fallen 3.2% and the high yield market - as measured by the SPDR Lehman High Yield Bond ETF (NYSEARCA:JNK) - is up 2.81%, a nearly 600bp underperformance.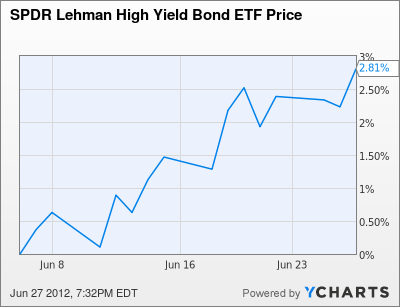 The equity since the last update has fallen 24%, as compared to the S&P index's gain of 1.27%, a whopping underperformance of 25%+. The lowly Research in Motion (RIMM) has even outperformed Nokia with a return of -11%. (I do not think that Google (NASDAQ:GOOG) or Apple (NASDAQ:AAPL) are a good compass for the company in case you are wondering why they are not included).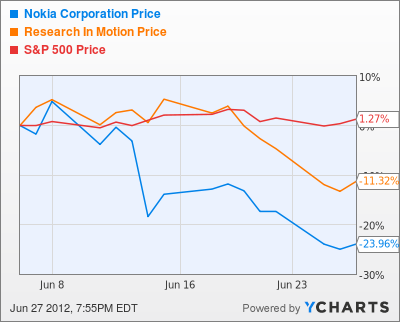 What has happened since the last update?
Moody's downgraded Nokia to high yield, dropping their rating from Baa3 to Ba1 with a negative outlook. They based their rating action on Nokia's restructuring plan as it indicates pressure on earnings and cash consumption that are greater than was expected.
Microsoft's next Windows Phone operating system release, codenamed Apollo, is not going to be made available on any current Windows Phones, including the new Lumia models from Nokia.
Continued rumor revolving door.
Bottom Line: The bonds continue to be under pressure, and I have heard that the shorts are playing with the bonds. The bonds have been telling investors that the company continues to be viewed as weak and the top of the capital structure food chain is demanding more yield for the increased risk of the company. Another somewhat ominous sign is Nokia's curve has inverted (19s get more yield than the 39s) which happens as a company becomes more distressed.
The bonds have bounced about 1-2 points off their lows, which is a good sign, but does not necessarily offset the negative signs. I have seen some decent articles on the value of Nokia, as well as some decent articles on the downside. Ultimately, I continue to believe that investors who want exposure to Nokia might consider the bonds and possibly a call option (July 3 calls have seen an increase in volume lately).
Disclosure: I have no positions in any stocks mentioned, and no plans to initiate any positions within the next 72 hours.