Teekay LNG Partners (NYSE:TGP) is the third largest independent operator of Liquid Natural Gas (LNG) carriers, following behind Mitsui O.S.K Lines (private) and NYK Line and just ahead of Golar LNG (NASDAQ:GLNG). (Teekay LNG Partners Investor Day Presentation (pdf)) In addition to LNG, Teekay also provides transportation services for Liquefied Petroleum Gas (NYSE:LPG) and crude oil.
In Teekay's Q1 2012 earnings call (pdf) held on May 18, 2012, the company noted that following the Japan earthquake, Japan's LNG imports have increased 24% year-over-year. The company also noted it and its joint venture partner Marubeni acquired six LNG carriers from Maersk during the quarter.
On a negative note, as presented in the Teekay LNG Partners Investor Presentation held on June 18, 2012, Teekay indicated there is a potential for softening in the spot/short-term charter rates once the order book starts to deliver in the 2013/2014 time frame. On a positive note, Teekay expects Chinese LNG imports to double by 2015 and India is expected to turn to importing LNG in order to make up for a projected domestic shortfall.
Teekay popped up on a search for companies with high option volume as shown below:
Click to enlarge
Also found for the high option volume search were bio-pharmaceutical company Affymax (OTCPK:AFFY), bio-pharmaceutical company Orexigen Therapeutics (NASDAQ:OREX), apparel company True Religion Apparel (NASDAQ:TRLG), oil exploration/production company Cobalt International Entergy (NYSE:CIE) and coin/DVD kiosk company Coinstar (NASDAQ:CSTR).
The 2012 Jul 37.5 call option had significant volume as well as the 2012 Aug 35 put option as shown below:

The call option action was for the opening of new positions which has a bullish appearance. The put option volume appears to be a mixture of opening and closing of positions with more opening than closing, which has a bearish tint.
Teekay's stock price spiked at $42 in May and has pulled back its 200 day moving average in the $36 range as shown below: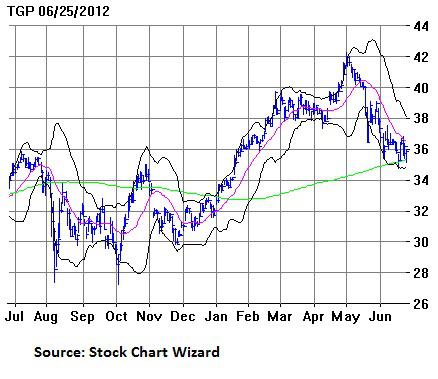 Support appears to be in the $30 range, so entering a long position for the company might be a little premature at this point. Teekay's Price-to-Earnings (P/E) ratio of 29 and Price-to-Sales ratio of 5.4 are tolerable, but less than desirable.
With Teekay's support in the $30 range, potential for softening in 2013/2014 and less-than-desirable P/E and P/S, an investor might consider entering a married put for the company, as a married put position provides for unlimited upside, yet protects from a large drop in stock price. A married put may be entered by purchasing a put option against a long position in the stock. Longer-term married put positions are generally desirable, as the cost for the "insurance" per day is less expensive as compared to the shorter-term alternatives.
Searching for married put positions for February of 2013 revealed the following: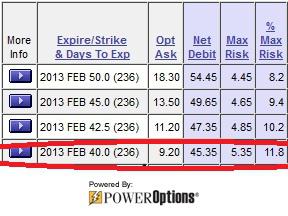 A married put with the 2013 Feb 40 put option purchased for $9.20 looks attractive with a maximum potential loss, excluding dividends, of 11.8%. So, even if the price of the stock goes to zero, the maximum potential loss is 11.8%. With expected dividend payments, the maximum potential loss is reduced to 7.7% and the resulting profit/loss graph for one contract, including dividends, is shown below: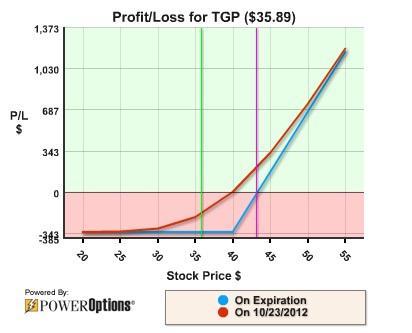 If the price of the stock increases to above the $40 strike price of the put option, income methods as described by RadioActiveTrading.com may be employed for further reduction of risk.
Disclosure: I have no positions in any stocks mentioned, and no plans to initiate any positions within the next 72 hours.