At Saibus Research, one of our earliest investing influences was Warren Buffett and Berkshire Hathaway (NYSE:BRK.A). We saw that Berkshire was in the right place at the right time with regards to its investments, particularly in the 1980s and 1990s with Coca-Cola (NYSE:KO). We have disagreed with Berkshire's most recent investments (GM and the newspapers), but it's not like we at Saibus Research are Stepford Buffettologists. If we were, we'd have our entire portfolio in Berkshire, rather than the 1% that we allocated to it. Based on our critique of Berkshire's investments in Ford and in the newspapers, one would think we were getting ready to rip into Coca-Cola and anoint PepsiCo (NYSE:PEP) as the new king of beverages. Here is our analysis on the old question of Coke versus Pepsi.
Coca-Cola is the world's leading soft drink manufacturer. Under its legendary CEO Roberto Goizueta, Coke went from being the leading soft drink maker in America to the undisputed global leader in soft drinks and other beverages. It struggled under Doug Ivester and Doug Daft from 1997-2004 before rebounding under Neville Isdell (2004-2008) and Muhtar Kent (2008-present).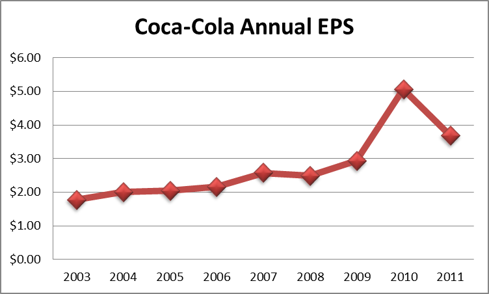 Click to enlarge
Source: Morningstar Direct
PepsiCo is the world's second largest soft drink manufacturer. In most regions of the world, Coca-Cola enjoys higher beverage sales volumes than PepsiCo. PepsiCo's Frito-Lay and Quaker Oats brands are industry leaders in the US Snack foods industry. PepsiCo also has a stronger presence in the non-carbonated beverage segment. However, Pepsi is certainly no slouch of a competitor in soft drinks and it has engaged in a number of acquisitions to catch up to Coca-Cola. Strategic Corporate Acquisitions and Divestitures include the following:
1997: Spin-Off of Tricon Global Restaurants (YUM! Brands (NYSE:YUM))
1998: Acquired Tropicana Products (fruit juices)
2001: Acquired Quaker Oats Company in order to add Gatorade to its beverage lineup. Coca-Cola had an opportunity to buy it but Warren Buffett led opposition to it.
2009: Reacquired Pepsi Bottling Group and PepsiAmericas.
2011: Acquired Wimm-Bill-Dann Foods, a Russian company that produces milk, yogurt, fruit juices and dairy products.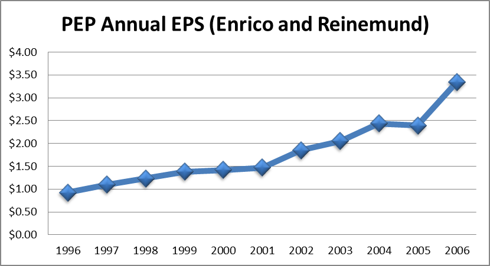 Click to enlarge
Source: Morningstar Direct
Pepsi had enjoyed strong growth from 1996-2006 under Roger Enrico and Steven Reinemund and had seen its market cap surpass Coca-Cola's during that time. However, under Indra Nooyi, the company had muddled in the morass of mediocrity and with the exception of dividends, the stock has been dead-money since Nooyi became CEO on October 1, 2006.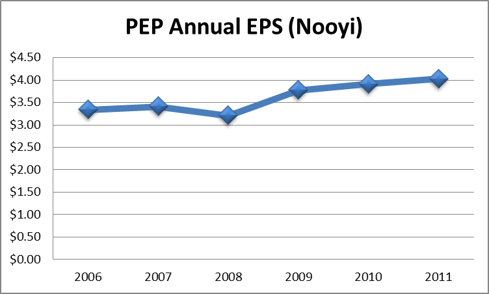 Click to enlarge
Source: Morningstar Direct
In Q1 2012, we see that Coca-Cola's results were bubbly while Pepsi's were flat. Coke grew its Q1 EPS by 9% year over year while PEP's EPS were flat. Coke's per share dividend is only a half a cent less than Pepsi's yet it has 25% higher EPS. That's actually good for Coke shareholders as it results in a lower dividend payout ratio for Coke versus Pepsi, and allows for a higher potential dividend growth, as well as for greater ability to repurchase shares. Coke's revenue growth of 6% exceeded the 5% growth Pepsi registered, despite the fact that Pepsi outspent Coke by more than 2-to-1 with regards to acquisitions in 2011. Despite the fact that Pepsi has 11% more revenue than Coca-Cola, Coca-Cola earned 82% more profits than PepsiCo. Coca-Cola has $9.5B more assets on its balance sheet than Pepsi; however this is because Coke has over $19B more cash, securities and equity method investments than PepsiCo. This probably explains why Coca-Cola has $10B more in stockholders equity than Pepsi.
In conclusion, until PepsiCo smartens up and puts Indra Nooyi out to grass, we recommend that investors interested in the soft drink and nonalcoholic beverages sector have a Coke. We believe that as long as Nooyi is CEO of Pepsi, investors will be more likely to have a smile on their face and a gain in their portfolios by investing in Coca-Cola instead of PepsiCo. We wonder if her comments referring to the United States of America as the "Middle Finger of the World" may have had something to do with more people choosing Coke instead of Pepsi. That's not to say that Nooyi hasn't accomplished anything during her tenure with Pepsi. She did play an instrumental part in the Yum! Brands spin-off and the acquisitions of Tropicana and Quaker Oats. However, the CEO Job of Pepsi is not a lifetime achievement award for a company executive. Since Nooyi has been CEO, the stock price has barely budged and EPS has only increased by a cumulative 21% in the 5+ years she has been CEO.
Another reason why we would consider PepsiCo over Coca-Cola is if Pepsi split itself into a beverages business and a snack foods business. We also noticed that activist Ralph Whitworth has taken a $610M stake in PepsiCo and has held meetings with the company's executives. Let's hope that Whitworth gets PepsiCo to put her on the waiver wire. In short, we agree with Warren Buffett and Berkshire that with regards to being the best non-alcoholic beverages company to invest in, Coke Is It! We disagree with his choice of beverages though. Buffett likes Cherry Coke, we like Powerade.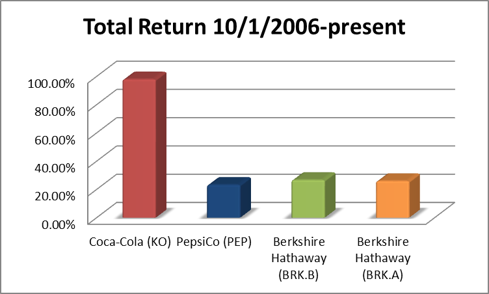 Click to enlarge
Source: Morningstar Direct
Disclosure: I am long BRK.B.
Additional disclosure: Saibus Research has not received compensation directly or indirectly for expressing the recommendation in this report. Under no circumstances must this report be considered an offer to buy, sell, subscribe for or trade securities or other instruments.