Second quarter global IPO proceeds have tumbled 37% year-over-year despite Facebook's $16 billion listing, putting the global IPO market at its lowest year-to-date issuance levels since 2009. North America accounted for over 50% of issuance.
Excluding Facebook however, North American proceeds dropped over 50% year-over-year. Asia Pacific remained the most active region with 47% of IPOs even though quarterly proceeds are down more than 50% from last year. Despite the sharp decline in proceeds, IPO returns were surprisingly strong in 2Q12, up 12% on average. China's A-share market drove IPO returns, generating average returns of 29% helped by the expectations of loosening foreign ownership restrictions.

[click to enlarge]
US IPO Market Hits a Facebook Freeze
Following the second busiest April in a decade for pricings, Facebook's May debut was suppose to prove that US IPOs were back on course. Instead, a mismanaged offering and heightened market volatility led to an abrupt, month-long shutdown.
US IPO activity fell 41% year-over-year, the second lowest level since the 1Q10. Some of the top performers were small cap technology growth stories, including big data companies Splunk (NASDAQ:SPLK): +66% from offer price, Infoblox (NYSE:BLOX): +30% and Proofpoint (NASDAQ:PFPT): +20%. Overall, US IPOs outperformed the market (+4% average return vs. -7% for the S&P 500), helped by above average IPO discounting (nearly half the deals priced below the range). Excluding the first day pop, aftermarket returns were weak (-6%) as cyclical companies, including Edgen (NYSE:EDG): -31% and PetroLogistics (NYSE:PDH): -38%, weighed on results.

[click to enlarge]
IPO Benchmarks Generate Lackluster Returns in 2Q12
The FTSE Renaissance Global IPO Index underperformed global equity benchmarks in the second quarter, generating a -13% return (MSCI ACWI; -10%). Second quarter performance was equally weak in the US, as the FTSE Renaissance US IPO Index underperformed the Russell 3000, generating a -16% return in 2Q12 (Russell 3000; -7%). Key detractors from index performance this quarter were major index constituents Facebook (NASDAQ:FB): -16% in 2Q12, General Motors (NYSE:GM): -22%, NXP Semiconductors (NASDAQ:NXPI): -22%, and Zynga (NASDAQ:ZNGA): -54%.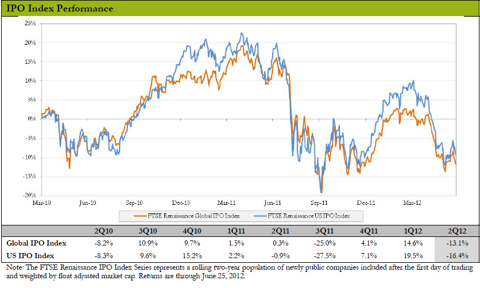 [click to enlarge]