AutoZone, Inc (NYSE:AZO) is the country's top automotive parts retailer and it has the largest share of the profitable DIY market. However, its two peers, Advance Auto Parts (NYSE:AAP) and O'Reilly Automotive (NASDAQ:ORLY) recently warned that Q2 results are going to be below expectations - Advance Auto on May 17, 2012, and O'Reilly yesterday, June 27, 2012.
After the announcement, O'Reilly fell -14.3% on volume of 12 million shares. In each case, the other industry stocks fell in unison. Insiders are furiously selling AutoZone stock, which may be an indication that more bad news is on the way. In addition, compared to its historic P/E ratio, the stock appears overvalued. Therefore, it may be appropriate to take a short position in AutoZone.
The Auto Parts Industry
The automotive aftermarket industry's strong growth in recent years is in part because of America's aging fleet of 245 million vehicles. Those vehicles in the 11+ year old category now comprise almost 47 percent of total light vehicles (up from 40 percent in 2006). Part of the reason is the recession, and continuing sluggish economy. With unemployment still at about 8%, many new car purchases have been deferred.
The motor vehicle aftermarket is a significant sector of the U.S. economy, employing approximately 3.8 million people in 2010. This industry encompasses all products and services purchased for light, medium and heavy duty vehicles after the original sale including replacement parts, accessories, lubricants, appearance products, tires, collision repairs as well as the tools and equipment necessary to make the repair. Overall aftermarket sales totaled $285.7 billion in 2010, representing a 4.2% increase over the previous year. Sales in the automotive aftermarket (cars and light trucks) totaled $215.4 billion.
This market is very fragmented, with portions of it going to car dealers, multi-line retailers like Wal-Mart, tire stores, independent repair shops and auto parts stores. A factor in the increasing strength of auto parts stores is their ability to capture business, which historically went to the dealer. The largest pure plays in the retail auto parts business are AutoZone, O'Reilly and Advance Auto Parts.
Click to enlarge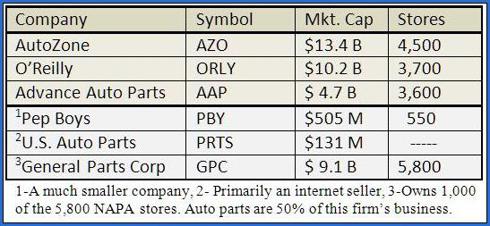 Click to enlarge
Warnings
The first warning came from Advance Auto Parts on May 17, 2012:
SAN FRANCISCO (MarketWatch) -- Shares of Advance Auto Parts AAP tumbled 15% to $70 early Thursday after it warned of a "meaningful slowdown" in April sales. The company also took down its 2012 growth forecast for same-store sales. Advance Auto's report dragged down rivals AutoZone AZO and O'Reilly Automotive ORLY. AutoZone fell 4% to $374.70, while O'Reilly slipped 4% to $97.35. Advance Auto CEO Darren Jackson said in a statement that second-quarter sales trends "remain challenging." Roanoke, Va.-based Advance Auto is one of the largest U.S. auto-parts retailers with 3,682 stores, 200 of which are outside the country. Its stock performance is now breakeven over the past 12 months.
The second warning came yesterday, June 27, 2012 from O'Reilly Automotive:
SAN FRANCISCO (Market Watch) -- A warning from O'Reilly Automotive on its business for the second quarter triggered a selloff in shares of auto parts retailers Wednesday morning. O'Reilly tumbled 18% to $79.16, making the stock the top S&P 500 decliner. AutoZone AZO dropped 4% to $360.43. Advanced Auto Parts AAP fell 4% to $63.12, while Genuine Parts GPC lost 5% to $57.03. Late Tuesday, O'Reilly cut its comparable store sales growth forecast to 2% to 2.5%, down from 3% to 5%. The company also said earnings will fall short of its target of $1.13 to $1.17 a share. "We saw improved comparable store sales results for the month of May; however, comparable store sales in June were below our expectations," O'Reilly CEO Greg Henlsee said in a statement. O'Reilly reports second-quarter earnings July 25. Its shares are still up 22% over the last 12 months, outpacing the 3.5% gain for the S&P 500.
This is what the carnage looked like at the close on Wednesday:

Click to enlarge
Performance
A look at AutoZone's 10-year chart confirms the ascent of the stock and its very steady climb since 2009. In fact, in the past 15 years a $100,000 investment would have grown to $1,298,137, over a twelve-fold increase. Over the same period, the rate-of-return (ROR) has been 19.3%, which compares extremely favorably to the S&P 500's anemic 2.2% return.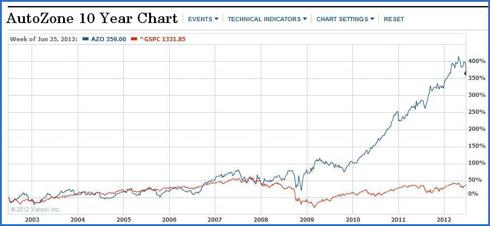 Click to enlarge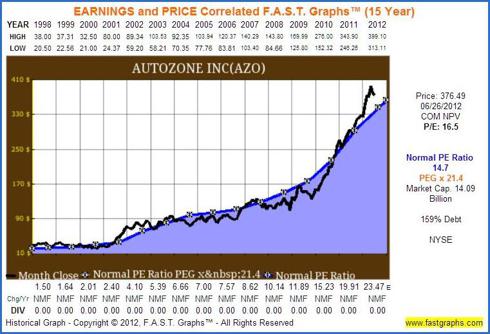 Click to enlarge
However, as dramatic as the 10-year chart looks compared to the S&P 500, and as great as the returns have been, a close look at the F.A.S.T. Graphs chart shows that the black price line has crept up above the normal P/E line for the first time in 10 years. Therefore, it is by this measure overvalued; eventually it will revert to the mean. With peer companies cutting sales estimates, it is likely that "eventually" will be very soon.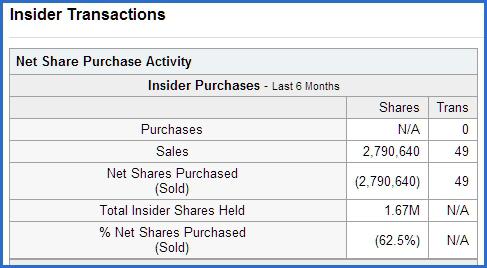 A tremendous amount of insider selling has taken place in the past weeks. According to my rough calculations, insiders have cashed in about $1 Billion of the stock, most of it acquired by exercising options. That is, net insider sales were over 1,200,000 shares valued at about $370/share over the past six months, much of it in the last six weeks, as shown below.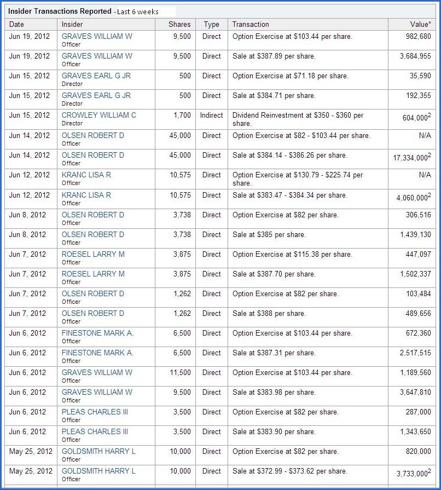 Click to enlarge
Analysts Opinion
No one is bullish on the industry at this point. The analyst consensus before yesterday's announcement and the market oprning gave AutoZone a 2.1, Applied Auto Parts a 2.6, and O'Reilley a low 3.3. UBS made a statement yesterday, as did Nomura.
UBS on U.S. Hardline Retail:

Auto Parts May Be Running Out of Gas

Analyst, Michael Lasser, has lowers price targets on O'Reilly's (Nasdaq: ORLY) and Advanced Auto (NYSE: AAP) to $101 and $80, respectively.

Lasser said ORLY's recent pre-announcement is just another sign that the environment has become more volatile and that the long streak of steadiness may be coming to a halt. As far as AAP, he feels comp store sales may be the most volatile going forward, considering the majority of the company's store are in the eastern portion of the U.S. Lasser thinks that the overall sector will be in the 'Penalty Box', at least in the near-term.

Nomura Securities

Analyst, Aram Rubinson, said, "Trim comp estimates by 1-2% across the board, including at Buy-rated AutoZone (NYSE: AZO). Yesterday evening saw a rare guide-down from O'Reilly (Nasdaq: ORLY). The company is now expecting Q2 comps of 2-2.5% instead of 3- 5%. It expects to make the low end of its EPS guidance of $1.13-$1.17, but that will be overshadowed by the sales overhang. There is little doubt that a mild winter is contributing to tough industry dynamics. While we are trimming our estimates and target on AZO, we are ahead of consensus. It still merits a Buyrating given its 20% EPS growth and a 7% free cash yield."

AutoZone (NYSE: AZO) (Buy) F12E/F13E EPS from $23.72/$28.84 to $23.59/$28.58; PT from $445 to $415

O'Reilly (Nasdaq: ORLY) (Neutral) F12E/F13E EPS from $4.70/$5.50 to $4.50/$5.20; PT from $95 to $88

Advanced Auto (NYSE: AAP) (Neutral) F12E/F13E from $5.64/$6.23 to $5.32/$5.90; PT from $85 to $72
Conclusion
I believe that we have offered convincing evidence that the price of AutoZone will fall. It is overvalued on fundamentals, peers are lowering their estimates, insiders are selling the stock, and analysts are lowering their price targets. Therefore, it is time to short AZO.
Disclosure: I have no positions in any stocks mentioned, but may initiate a short position in AZO over the next 72 hours.