I don't usually do this, but I'm going to recommend a speculative trade because I believe we are setting up for a very special and very short period of diminished risk. I believe the risk vs reward trade-off has swung far over in favor of going long until 3:55 pm tomorrow (Friday). Let me explain.
The European Leaders are meeting starting today to sort through their mess because it is the end of the world (again?). While the Supreme Court's decision is relevant and interesting in its own right ALL eyes are on Europe. It is rather unlikely but possible that leaders emerge before the market close on Friday with a "solution" and markets rally. It is very unlikely that leaders break early and announce they have given up and the market tanks. No, the most likely outcome might just be that these leaders cancel their weekend plans that they already did not make and stay behind close doors counting beans.
So what this means is that the we have a market that is beholden by an event that can report good news before the close Friday, but probably not bad. And what of rumors? Is it even possible that a rumor could hurt the market? Could a rumor that things aren't working out after one day even mean anything? Everybody knows it's not working out!
But what about a rumor, a little white lie, that Angela Merkel is willing to conditionally consider the communitizing of European debt? Well, then the market loses its mind, and everyone knows it. That's why I believe the market can not sell off, not merely because people want in on the rally, but because they are terrified to miss it.
I really do believe that this is how things are set up. I have been wrong before and there are no guarantees, please do your own research and come up with your own conclusions.
If you do agree with my thesis, however, and you understand the speculative nature of this trade and the risk involved in "day trading" - which this is - and you want to play, here is what I suggest. Have a look at Bank of America's (NYSE:BAC) weekly options, expiring tomorrow after close.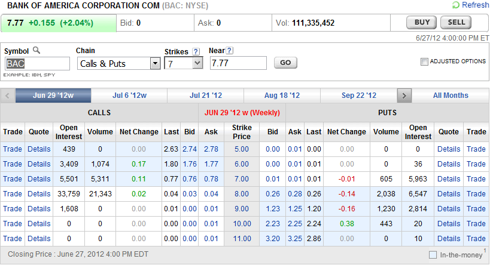 Click to enlarge
Have a look at the $6 strike for the calls. Bank of America closed Wednesday at $7.77, there is an ask for $1.77. That means that there is NO TIME PREMIUM AT ALL! Sort of - you are taking on the risk of 100% loss if BAC drops below $6. So if we discount the big sell off because we don't think it can happen before the close on Friday, then we get the leverage of options for free.
Let's take the plunge, we'll do a hypothetical trade with $33,000 and get 186 calls.
What do you think? Are you long? Let's hear it in the comments.
Here are some other financial names to consider for this strategy: Berkshire Hathaway Inc. (NYSE:BRK.A), Wells Fargo & Company (NYSE:WFC), HDFC Bank Ltd. (NYSE:HDB), JPMorgan Chase & Co. (NYSE:JPM), Bank of America Corporation , Royal Bank of Canada (NYSE:RY), Citigroup (NYSE:C) The Toronto-Dominion Bank (NYSE:TD), China Life Insurance Co. Ltd. (NYSE:LFC), American Express Company (NYSE:AXP), Mitsubishi UFJ Financial Group, Inc. (NYSE:MTU), Westpac Banking Corporation (NYSE:WBK), Itau Unibanco Holding S.A. (NYSE:ITUB), U.S. Bancorp (NYSE:USB), Banco Santander, S.A. (NYSE:SAN), The Bank Of Nova Scotia (NYSE:BNS), American International Group, Inc (NYSE:AIG), Banco Bradesco S.A. (NYSE:BBD), The Goldman Sachs Group, Inc. (NYSE:GS), Banco Bradesco S.A. (NYSE:BBDO), Simon Property Group Inc. (NYSE:SPG), UBS AG (NYSE:UBS), Sumitomo Mitsui Financial Group Inc. (NYSE:SMFG), Mizuho Financial Group, Inc. (NYSE:MFG), Barclays PLC (NYSE:BCS), Bank of Montreal (NYSE:BMO), Banco Bilbao Vizcaya Argentaria, S.A. (NYSE:BBVA), Deutsche Bank AG (NYSE:DB), Lloyds Banking Group plc (NYSE:LYG), MetLife, Inc. (NYSE:MET).
Disclosure: I am long BAC.