On the surface, PDL Biopharma (NASDAQ:PDLI) seems like an incredible bargain. Here is a biotech company growing earnings and revenues steadily, trading at bargain multiples with a forward 2012 P/E of just 4.6, bringing in considerable revenues from royalties (which are always high margin) and to top it off, carrying a dividend yield of 9.2% (based on a quarterly dividend of $0.15, already declared for the remainder of 2012).
Not only does the company seem incredibly juicy, but when you examine its revenues and royalties, you find a "who's who" of large pharma companies, with PDLI having revenue streams from Genetech/Roche, Novartis (NYSE:NVS) and Biogen (NASDAQ:BIIB). The medications where PDLI receives royalties are also household names: Herceptin, Avastin, Lucentis, Xolair, Synagis and Tysabri.
In fact, if I stopped here, it would be just like a dream, having found this incredible stock unfairly punished by the stupid market.
But there's a catch. It couldn't be any other way. The market gets irrational at times, but usually not with so many favorable different things going for a company. So what's the catch?
Well, first the company has net debt, $179 million as of 31 March 2012. This can be a problem, in the sense that the company is not far from a potentially difficult transition. Which brings us to …
The problem
The problem with PDLI is simple. PDLI gets its revenues from its partners using its technology, aggregated under the "Queen et al" patents. These patents expire during mid-2013 to December 2014. Although due to the length of the manufacturing process its partners should have to pay royalties until about 2016, the fact is that presently, PLDI can be considered a liquidating asset.
This slide, from a PDLI presentation, explains the choices the company faces succinctly: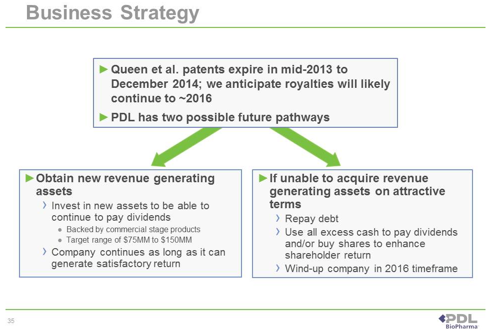 Click to enlarge
In short, when the patents expire, PDLI's partners will keep on using the technology, but will simply cease payments do PDLI.
On the bright side
PDLI's partners have several compounds using PDLI's technology in Phase III clinical tests, namely:
 
Bapineuzumab, for Alzheimer's;
Solanezumab, also for Alzheimer's;
Teplizumab, for type 1 diabetes mellitus;
And Trastuzumab-DM1 (T-DM1), for breast cancer, works with Herceptin and seems the closest to approval.

These products have the potential to reach the market within PDLI's revenue generating life, so might help revenues grow before they disappear. The same can happen with extensions of existing products.
Conclusion
Although PDLI seems incredibly cheap by mere fundamental analysis, the company is close to hitting a wall where it loses patent protection during 2014 and potentially winds down until 2016. As it stands, the company is basically a liquidating asset, and it doesn't seem likely, at this point, that PDLI will return more cash than what it owes + its market capitalization.
Disclosure: I have no positions in any stocks mentioned, and no plans to initiate any positions within the next 72 hours.