The retail stock sector has performed great in 2012. The PowerShare Dynamic Retail Portfolio (NYSEARCA:PMR) is up 14% easily surpassing the S&P 500 (SPX) at 4.5% in 2012. The retail sector has been extremely strong throughout 2012. However, there is a big discrepancy within the sector itself. The best year to date performance has been in the discount and off price retail stocks while the luxury goods retailers have been devastated in 2012. A report from industry group The Conference Board showed consumer confidence had fallen in June to its lowest level since the start of the year, marking the fourth month of declines. The concerns about Europe's debt crisis, slow job creation and the latest correction in the S&P 500 weighed on shoppers' spirits and led to more sales in bargain retailers. This trend can be seen in the great performance of low price retail stocks and the decline in many luxury goods stocks.
The off price retailers have performed great in 2012. For example, Ross Stores (NASDAQ:ROST) is up 38% and TJX Companies (NYSE:TJX) is up 32%. While these stocks are not value plays as both have hit 52 week highs lately, they are both seeing high sales and earnings growth in 2012. Both of these stocks still have plenty of growth prospects and dividend increases into the future years.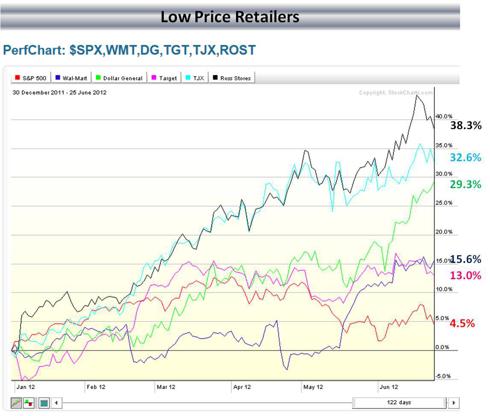 Ross Stores fiscal first-quarter earnings rose 21% as the off- price retailer's strong sales growth helped to improve margins. ROST reported that comparable store sales increased 8% in May, beating the Retail Metrics consensus of an increase of 5.2%. Also total sales rose 13% year-over-year to $746 million. Growth should continue as ROST plans to open 80 new stores in the next year. ROST plans to repurchase $450 million in shares (3% of current market cap) during FY 13. ROST is a dividend growth machine with an average 5-year dividend growth of 30% with only a 22% payout ratio. ROST has a current dividend yield of 0.86%.
TJX's fiscal first-quarter earnings rose 58% from a year-earlier period that included store-closing costs, as the discount retailer's same-store sales continued to grow. TJX recently announced that May same store sales rose 8% and total sales rose 10%. This will place TJX at the high end of 2nd quarter earnings. TJX has a strong value proposition across brands and its ability to respond quickly to changes in customer buying preferences position the company well for U.S. market share gains. TJX plans to repurchase $1.3 billion is stock (4% of current market cap) in the next year. TJX is a great dividend growth stock with an average 5-year dividend growth of 20%. TJX currently has a dividend yield of 1.06%.
The big box retailers are performing well in 2012. Wal-Mart (NYSE:WMT) is up 15% and Target (NYSE:TGT) is up 13% year to date. WMT has unexpectedly rallied strong following the Mexico bribery allegations and the gender lawsuit announcement of 2,000 employee complaints. Wal-Mart is best known for their supercenters but it got a boost from the success of its Express outlets. WMT has seen its small-format U.S. stores, called Wal-Mart Express, become profitable in less than a year. Due to an active share repurchase program, WMT expects shares outstanding to decline 3.6% in FY 13, following a 5.3% reduction in shares in FY 12. Overall, analysts project EPS of $4.94 for FY 13, up 10% from operating EPS of $4.49 in FY 12. WMT has a dividend yield of 2.36% as its dividend was increased 8.9% in the past year. WMT is a large, mature business but its dividend payout is still only 32%.
Target reported 4.4% same store sales growth in May, which was at the high end of the company's expected range. Analysts were looking for 3.5%. Target said larger average transaction sizes helped fuel the gain, with food and apparel strong, while the retailer saw weakness in its home department. Target earned $697 million, or $1.04 per share, in the first quarter that ended in April, up from $689 million, or 99 cents per share, a year earlier. Target has added a wider variety of food, including fresh produce, to more of its stores. Target's latest initiatives include opening its first CityTarget stores, smaller, urban-format stores, this summer. TGT expects to open 125 to 135 Target stores throughout Canada primarily during calendar 2013. In first quarter 2012, the company repurchased approximately 10.5 million shares of its common stock at an average price of $57.31. TGT raised its dividend 20% in June for a current dividend yield of 2.5%. The 3rd quarter dividend will be the company's 180th consecutive dividend paid since October 1967 when the company became publicly held.
Dollar General and other discount stores such as Dollar Tree (NASDAQ:DLTR) and Family Dollar (NYSE:FDO) are benefiting from more consumers seeking deeper discounts on everyday necessities. These stores should continue to perform well as their combination of very low prices and convenient locations will continue to draw in low and middle-income consumers. Proof is in Dollar General being up 29% year to date. From FY 06 through FY 12, DG increased its store count from 7,929 to 9,961. The company plans to open 625 new stores in FY 13, in line with the 625 stores added in FY 12. DG sees opportunity for up to 12,000 Dollar General stores, including locations within new markets along the Pacific Coast and in the Northeast. DG reported a fiscal first-quarter profit of $213.4 million, or 63 cents, a share, up from $157 million, or 45 cents a share, a year ago. Sales rose 13 percent to $3.9 billion. Sales at stores open at least a year, or same-store sales, rose 6.7 percent.
In stark contrast, some of the luxury good stocks have been hammered recently. While the super-rich (billionaires) still love to have their luxury goodies, the less rich (millionaires) have tightened their wallets recently. Luxury jeweler Tiffany & Company (NYSE:TIF) had lower than expected first quarter earnings and lowered near term expectations. TIF was hammered as the stock is down 22% year to date. TIF reported worldwide sales are currently increasing by a low-single-digit percentage, reflecting difficult year-over-year comparisons and decelerating rates of economic growth in many countries. TIF did increase its dividend by 10% for a current dividend yield of 2.5%.
Jones Group (NYSE:JNY), the maker of clothes and accessories under such names as Nine West, Jones New York and Stuart Weitzman, reported revenue had fallen 2.6 percent to $936 million in the fourth quarter ended March 31, just shy of the $937.3 million Wall Street was forecasting. Jones reported a net loss of $1.2 million, or 1 cent per share, compared with a year-earlier profit of $25.7 million, or 30 cents per share. Jones, whose portfolio also includes Rachel Roy and Robert Rodriguez, has been shifting its focus to its growing portfolio of luxury brands, moving away from low-margin basics like jeans. So far, it appears the timing was not so good for this strategy.
While luxury handbag maker Coach (NYSE:COH) posted great earnings, its stock is still down 5% year to date. You would think Coach would be outperforming the S&P 500 after it reported third-quarter earnings rose 21% on strong sales in China as the company also raised its dividend 33%. COH was up 25% through March but has fallen 30% from the peak since April. Estee Lauder Co.'s (NYSE:EL) fiscal third-quarter earnings rose 5% as the beauty-products company posted strong sales growth across all of its regions, but shares slumped on a weaker-than-expected profit guidance for the fourth-quarter. EL is planning to increase advertising to strengthen sales growth. YTD, EL is down4.0%.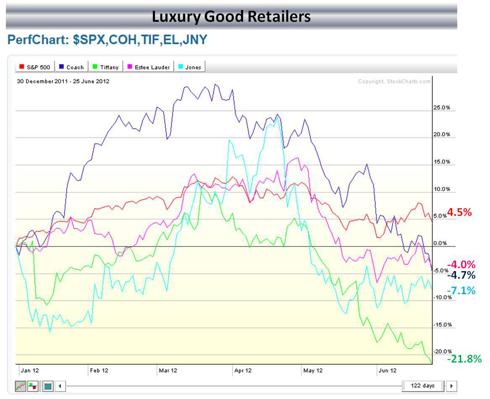 Disclosure: I have no positions in any stocks mentioned, and no plans to initiate any positions within the next 72 hours.