Clothing is something that we will always need since we are unable to legally walk around naked even on the perfect weather days. There are a number of solid clothing-related companies with above average growth. V.F. Corporation (NYSE:VFC) is one of the major players in the textile industry.
V.F. Corporation is better known by the names of its 35 brands. The company's top brands are: The North Face, Wrangler, Timberland, Vans, Lee, and Nautica. V.F. Corp. operates in five main segments known as coalitions: Outdoor and Action Sports, Jeanswear, Imagewear, Sportswear, and Contemporary Brands.
The company is fairly valued on the low end with a forward PE ratio of 12.83, a PEG of 1.13, and a price to book ratio of 3.52. This is a typical valuation for a consistent business that doesn't have many negative surprises.
VFC has a profit margin of 8.98% and an operating margin of 12.77%. Earnings per share are a healthy $8.07. The company brings in $1 billion in operating cash flow and $317 million in free cash flow.
VFC has two upward earnings revisions for 2012 and two for 2013. This should lead to more positive earnings surprises. VFC exceeded earnings estimates in its last four quarters. It is expected to grow earnings annually at 13.08% for the next five years. If the company's 2% dividend is reinvested, investors should be able to double their money in five years. This is based on a 15% compound annual growth rate (OTCPK:CAGR).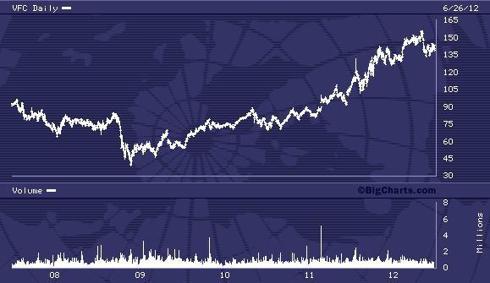 Click to enlarge
The company's growth will come from multiple drivers. VFC is growing well in Asia and also in the challenging environment in Europe. For 2012, VF expects 37% of revenues to come from international markets. Despite the tough economic environment, VF is expecting double digit growth in Europe this year. VF's movement into China is still in the beginning stages - so there is plenty of future growth opportunity in that region. The company's goal is to achieve 40% of revenues from international markets by 2015.
VF is planning to open 110 new stores with the largest number planned for Vans, Timberland, and The North Face. The company is expecting to derive 20% of revenues from direct to consumer mediums for 2012 and has a goal of achieving 22% in the future.
With 80% of VF's business coming from its wholesale partners, continued focus is being placed on aligning the company's brands, products, and marketing strategies with those who can drive profitable growth.
Innovation is another factor for the company's growth. Consumer friendly products such as The North Face's flash dry fabric which provides unmatched moisture wicking, and Timberland's anti-fatigue technology which provides all day comfort are a some examples of VF's innovations. The company's other brands are also pursuing product and process innovations.
The company doubled in size in the last five years and VF would like to continue this momentum. VFC is one of the few companies that can achieve a 15% CAGR (earnings growth plus dividend yield). This growth should reasonably allow an investment to double in five years.
Disclosure: I have no positions in any stocks mentioned, and no plans to initiate any positions within the next 72 hours.