Earlier this week, I wrote an article about Illinois Tool Works (NYSE:ITW), the diversified industrial powerhouse. In it, I found that while the company and the stock will (eventually) do fine, there are other companies that are comparable and that could provide more upside when the climate gets more positive. Those seemed like companies worth looking into as potential switches in the industrial space.
The first of those was Johnson Controls Inc. (NYSE:JCI). The company has produced a pair of shaky quarters to start its fiscal year 2012 (which runs October 2011-September 2012, a quarter ahead of the calendar year), and the stock has suffered as a result. In fact, Johnson has underperformed its sector despite the sector struggling as a whole. This underperformance doesn't exactly exaggerate Johnson's rough patch, but instead places the burden strongly on the company to prove it can achieve results. As such, we might be a quarter or two away from a safe entry point for owning the stock. Still, there is intriguing upside here if the company can put it together.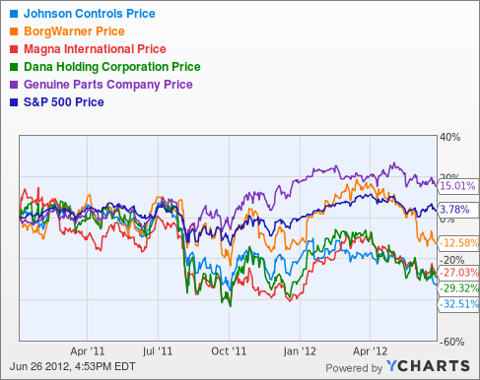 Johnson Controls is a Milwaukee-based industrial company with a market cap of over $18 billion. The company has three main divisions: Building Efficiency, Power Solutions, and Auto Experience. The auto business makes up about half of the company, with the building efficiency and power solutions units providing 1/3 and 1/6 of the business, roughly (based on 2011 figures for sales). The company splits its sales about evenly between North America, Europe, and the rest of the world, with the last having the least weight.
Johnson's auto business is the strongest as well as the largest for the firm. The company makes, "seating, overhead systems, door and instrument panels, and interior electronics." The segment has grown sales over 11% so far in FY 2012. Income in the segment has trailed that due to recent integration costs related to the acquisition of a metals company. Still, considering the current robust nature of the auto industry in the U.S. and the record-high average age of cars on U.S. roads, Johnson Controls seems to be well-positioned for a demand cycle that should persist. Even in Europe, Johnson had an increase in sales in the last quarter, though partially fueled by an acquisition.
The power solutions unit is a slower growing but higher margin one for Johnson. Power solutions as a segment is also tied to autos: this is essentially Johnson's automotive battery unit. The company produces both lead-acid (i.e. traditional) batteries and, "advanced batteries for Start-Stop, hybrid and electric vehicles." While this business is again levered to the auto industry, it underperformed last quarter mostly due to mild weather, which prevented aftermarket customers from restocking fully. Presumably, restocking and replenishing of inventories will have to happen sooner or later, and CEO Stephen Roell suggested that this could lead to upside in the summer.
The building efficiency unit has been the biggest drag on the company's performance this year, increasing sales only about 3% while seeing a slight decrease in income in the segment. Johnson's business here is to provide, "equipment, controls and services for heating, ventilating, air-conditioning, refrigeration and security systems." This makes Johnson a major green industrial company, and the company boasts of its renewable energy projects and contribution to large savings of carbon dioxide emissions. This is the sort of secular trend (see Johnson's work on the Empire State Building) that will eventually win out over temporary market currents but, in an uncertain period, suffer as companies and builders seek to cut costs. The company's performance and confidence in this sector became a bone of contention in the most recent conference call, more on which below.
For a large cap industrial company, Johnson has a lot of positive "soft" values that can make investors feel warm and fuzzy about owning the stock. While these are not values one can bank on, they are encouraging nevertheless. The company boasts of being an annual nominee to the Ethisphere magazine's list of most ethical companies in the world and to Corporate Responsibility magazine's "Best Corporate Citizens" list, as well as a number of other awards. Most valuable to investors may be the company's moniker as, "one of Institutional Investor magazine's most shareholder-friendly companies in America."
Some of the other values translate into opportunity, however. As mentioned, the company is a green company, and behind that comes a spirit of innovation. The start-stop batteries, for example: when a car using one of these batteries comes to a stop, the battery stops powering the engine, and as soon as the driver either puts the shift into first gear or touches his/her foot to the gas pedal, the battery kicks the engine back on. These batteries can be used in all cars and not just hybrids, and the technology is not only feasible but totally non-intrusive once one gets used to it (I speak from the experience of renting a Toyota (NYSE:TM) Yaris equipped with said battery; if I, a terrible driver, could manage to use the car fine, anybody can). Not all of Johnson's investments in this area have paid off, but this is a growing market: Pike Research projects a CAGR of 32% for the use of stop-start batteries over the course of the decade.
While Johnson has visibility for growth in the longer term, it has struggled in 2012. The company took a big hit in both stock price and reputation after its first quarter report, in which the company missed estimates slightly and lowered guidance by 5% for the year. The second quarter was an improvement in so much as the company kept guidance steady and hit the midpoint of its quarterly aim, but the forecast for the 2nd half of the year featured a back-loaded guidance, with Q4 expected to be stronger than Q3. This raised questions among analysts about whether the company could deliver, with questions around the company's confidence in its building efficiency business especially sharp. Considering the company initially guided to hit 9 to 11% sales growth in that segment and has only done about 3% so far this year, the questions are warranted. It should be mentioned that analysts as a whole are bullish on the company, suggesting that the valuation and positioning of the company in strong markets are undeniable.
Speaking of valuation, here's a chart comparing Johnson to Illinois Tool Works, but also more auto-parts-centric companies, including BorgWarner (NYSE:BWA), Magna International (NYSE:MGA), Dana Holding (NYSE:DAN), and Genuine Parts Company (NYSE:GPC):
(Sources: TDAmeritrade, WSJ)
| | | | | | | |
| --- | --- | --- | --- | --- | --- | --- |
| As of Q1 2012 | JCI | ITW | BWA | MGA | DAN | GPC |
| Market Cap | $18.2B | $24.8B | $7.4B | $9.1B | $1.8B | $9.4B |
| Revenue Growth (based on Q1 2012) | 4.15% | 3.62% | 10.52% | 8.33% | 9.83% | 6.96% |
| Yearly Revenue Growth | 19% | 12.08% | 25.88% | 14.57% | 24.28% | 11.16% |
| EPS Growth (Annual) | 21% | 47.72% | 272% | 11.75% | 172% | 5.73% |
| Estimated Earnings Growth (next 3 years) | 18.22% | 12.05% | 18.78% | 8.46% | 15.73% | 8.87% |
| Earnings 2011 | 2.42 | 3.77 | 4.45 | 4.85 | 1.66 | 3.58 |
| Earnings 2012 (Est.) | 2.71 | 4.25 | 5.46 | 4.94 | 1.96 | 4.09 |
| Earnings 2013 (Est.) | 3.32 | 4.72 | 6.45 | 5.52 | 2.31 | 4.4 |
| Free Cash Flow 2011 | -0.36 | 3.24 | 2.46 | -0.11 | 0.81 | 3.3 |
| 2011 P/E | 11.03 | 13.76 | 14.41 | 8.07 | 7.47 | 16.80 |
| 2012 P/E | 9.85 | 12.21 | 11.75 | 7.92 | 6.33 | 14.71 |
| 2013 P/E | 8.04 | 10.99 | 9.94 | 7.09 | 5.37 | 13.67 |
| 2011 P/FCF | neg. | 16.02 | 26.07 | neg. | 15.31 | 18.23 |
| PEG Ratio | 0.61 | 1.14 | 0.77 | 0.95 | 0.47 | 1.89 |
| Price | 26.69 | 51.89 | 64.13 | 39.12 | 12.4 | 60.15 |
| Dividend | 0.72 | 1.44 | NA | 1.1 | 0.2 | 1.98 |
| Dividend Yield | 2.70% | 2.78% | NA | 2.81% | 1.61% | 3.29% |
(Note: JCI's fiscal year ends in September; EPS growth for JCI and MGA are for one year only)
As a whole, this sector has been battered. It could be due to the idea that people who have postponed their car purchases during the recession have already bought replacements, or that the new cars have already been built and the gains already factored in. There are also the omnipresent European fears and general macro concerns that weigh down cyclical stock prices like these.
That creates a longer term opportunity for investors for when the stocks rise to more average multiples. And amongst this group, Johnson presents the most attractive mix of growth (only BorgWarner has higher forecast growth and only Dana a lower PEG ratio), valuation (cheaper than all but Dana and Magna), and income. Johnson has raised the dividend twice since the 2008-09 crisis and is due to make it three years in a row in the second half of the year. The payout ratio sits at 30% of last year's earnings and 26.5% of this year's projected earnings, suggesting it has room to rise.
This chart also helps crystallize the exaggerated, often supercilious emphasis placed on pegging companies stiffly to quarterly numbers. Johnson missed Q1 and lowered guidance for the year and it is important to hit one's own targets for credibility's sake. Both statements are true. But if Johnson hits the low end of guidance, which would be $2.7/share, the company would still achieve 11% earnings growth year over year. That is perfectly decent for a cyclical company in a difficult environment.
That said, analysts' opinion holds weight, and it is fair to hold JCI management's collective feet to the fire to see if the company can hit the second-half targets for FY 2012. Until JCI produces a solid quarter - at least hitting the guidance it laid out in the Q2 conference call (an implied $.67/share) and maintaining the strong growth guidance for Q4 - the stock is going to be both vulnerable to general market fears and cyclical shocks and to the negative sentiment swirling around the analyst community.
Johnson's positioning in interesting and secular markets and long-term track record imply that this is an investment that should pay off in the 2-4 year range and over longer periods. With good performance and a tiny bit of brightening in the overall economic picture, the company could regain 12x earnings multiples, which on next year's earnings would be about 40/share, a 50% increase from current levels. 12x forwards earnings is hardly an unattainable multiple: the stock traded at about 14x forwards earnings in 2006, for example.
But at this point, the stock may not have yet hit bottom. This is a case where I would rather wait and buy the stock on the way up, after a strong quarter. There is a lot of room for Johnson to run once it gets its operating engine back to full force. Unlike cars powered by its stop-start batteries, however, Johnson's overall business hasn't turned on with a mere touch of the gas pedal. The company should iron out the bumps in its performance; it's just a matter of waiting to see when it happens.
Disclosure: I am long ITW.