By Ron Badilla
At the beginning of the month of May and after the corporate bond sector outperformed, bondsquawk.com pointed out that spreads were suggesting concern over the re-emergence of the European Debt crisis and were at risk of widening along with an increase in volatility in the equities market. We stated on May 2, 2012 the following:
Across the pond in Europe, the capital markets are a mess. Both the United Kingdom and Spain have entered a double dip recession with consecutive quarter negative GDP prints which in turn should exacerbate their respective debt problems. European equities are deep in the red in April highlighted by the Spanish IBEX down 12.4 percent and the Italian MIB falling 8.6 percent. Most importantly, borrowing costs for the debt-heavy countries rose last month. The yield on Italy's 10-Year jumped 51 basis points to 5.50 percent while Spain's benchmark note finished April at 5.74 percent, a spike of 41 basis points from the previous month-end.

Given the turmoil in Europe, it's apparent that investors in the corporate bond market are concerned over the re-emergence of the European Debt crisis. In light of the last bazooka in the European Central Bank's LTRO program, what is not apparent is the next response by European policy-makers, if any, and when it may take place.
We added that one should reposition their portfolio and reduce risk given the headwinds.
This uncertainty is enough to warrant a defensive stance in the Corporate Bond sector given the risk-reward tradeoff. This can be accomplished in a myriad of ways depending on your investment objectives and time horizon. An astute investor can sell their corporate bond holdings and own Treasury bonds which usually outperform in high uncertainty with the expectation of a better entry point in terms of spread. Obviously, the cost to this approach would be less yield for the investor.

In addition, an investor can reduce their risk by shortening a portfolio's maturity by selling longer-dated corporate bonds and in favor of credit bonds with shorter tenors that are 5-Years and less. As mentioned several days ago, this part of the curve can capture positive returns by following a Rolling-Down the Yield Curve strategy.

Another strategy is to rotate within a corporate bond portfolio by selling more volatile and risky sectors like Banks and Finance and into the safer Industrial sector.
Since that time, spreads have widened significantly as uncertainty increased. The yield differential or spread over comparable maturity U.S. Treasuries of the Barclay's U.S. Credit Index has jumped from 170 basis points from the end of April to a current level of 185 basis points.
While spreads have widened out and corporate supply has been benign for the most part, risks remain for the sector that could lead to further underperformance on an absolute and relative basis to U.S. Treasuries. Furthermore, current spreads are near their 200-Day average and appear fair at best.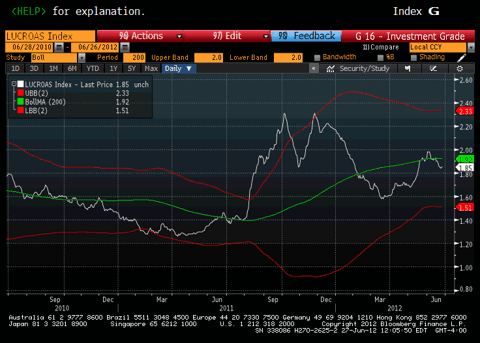 Click to enlarge
(Click to enlarge)
Bond Trading - Barclay's US Credit Bond Index Spread
Having said that, investors should keep their powder dry until the risks over in Europe and concerns of both U.S. and global growth subside. By doing so, investors may have better opportunities to own corporate exposure at more attractive levels. In particular, a spread of 230-240 basis points may be an attractive entry point when utilizing Bollinger Bands on an intermediate to long term time series analysis.
Again, investors should maintain a defensive posture by the aforementioned trading strategies until conditions become clearer and/or spreads widen significantly.