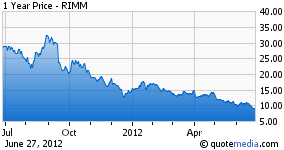 Research In Motion (RIMM) reports their first-quarter earnings after the close today so fasten your seat belts and deploy your airbags. It should be brutal. But what if it's not? Yeah, that's right. I said it. What if RIM, getting slapped dumb in the smartphone phone war with Apple (NASDAQ:AAPL), Google (NASDAQ:GOOG) while throwing themselves at the mercy of investment bankers at Morgan Stanley (NYSE:MS), actually manages to exceed expectations?
I really didn't just ask that question, did I?
It's at least metaphysically possible … isn't it? Wall Street expects a loss of a penny a share, versus a profit of $1.33 in last year's first quarter. Ouch. Revenue is pegged at $3.1 billion, from a much more flush $4.9 last year. Double ouch.
Here's what you need to consider, though: expectations cannot be lower. All Things D ran a representative headline: "RIM Earnings Preview: `Terrible With a Scoop of Worse.'" That might be the most negative headline of all time.
Moreover, RIM has ceased all guidance. Long-term, this is worrisome. But short-term, it increases the chance for a surprise-a chance heightened by RIM's large but undefined and largely unknown campaign of cost cuts.
But this is what you need to do in the unlikely event of a beat: nothing. Considering the lack of communication on RIM's part and the pile-on nature of the low expectations from Wall Street and the media, any modest beat would merely be part of the expectation game. That's a small consolation.
In other words, unless RIM beats by a considerable measure (say, 5 cents or more) there is no reason to believe that RIM is in anything other than a fatally fractured state. A penny or two spread between expectations and reality does not amount to much, if anything, about the direction of RIM's business. You don't want to own a doomed company, just because the funeral date has been put off for a quarter or two.
Remember: there is a difference between beating expectations and returning to form. Even if RIM beats, they are a long way from decent form.
Disclosure: I have no positions in any stocks mentioned, and no plans to initiate any positions within the next 72 hours.