Introduction to the company
BP p.l.c (NYSE:BP) is one of the world's largest oil and gas companies. As per the research and analysis of 2011, this multinational company is emerged as the 3rd largest energy company, the 4th largest company and one of six of oil & gas super majors. The company is extensively active on almost every branch in its industry. Marketing its products in more than 70 countries, BP mostly focuses on exploration and production, as well as marketing. Through these business segments, BP provides fuel for transportation, retail brands and energy for heat and light.
Financials (balance sheet, cash flow, and income statement)
BP has suffered greatly after the 2010 Gulf of Mexico oil spill, which dragged its stock price deep down to mid-$20 levels. Since then, the oil company has shown a rapid recovery. Now after two years, BP did a fantastic job and laid down a magnificent two-year report, making itself one of the most breathtaking companies in its sector.
In 2011, revenues and other income of BP Company was $386.5 billion in total, and the rate for total income gain reached 25% in comparison with income in 2010 ($308.9 billion). The oil and gas production in 2011 was 10% lower than in 2010 because of higher turnaround and maintenance activity, the impact of the drilling moratorium in the Gulf of Mexico. Despite all this, BP is making headway.
Source: BP Annual Report and Form 20-F 2011, P. 53-54
In 2011, BP`s profits soared to $25.7 billion. It seems incredible after suffering so much from oil spill tragedy, which caused a $3.7 billion loss for the company. The financial damage occurred from $40.9 billion clean-up costs after this accident, turning out to be a catastrophic event for the company. Operating cash flows recovered in the following year, primarily due to a reduction in cash outflow in respect of the Deepwater Horizon oil spill. Cash and cash equivalents at the end of 2011 totaled nearly $14.1 billion, and BP`s net debt ratio was 20.5% in comparison with 21.2% in 2010, and 20.4% in 2009. These all key financial indicators prove that BP has been moving straight ahead with quick and stable steps, has positive and rising year to year prospective. Based on its indicators, BP has an O-Metrix score of 5.43.
(For more information on O-Metrix calculations, please click here.)
Shareholder policy and Earnings
Fortunately for investors, BP surprised public with financial indicators for 2011 year and continues to impress with its elaborated initiatives to return previous leadership and glory days for BP. In 2011 (post-accident) period, BP`s earnings per share soared to 135,93 cents from 19,81 cents of loss per share in 2010. Moreover, the rate of earnings per share in 2011 was even 54 % bigger than it was (88,9 cents) in 2009 (pre-accident).
Source: BP Annual Report and Form 20-F, 2011, P. 214
Since acquiring 50% of the company for around $8 billion, BP received approximately $19 billion in dividends - which equates to roughly $2 billion per year. The total dividend sum was $4.1 billion last year for BP shareholders, which was $2.6 billion in 2010.
Source: BP Annual Report and Form 20-F 2011, P. 214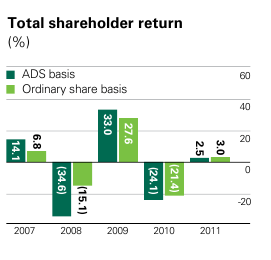 Refining and marketing profitability compared to the other oil majors is BP's joker card, and the overall vesting was 16.67% of the shares. It is noticeable that shareholder return improved with the resumption of dividends last year. The 52 week range of BP is within $32.56- 47.77 currently.
According to The Street Ratings` report on July 14th, 2012 BP dividend rate is $1.92, whereas dividend yield is 5.10%. The company's dividend yield is quite satisfactory among those of the companies The Street tracks. Currently there are 5 analysts that define BP`s rating for shares as "buy", 1 as "outperform" and 3 as "hold". Between 2012 and 2014, BP is going to coordinate share elements to company's strategic agenda focused on value creation, reinforcing safety and risk management, rebuilding trust.
Competitors
TOTAL S.A. (NYSE:TOT), Chevron Corporation, Exxon Mobil Corporation, and Eni S.p.A. (NYSE:E) are the major competitors of BP in the global market.
Present Economic Outlook
According to The Money CNN rating report, BP produces around 6.7 million barrels of oil equivalent daily, while it has a global marketplace capitalization of $119.4 billion. The company began working on the deepwater Galapagos project in the Gulf of Mexico. This is one of the six high-margin projects the company started in 2012, planning to invest around $4 billion a year on oil and gas development in the region over the next ten years. Also, BP is going to spend about $400 million to install pollution controls at the Indiana refinery, which will allow the company to process heavy crude oil from Canada. This project allows BP finally to get back to production volume up to 405,000 barrels a day.
The company has well-established cooperation in Europe, USA, Canada, South America, Australasia, Russia, Asia and parts of Africa. It gives to BP a significant advantage as an opportunity of market emerging. BP is concentrated on forming alliances with strong national partners. In 2011, BP and Reliance Industries (Reliance) signed a partnership agreement, completed the acquisition of 30% stake in 21 oil and gas PSAs that Reliance operates in India. As it is expected, the partnership will allow BP to take material positions in significant hydrocarbon basins to increase its exposure in growing energy markets.
Summary
The key financial indicators and analyses illustrates BP`s economic recovery and stabilization in 2011. The company`s survey and economic rise in the post-accident year became possible due to a strong leadership team, who provide rigorous oversight and supporting executives as circumstances dictate, elaborated management and an effective economy policy in the company activity. BP, intended to produce and deliver even more in the future, step-by-step becomes again a major oil and gas leader and gets back to its glorious days. In terms of stock price, BP looks quite cheap as its rivals like Chevron (NYSE:CVX) and Exxon (NYSE:XOM) are at their highest within the last three years, while BP is hovering around quite reasonable levels.
BP had enough time to prove its ability to move forward, increase its economic stability, financial well being and overcome successfully through the most difficult situations. It is revealed that nowadays BP is a unique arena for investment in international trade world. It seems reasonable and elaborated to consider BP as one of the oil and gas favorites to invest in. Those are sufficient reasons to suggest that BP is a profitable sector for investing to get safe and steady incomes. Therefore, I recommend BP as an exploratory sector for giant profits in the subsequent years.
Disclosure: I have no positions in any stocks mentioned, and no plans to initiate any positions within the next 72 hours.