Blue Nile (NASDAQ:NILE) is the leading online retailer in diamonds and jewelry. A month ago, the company announced its Q4 2007 results.
Its Q4 sales of $111.9 million were 23.3% higher than the previous year's Q4 sales. Over the same period, its orders increased by 14.9% and average selling price per order went up to $1,411 from $1,314. However, its revenues missed the analyst expectations of $113.1 million.
For the year, the company reported net revenues of $319 million, which are 26.5% higher than the previous year.
Its Q4 EPS of $0.45 was 28.5% higher than the previous year's EPS of $0.35, and just $0.01 higher than market expectations of $0.44. For the year, it reported an EPS of $1.04 was 36.8% higher than the previous year's EPS.
During the quarter the company repurchased 94,100 shares for $6.5 million. For the year, it repurchased 438,755 shares for $20 million, and have authorized an additional $100 million for stock repurchases over the next 24 months.
For Q1 outlook, Blue Nile sales are expected to be similar to Q1 2007 of $67.9 million, and EPS of $0.14. The analysts were expecting sales of $68.4 million with the same EPS.
For 2008, Blue Nile is now focusing on international expansion. It has begun shipping to 12 countries in Europe and Asia. I tried to use the company's U.K. site, but merchandise offering is limited, and I wasn't able to do what I wanted to do.
The company claims that the economic downturn, might not hit its online sales as much as the brick and mortar sales. But as of now, its stock does not seem to be buying that logic. It recently touched a new 52-week low of $38.35. It has made marginal recovery in the past few sessions to be trading above $40.00. Wall Street also did not at all like the news of its CFO's resignation. The Blue Nile management seems to have a lot of difficulty holding onto senior executives, something that raises question marks about its scalability.
click to enlarge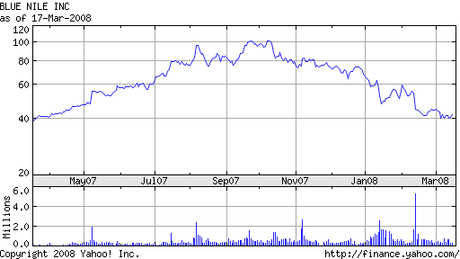 I have earlier talked about Blue Nile's need to up-sell. It seems to be making very slow progress towards that. For the year, its non-engagement sales contribution increased marginally to 32% compared to 30% the year before. The bulk of its business continues to be engagement rings, which means, it is still lacking repeat buyers.
In my earlier analysis of Blue Nile along the Web 3.0 parameters, I had talked about the need for them to build up on Community and Personalization.
On community, the company still appears to be missing the point I raised earlier:
While the Customer Segment for Blue Nile is Men, the influencer Community is Women.
Similarly, on personalization, it hasn't fared any better. A repeat customer still does not enter a customized online store.