Google (NASDAQ:GOOG) recently introduced its new Nexus tablet. Google is trying to grab market share in the tablet market. The growth of tablets has been huge as consumers are opting in for ease of use and convenience.
Click to enlarge image.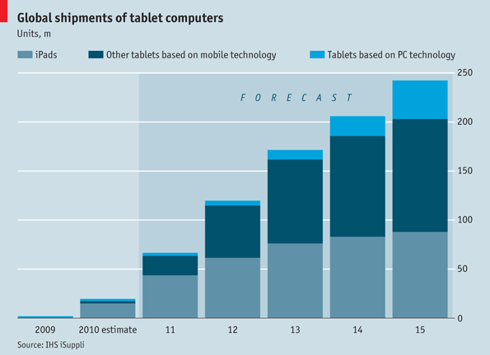 Click to enlarge
The market seems to believe that Google will try to challenge Apple's (NASDAQ:AAPL) iPad. While I expect Google will probably take some market share, I don't think the impact on the iPad will be anything life-changing.
While Google's tablet will be significantly cheaper than the iPad, consumers will not just be looking at the price when purchasing these products. The Nexus tablet will be priced at $199, which is $200 cheaper than the iPad.
I do not believe that the Nexus tablet will be a strong competitor to Apple for the following reasons.
Applications: Apple's app store is considerably bigger than that of Google's. Consumers who purchase these products want to have the ability to download a plentiful amount of applications. This is where Apple is a clear victor.
Screen Size: Yes, screen size does make a difference. The iPad has a screen size of 10 inches compared to the Nexus, which has a seven-inch screen. The screen size of the Nexus is fairly small and seems to emphasize portability.
Cellular Broadband: This is a major issue with the Nexus. It does not allow for users to connect through cellular broadband. They can only connect through wireless networks, which constrains the user. Considering that the screen size emphasizes portability, it doesn't make a whole lot of sense why Google left this out.
So, based on these features, it doesn't seem as if Google's Nexus tablet has anything going for it. While the price may be cheaper, consumers still want to have a decent amount of features before even considering purchasing the tablet. This is similar to Hewlett-Packard's (NYSE:HPQ) TouchPad. HP marked the TouchPad tablets down to $100 and I decided to buy one of them. The tablet was nice, although it lacked many of the features an iPad has. There was a decent amount of apps, but the app store was miniscule in comparison to Apple's. While I do believe the Nexus will have more features than the TouchPad, it still won't come close to the iPad.
The Nexus will probably take some market share from Apple, but it will not be very noticeable. Apple has an established niche market and many fans who continue to buy its products. Investors in Google should not always put an emphasis on the price of the tablets. Lower-cost tablets, such as HP's TouchPad, tried to grab market share before as well and the end result was not good.
Disclosure: I have no positions in any stocks mentioned, and no plans to initiate any positions within the next 72 hours.