It's no secret that many retail investors have been fleeing equities for bonds in recent times. In light of bad jobs reports and a constant stream of dramatic headlines from Europe, investors want a "safe haven" - something they can count on.
Unfortunately, this mass exodus has thrown the proverbial baby out with the bathwater. The broad disinterest in equities has resulted in a selloff of some very solid companies. For investors still in the game, this means that companies with a solid track record and strong growth prospects can often be picked up on the cheap.
One stock currently available at discounted valuations is Cummins (NYSE:CMI), the designer and manufacturer of various engines, generators, and engine components. A quick look at the charts reveals Cummins has had a tough time with the market as of late. Still, several factors suggest the stock might be worth a look at the current price.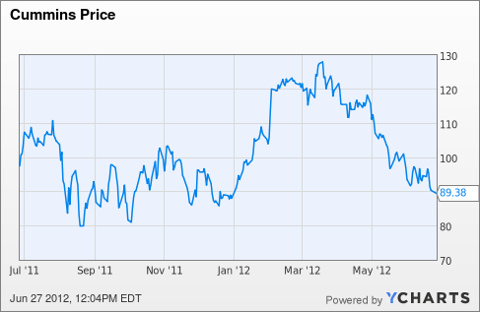 Factor 1: Attractive Valuation
Cummins is currently trading at a TTM (trailing twelve-month) P/E of only 8.80, which is low compared to the machinery industry's average P/E of 13.92. This P/E is at the low end of Cummins' historical range, suggesting that most of the downside is priced into the stock, and that significant price appreciation could occur.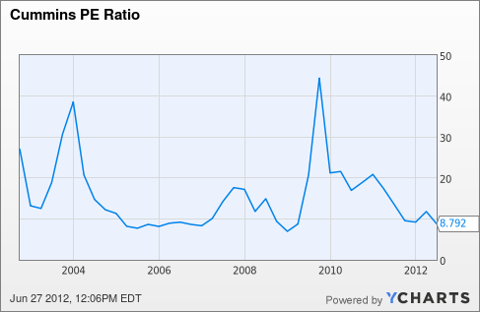 CMI PE Ratio data by YCharts
Also important is the PEG ratio, which at below 1 suggests that the stock's current price does not take future growth into account.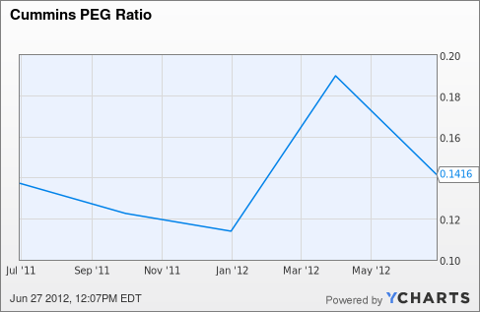 CMI PEG Ratio data by YCharts
Factor 2: Strong Growth
Like all equipment manufacturers, Cummins has been hit by many companies' reluctance to replace expensive equipment and machinery. Of course, aging engines must eventually be replaced, and Cummins is in a good position to fill that need in the future.
Nonetheless, Cummins has displayed resilience in the face of such problems. EPS growth on a TTM (trailing twelve months) basis is 62.26%, almost three times the machinery industry average of 26.13%. Over the past five years, Cummins has had EPS growth of 21.87% (vs industry average of 7.74%).
Factor 3: Dividend
Cummins has a $1.60 annual dividend, which at a current yield of 1.81% isn't going to blow anyone away. However, Cummins does have a history of increasing the dividend, so yield-on-cost is likely to increase in the future. With the stock currently at beaten down prices, a DRIP (Dividend Reinvestment Plan) investment could provide substantial earnings down the road.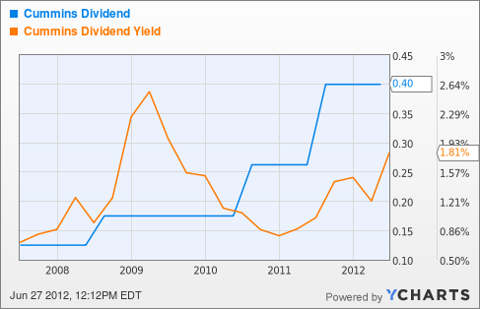 CMI Dividend data by YCharts
Factor 4: Analyst Opinion Bullish
Cummins has a "Bullish" 8.8/10 Starmine Equity Summary Score. (The Starmine Equity Summary Score is an accuracy-weighted sentiment derived from the ratings of independent research providers. It uses the past relative accuracy of the providers in determining the emphasis placed on any individual opinion.) Ford Equity Research, EVA Dimensions, and Standard and Poor's currently have a "Buy" rating on Cummins, while Thomas White has an "Outperform" rating on the stock.
Thomas White summarizes the stock's recent troubles as the result of market forces rather than bad fundamentals:
Cummins' performance reflects the fact that it is a large-cap growth stock in the capital machinery industry... this area is noted for its above average sensitivity to the business cycle and for the wide swings in its stocks. We project it will grow with average persistence and at a longterm rate of 11%. Its overall financial quality is high versus other firms.
Conclusion
I've previously analyzed Caterpillar (NYSE:CAT), another heavy machinery manufacturer that has been beaten down. (Four Reasons To Like Caterpillar). I think Cummins is in a very similar position to Caterpillar: broad market forces resulted in a selloff, leaving a very strong company available for a very attractive valuation. With a dividend and strong growth prospects that will only increase as the economy recovers, Cummins is worth a look for value and dividend investors alike.
Disclaimer: I am an individual investor, not a licensed investment advisor or broker dealer. Investors are cautioned to perform their own due diligence. All information contained within this report is presented as-is and has been derived from public sources & management. Always contact a financial professional before making any major financial decisions. All investments have an inherent degree of risk. The future is uncertain, and actual results may be materially different from those expected. Past performance is no guarantee of future results. All views expressed herein are my own, and cannot be interpreted as the views of my employer(s) or any organizations I am affiliated with. Presentation of information does not necessarily constitute a recommendation to buy or sell. Never make any investment without conducting your own research and reading multiple points of view.
Disclosure: I have no positions in any stocks mentioned, and no plans to initiate any positions within the next 72 hours.