None of the headwinds that I've warned about over the past three months has dissipated. Europe continues to suffer from a sovereign-debt crisis, US economic data has soured and considerable uncertainty remains about US tax policy following the 2012 election cycle.
For these reasons, I continue to allocate my capital to defensive stocks like Philip Morris International (NYSE:PM).
Excluding the state-controlled Chinese market, Philip Morris International is the world's largest cigarette producer, with a roughly 28 percent share of the 5.7 trillion-stick international cigarette market.
The company was spun-off from Virginia-based Altria (NYSE:MO) in March 2008, with the former parent retaining exclusive rights to sell its cigarette brands in the US while Philip Morris generates all of its sales from 180 markets outside the US.
The company's most important and recognizable cigarette is Marlboro, a brand that accounts for more than 9 percent of the global cigarette market outside of China and about one-third of Philip Morris' total revenue. Other key brands in Philip Morris International's portfolio include Merit, Parliament, Virginia Slims, L&M, and Chesterfield.
In 2011, Asia overtook the European Union (EU) to become the company's most important operating region, accounting for nearly 36 percent of revenue compared to the EU's 33.5 percent. What's particularly striking is just how quickly Asia has grown for Philip Morris. As recently as 2009, Asia's sales of 24 percent accounted for a little more than half of the EU's 44 percent.
The EU cigarette market has faced a number of significant headwinds in recent years including a weak economic environment, increasingly stringent anti-smoking laws, and higher excise taxes on cigarettes. Sales trends in Southern EU nations such as Spain, Portugal and Italy have been particularly hard-hit amid a weak economy and increased taxes.
Despite these economic headwinds on the Continent, Philip Morris has performed well there. In the first quarter, revenue rose 2.4 percent year-over-year and over 5 percent excluding the effect of currency movements. Through price hikes, the firm boosted both revenue and operating income despite a 1.5 percent year-over-year decline in cigarette volumes sold.
This performance is testament to the power of Philip Morris' brand and the stability and consistent profitability of the cigarette market even in weak economic environments.
In a recent investor presentation, Philip Morris indicated that the tax environment for cigarettes is actually becoming more favorable. Some countries have found that raising cigarette taxes too much, too quickly causes consumers to cut back, which pushes projected government revenue below expectations. Consequently, the pace of new excise tax hikes in 2012 appears to be slowing.
Asia is Philip Morris' big growth story. In the first quarter, total revenue soared by over 19 percent, equivalent to about 16.3 percent on a constant currency basis. This growth was driven largely by increased volume - total cigarette sales volumes jumped around 12.4 percent year-over-year, with sales of the company's flagship Marlboro brand up 10 percent.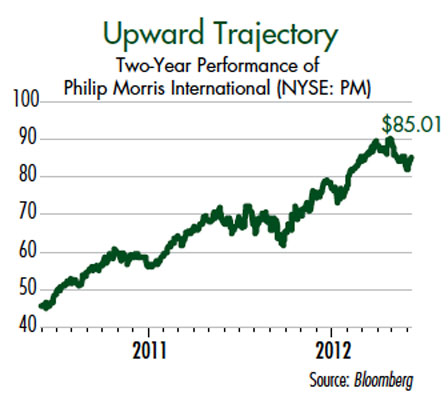 With total sales of more than 77 billion units, Indonesia is also one of Philip Morris International's most important and fastest-growing markets. For the first quarter in that country, Philip Morris estimates its market share reached one-third of the total market. The company's total shipment volumes rose 24.9 percent, compared to 12.2 percent for the market as a whole.
Japan's 46 billion cigarette market shrank in 2011, but Philip Morris was able to pick up market share and grow its sales in both monetary and volume terms. Historically, Japan Tobacco has commanded a dominant share of the local market, but last year's devastating Sendai earthquake and tsunami severely disrupted the company's supply chain, forcing many smokers to switch to other brands such as Marlboro. It appears that some Japanese smokers have decided to stick with Marlboro.
Cigarettes are a quintessential consumer staples business - sales volumes remain resilient even in troubled economic times. The company pays a quarterly dividend of 77 cents, equivalent to a solid 3.6 percent yield at current prices. For more dividend stock picks, check out this high-yield stocks report.
Disclosure: I have no positions in any stocks mentioned, and no plans to initiate any positions within the next 72 hours.