Back on June 4th, I penned an article called Mortgage REITs - Stick With The Tried And True in which I concluded:
Those who have read my prior articles know that I understand the upside and downside of mREITs and I am neither an mREIT fanboy or critic. I own the sector through REM (although I am considering buying the best names in the sector as opposed to the whose sector as hand picked securities are more my forte) and have no bias toward the sector. My point is that if I am going to be involved in the sector during tumultuous times, I want a product that has been through the shredder and lived to tell about it.
In the comment stream of that article, Steve Fulton. the CIO of one of the mREIT "newbies" - Western Asset Mortgage Capital Corp (NYSE:WMC) - posted the following:
Michael, you raise some excellent points regarding the value of tried and true management. WMC is holding a conference call to discuss portfolio composition on Thursday, June 28.

We would welcome your participation and feedback.
Steve Fulton
CIO WMC
I stated in the discussion that it is almost unheard of for a senior executive at a company (in this case the Chief Investment Officer) to respond to an article. Further, the invitation to listen to the call, look under the hood and kick the tires tells me this is a mREIT that actually wants investors to understand what is going on behind the curtain.
In preparation for the call (which will benefit all mREIT investors, not just those interested in WMC), I thought that I would give some background into the REIT and its manager.
The Manager
Western Asset Management Company (WAMCO) - owned by Legg-Mason (NYSE:LM) has been a global leader in diversified fixed-income management since 1971. As of December 31, 2011 the Firm had approximately $443 billion in assets under management. This number included $61.5 billion in total mortgage exposure, of which $37.6 billion was invested in Agency RMBS, $13.8 billion in non-agency RMBS, $2.4 billion in CMBS, and $7.7 billion in ABS.
While WMC is new, WAMCO has been around for quite some time. When I worked in the investment consulting industry, I recommended WAMCO for a variety of client mandates as I respected their abilities and their returns.
Western Asset Mortgage Capital Corp
WMC is a mortgage REIT focused on investing in, financing, and managing primarily Agency Residential mortgage-backed securities and, opportunistically, RMBS that are not guaranteed by the U.S. Government or a GSE, commercial mortgage-backed securities and other asset-backed securities.
The REITs objective is to provide attractive risk-adjusted returns to investors over the long term, primarily through dividends and secondarily through capital appreciation. They intend to achieve this objective by selectively acquiring a diversified investment portfolio of assets designed to produce attractive returns across a variety of market conditions and economic cycles.
WMC's chief investment officer, Stephen P. Fulton, who also serves as the head of the Manager's Agency RMBS team, will, along with two senior portfolio managers from the Agency RMBS team, be primarily responsible for overseeing the management of our assets. The Agency RMBS team works alongside and is able to utilize the resources of the Manager's structured products team, which focuses on managing and evaluating potential target assets, including non-Agency RMBS, CMBS and ABS.
WMC has taken steps to structure their relationship with the Manager so that their interests and those of the Manager are closely aligned. Concurrently with the closing of the IPO, WMC issued and sold in a private placement an aggregate of 46,043 shares of common stock at $20.00 per share to the Manager's deferred compensation plan.
The Perceived Opportunity (in other words - why now?)
From the prospectus:
Since the height of the financial crisis in 2008, there have been a number of proposals put forward regarding the reform of the housing finance market. We believe the most important theme of these proposals, as highlighted in the U.S. Department of Treasury and Department of Housing and Urban Development report to Congress on February 11, 2011, is the reduction of the government's role in, and the return of private capital to, the housing finance market. Several tools intended to encourage investment of private capital were recommended in the U.S. Department of Treasury and Department of Housing and Urban Development report including increasing guarantee fees, decreasing loan limits and tightening underwriting criteria for conforming loans. We believe these recommended changes, some of which have begun to be implemented, such as the tightening of conforming loan limits in October 2011, will reduce the future supply of Agency RMBS, limit mortgage refinancing and associated prepayment risk, and reduce the future volatility of the Agency RMBS market, which we view as positive developments for existing Agency RMBS.

We believe investors continue to seek incremental spreads relative to U.S. Treasury Notes in a low yield environment and financial institutions continue to prefer high quality, liquid Agency RMBS. In addition, our Manager has observed that the long-standing correlation between the prepayment rates of borrowers and their ability to refinance mortgage loans (as defined by the difference between available rates in the market and the legacy rates being paid by borrowers) has become partially de-linked in the past several years. Our Manager believes this is primarily a result of the inability of many borrowers to refinance their existing mortgages because of the significant decrease in the equity value of those borrowers' homes. With yield spreads on Agency RMBS at what our Manager views as attractive levels, our Manager believes there will continue to be strong demand for Agency RMBS.
Translation: Lower refinancings and prepayments, reduced supply and attractive spreads. Sounds reasonable.
Investment Guidelines
Leverage - WMC initially expects to borrow between five to nine times the stockholders' equity, although there is no minimum or maximum leverage that the investment policies explicitly require. Depending on the different cost of borrowing funds at different maturities, the manager will vary the maturities of borrowed funds to attempt to produce lower borrowing costs and reduce interest rate risk. Collateralized borrowings will be done only with institutions that are rated investment grade by at least one agency.
The press release announcing the current portfolio and the investor presentation was released this morning.
WMC is currently levered 8.3x, which is high, but in line with some of their peers utilizing Annaly Capital (NYSE:NLY), Capstead Mortgage (NYSE:CMO), American Capital Agency (NASDAQ:AGNC) and MFA Financial (NYSE:MFA).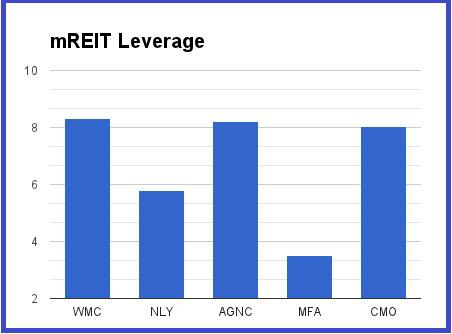 Their financing had the following characteristics:

Click to enlarge
Portfolio Composition
From the release:
As of June 19, 2012, the Company had acquired an aggregate securities portfolio equaling approximately $2.27 billion in current face amount, comprised of approximately $1.44 billion in current face amount of 30-year fixed-rate Agency RMBS (residential mortgage-backed securities for which the principal and interest payments are guaranteed by a U.S. Government agency or sponsored entity), approximately $211.9 million in current face amount of 20-year fixed-rate Agency RMBS, approximately $553.1 million in current face amount of Agency interest and inverse interest only strips, and approximately $65.0 million in current face amount of fixed-rate collateralized mortgage obligations.
The following is the current composition of their portfolio: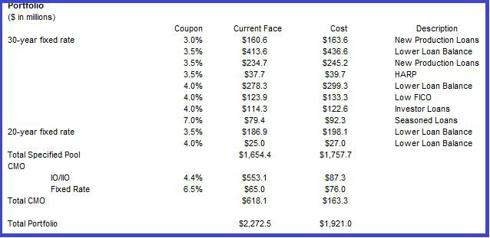 Click to enlarge
Bottom Line: The call should help further explain their strategies and their view of the markets. I will be trying to get a feel for their interest only/inverse interest only positions ($553 million) and their leverage. Thus far, the REIT has stuck to the agency realm, and I am curious if they see value in non-agency RMBS or CMBS.
As a reminder, The Company will conduct a conference call today, Thursday, June 28, 2012, at 11:00 a.m. Pacific Time / 2:00 p.m. Eastern Time. Individuals interested in participating in the conference call may do so by dialing 877.941.8609from the United States or 480.629.9692 from outside the United States and referencing conference ID 4547773. Those interested in listening to the conference call live via the Internet may do so by visiting the Investor Relations section of the Company's website. An accompanying slide presentation for the conference call is also available in the Investor Relations section of the website.
As of this writing, the slide deck is not available.
Disclosure: I am long REM.
Disclaimer: Full disclosure: I am in no way affiliated or compensated with the REIT or their manager. This is as a result of an article I wrote and the desire to get additional information on the company and the markets. This article is for informational purposes only, it is not a recommendation to buy or sell any security and is strictly the opinion of Rubicon Associates LLC. Every investor is strongly encouraged to do their own research prior to investing.