How Low Natural Gas Price Can Affect U.S. industries
Executive Summary:
The shale gas boom presents various U.S industries with chances to benefit. The boom has caused natural gas prices to reach record decade-low levels. Fertilizer companies can benefit by reducing their production costs, while transport companies can make significant cost savings by switching to gas. Engine and CNG truck manufacturers, as a result, will enjoy higher than usual demands and profits. Energy engineering and construction companies will experience massive cash inflows, as the economy will require them to set up the basic infrastructural facilities that can help bring in the supply of gas, which will help to smooth the switching process. On the other hand, this boom has adversely affected coal companies, which have seen a decline in demand as natural gas has become a cheaper substitute for coal. Railroad companies have suffered as well due to reduced carloads of coal required by utility companies. The following thesis will look into each of these industries in detail, while also providing a detailed analysis on other industries and companies, and how they benefit or suffer from the shale gas boom.
Introduction:
Shale gas is natural gas formed after being trapped within shale (a fine grained rock composed of minerals) formations. With an increase in usage of horizontal drilling and hydraulic fracturing over the past decade, large volumes of shale gas can be accessed that were previously uneconomical to produce. Shale gas has become an increasingly important source of natural gas in the United States, and it has reduced U.S. dependence on costlier foreign producers. This increase in the supply of natural gas in the U.S. has led to a reduction in natural gas prices.
Natural gas prices: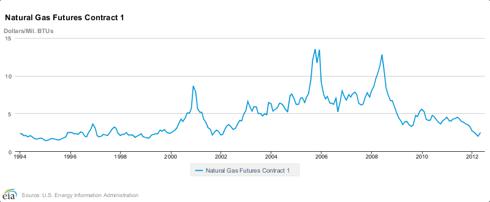 Click to enlarge
(Click to enlarge)
Coal
Most of the major coal companies in the market are serving utilities and industrial customers. Both of these segments have seen a decline in demand. Over the past 12 months, the best performing coal company is down by 28%, while the two least impressive [Patriot Coal (PCX) and Puda Coal (NYSEMKT:PUDA)] have lost more than 95% of their value. Low natural gas prices will hurt coal stocks but the market opinion remains that coal stocks have reached or nearly reached a bottom.
The companies can play the shale gas boom by concentrating on exporting coal to Asia, Europe and Japan, where demand is higher. Alliance Resource Partner (NASDAQ:ARLP) currently exports roughly 3.5% of total sales tons of coal. The following graph from ARLP's analysis shows that over the past three years, only the export consumption of coal has continuously increased.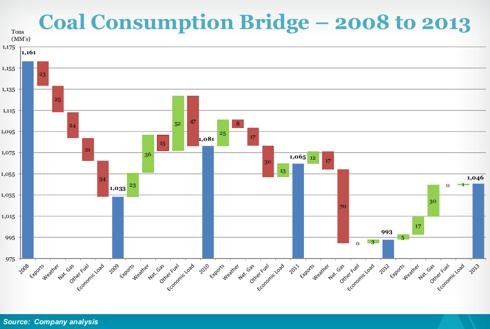 Click to enlarge
(Click to enlarge)
Similarly, Walter Energy (NYSE:WLT), a metallurgical coal company, shows that most of its sales in 2011 have come from Europe and Asia.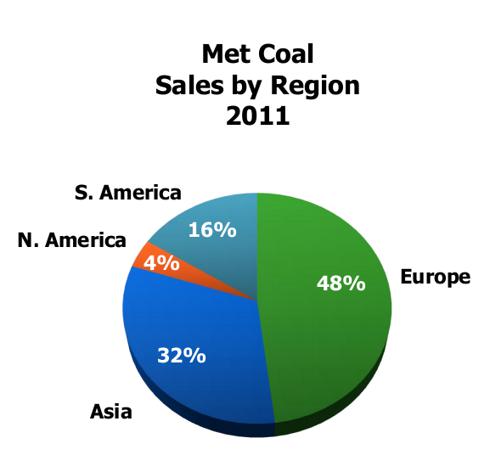 Click to enlarge
(Click to enlarge)
As far as the substitution of gas for coal in utilities is concerned, it is determined by a variety of complex factors like gas prices, weather, coal inventories and the decision of the plant operator concerned.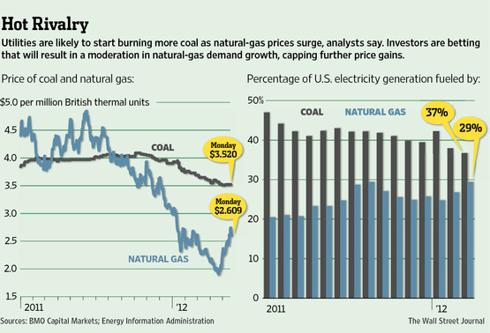 Click to enlarge
(Click to enlarge)
Some analysts say natural gas will eventually be the preferred choice of utilities over coal in the long run in response to pressure from stricter environmental regulations. A gas-fired power plant produces 50% less emissions than that of coal.
We are favoring coal companies because some utilities are bound by supply contracts that force them to buy coal. Coal stockpiles held by power generators were almost 18% above the level in March 2011, and above the five-year range. Coal stockpiles are up as a result of reduced coal consumption by electric power plants.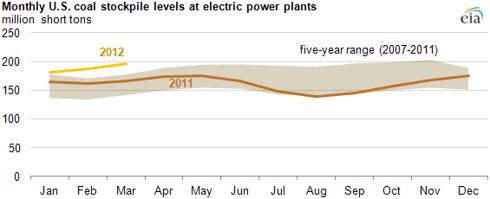 Click to enlarge
(Click to enlarge)
In this situation, Cloud Peak (NYSE:CLD) may be a good choice because it is currently focusing on growth through maximizing exports. Virtually all of its reserves are in the Powder River Basin, and the company has access to West Coast terminals to ship its production to Asia and Japan, where nuclear power generation is being replaced with coal, at least temporarily, is a big buyer, as is China who needs metallurgical coal.
Railroad
The primary problem facing the Railroad Industry, at the moment, is the reduced coal carload traffic due to the lowest natural gas prices in a decade. According to the CEO of CSX Corp. (NYSE:CSX), gas prices need to be the $4-to-$4.50 range per million BTU to encourage utilities to use more coal and in turn drive up the coal revenues for railroads. Coal represents the largest volume of traffic on the U.S. railroads i.e. 25% of total yearly revenue. U.S. railroads have hauled nearly 200,000 fewer carloads of coal this year than they did the last year. In the week ending June 2, 2012, the Association of American Railroads (AAR) said, "Carloads are down by 3.1% compared with the same week last year. Coal carloads fell by 16.6% in April 2012 versus April 2011."
Norfolk Southern (NYSE:NSC), Union Pacific (NYSE:UNP) and CSX Corp. are primary players in the industry. Of these three companies, CSX is the one that is most exposed to coal (31% of its revenue), followed by NSC. UNP is the industry leader and is a less risky investment as compared to CSX because it is not as highly exposed to coal. At present only 22% of its revenues come from coal and petroleum. NSC has already started to exploit the shale gas boom by transporting sand that is used in fracturing rocks (hydraulic fracturing) to get the gas.
We recommend not to short CSX because the stock has exhibited a better 1Q performance than wall street expectations, it offers a high dividend yield, exports of coal to Europe and China are expected to increase, merchandise and intermodal business segments show increasing revenues, and the company is diverting resources away from the declining utility coal segment to other profitable segments.
We think that railroads can profit from the shale gas boom if a shift, from using diesel to natural gas as fuel, is possible. This would lead to significant fuel cost savings. In case of CSX, fuel (diesel) expenses have recently seen a 10% increase (largest cost component) as compared to the previous year. During the past five years, Norfolk Southern Railway's fuel expenses have almost doubled, and at Kansas City Southern (NYSE:KSU), locomotive fuel costs have risen 77 percent during the past two years. Chesapeake Energy (NYSE:CHK) and some other Canadian companies are working to demonstrate the feasibility of using natural gas to fuel railroad locomotives. The company is working with Caterpillar (NYSE:CAT) and General Electric (NYSE:GE) "to roll out natural gas-powered locomotives" sometime in the summer of 2012. The company also believes that any diesel engine in the U.S. can be retrofitted to run on a blend of natural gas and diesel. Railway companies say that there is no support for the claim that gas-fueled locomotives will be less expensive, and that such locomotives will require significant investments.
Railroads, like coal companies can also concentrate on coal exports to China and India to drive up coal revenues. They could also benefit from the shale gas boom by transporting Frac sand, pipe, chemicals and barite like NSC.
Chemical:
Low natural gas prices have energized the Chemical Industry. Companies, who were moving away from the U.S. due to high petrochemical costs, are now finding the U.S. very attractive for reopening closed plants and to build new ones. Dow chemical (NYSE:DOW) made a significant announcement in April 2012 that it will build an ethylene cracker and a new propylene production facility. Some other chemical companies are following suit. This would have been unthinkable five years ago when natural gas prices were high.
Energy accounts for more than 50% of the costs for chemical companies. European chemical companies will be at a competitive disadvantage as the energy costs for US companies fall due to low natural gas prices. Companies such as Dow Chemical Company and DuPont (NYSE:DD) saw first quarter 2012 profits exceed the expectations of Wall Street analysts. Both companies use natural gas as a feedstock. As the capacity of U.S. chemical companies increases, along with decline in energy costs, they can take over market share from their European and Asian counterparts too. This cost advantage makes chemical companies an attractive investment. This can be seen in the case of Lyondell Basell Industries (NYSE:LYB) which has stated that U.S. ethane is advantaged by 15-25 cents per pound as compared to that produced in north-east Asia. Western European operations of LYB are also suffering from higher cost of production for ethylene than those in America.
DOW is a relatively expensive stock, trading at a forward P/E of 16. Its competitors DuPont and Eastman Chemical (NYSE:EMN) are performing better at the moment in terms of profit margins and are cheaper (P/E of 13 and 11 respectively). According to a JP Morgan analyst, DOW does not thrive in a weak economy, while Eastman benefits from advantaged raw materials and earnings increase from the purchase of Solutia.
Fertilizers
Natural gas is a major raw material for the production of ammonia, via the Haber process, for use in fertilizer production. Some 90 percent of the cost of manufacturing nitrogen fertilizer depends upon the price of natural gas. Depressed U.S. natural gas prices means that the fertilizer companies make more money. Profit margins have greatly improved. The graph below shows the change in operating profit margins with changes in the spot price of natural gas.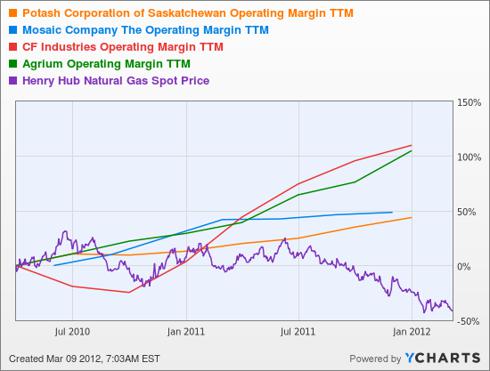 Click to enlarge
(Click to enlarge)
Of all the fertilizer stocks in the market, CF Industries is good for buying as it is cheap (P/E of 9.15as opposed to Potash Corp. of Saskatchewan, Inc. (NYSE:POT)'s P/E of 11.15), it is growing (Quarterly Earnings growth YoY is 30.60%) and has plenty of free cash flow.
Transporters/Truck (Engine) Manufacturers/Waste Management
The increasing divergence between oil and gas prices that once crossed the unbelievable 50.0x (i.e. 50 times multiple) mark in April is currently floating around 40.0x, which is way higher than the general rule of the thumb figure of 10.0x suggested by economists, or sometimes 6.0x, which is commonly called the Burner Tip Parity.
This provides all those industries, which use diesel or oil in their operations, with an opportunity to switch to the cheaper option of using natural gas for fuel purposes. In a simple calculation, one can estimate that gas costs hardly $2 per gallon as compared to the spot rates $3.5 for gasoline or $3.7 for diesel. This means a straightaway 50% cut in fuel costs, which can mean massive cost-savings for companies who have fuel cost as a dominant portion of their overall cost of operations.
However, one should have a close estimate of the cost associated with this switch before one blindly jumps into it. The first and foremost cost is that of buying a CNG model truck/van that is needed to transport the orders. According to a recent study, the incremental cost is $70,000 for a heavy duty truck and $11,000 for a pickup truck. The following table shows the story: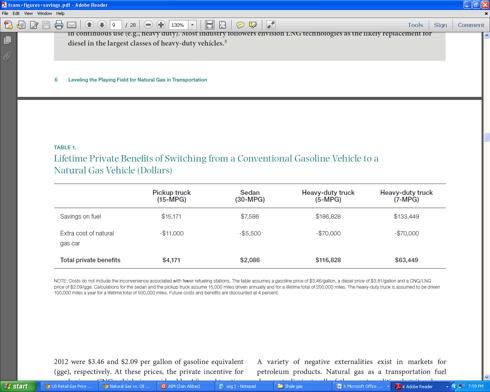 Click to enlarge
(Click to enlarge)
The following table also shows how profitable this switch can be for truck users:
| | | | | | | |
| --- | --- | --- | --- | --- | --- | --- |
| | Year0 | Year 1 | Year 2 | Year 3 | Year 4 | Year 5 |
| Cash Outflows | -70,000 | | | | | |
| Cash Inflows(Savings) | | 40,000 | 40,000 | 40,000 | 40,000 | 40,000 |
| Net Cash Flows | -70,000 | 40,000 | 40,000 | 40,000 | 40,000 | 40,000 |
| Discount rate | 10% | | | | | |
| NPV | $74,210.48 | | | | | |
| IRR | 49% | | | | | |
(The table assumes that the truck's fuel consumption is 5MPG, it has a life of 500,000 miles and will be driven 100,000 mile per year. Therefore a saving of $2 per gallon will be made every year).
Similarly for pickup vans:
| | | | | | |
| --- | --- | --- | --- | --- | --- |
| | Year 0 | Year 1 | Year 2 | ……. | Year 10 |
| Cash Outflows | -5,500 | | | | |
| Cash Inflows(Savings) | | 2,000 | 2,000 | 2000 | 2,000 |
| Net Cash Flows | -5,500 | 2,000 | 2,000 | 2000 | 2,000 |
| Discount rate | 10% | | | | |
| NPV | $6,171.94 | | | | |
| IRR | 34% | | | | |
(Assuming that they are driven for 15,000 miles a year for 10 years and consume a gallon for 15 miles)
This model might be considered too simplistic, as it does not take into account the incremental maintenance charges that come with CNG engines, but yet this switching option poses far more benefits than the costs attached to it.
Even the U.S. government is highly encouraging towards the use of environmentally-friendly alternative fuel and has incentivized it by giving certain tax exemptions to it users.
Incorporating social benefits in the model stated above, the following picture can be displayed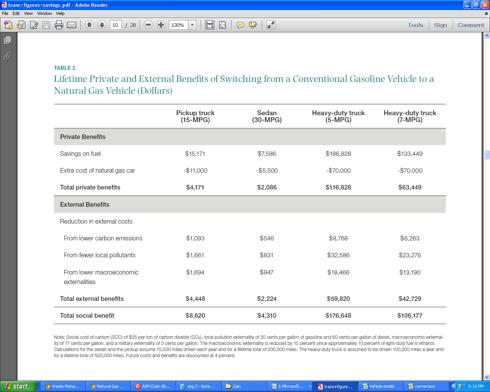 Click to enlarge
(Click to enlarge)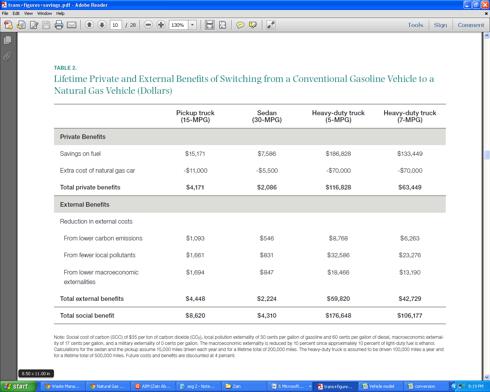 Click to enlarge
(Click to enlarge)
Major Winners:
Westport Innovations Inc. (NASDAQ:WPRT) produces engines and fuel system technologies that enable automotive and industrial markets to use natural gas as an alternative fuel. It is the stock to look out for given that not only does it have a higher forecasted demand, its metrics also firmly back its potential to be the superstar of the Shale gas episode.
| | | | |
| --- | --- | --- | --- |
| Factors | Metrics | WPRT | Industry |
| Growth | 5-Year Annual Revenue Growth | 36.40% | 15% |
| | 1-Year Revenue Growth | 78.70% | 12% |
| Margins | Gross Margin | 35.70% | 35% |
| Balance Sheet | Debt to Equity | 20.70% | 50% |
| | Current Ratio | 4.63 | 1.3 |
After signing collaboration projects with giants like General Motor (NYSE:GM) and Caterpillar Inc , WPRT has increased its chances of being a multi-bagger.
| | |
| --- | --- |
| FDX | |
| In millions ($) | 2012 |
| | Diesel |
| Total Fuel cost | 4,956 |
| Cost allocated to Aircrafts | 998 |
| Rest of the fleet | 3,958 |
| Fuel charges when | |
| Using Gas for rest of the fleet | 1,979 |
| Aircraft's portion of cost | 998 |
| Total | 2,977 |
| Change | 1,979 |
| % reduction | 39.93% |
| % change in Op. income | 5% |
*Qineqt's estimates
*The aircrafts may not be run on natural gas.
*Given that FDX has a fleet of 40000 pickvans, (@incremental $11000) Approx. incremental CAPEX comes out to be $440 million. Incorporating that still gives a positive NPV.
Cummins Inc. (NYSE:CMI) designs, manufactures, distributes and services diesel and natural gas engines worldwide. It has gone through some bad times recently, primarily because of their dependence on emerging markets like India and China, who have suffered from low growth rates. However, CMI's active production of gas engines can bring a turnaround, especially given the favorable metrics that support it as given in the table below:
Segment

Actuals (millions)

Estimate (millions

2010

2011

2012

2013

2014

Engine

7,888

11,307

12,463

13,454

14,126

Power Generation

2,919

3,498

3,627

4,063

4,347

Components

3,046

4,063

4,607

5,436

6,414

Distribution

2,324

3,044

3,577

3,934

4,328

EPS

$5.27

$9.06

$10.40

$11.60

$13.00

EPS Growth YoY

110.6%

71.7%

14.9%

11.5%

12.1%

EBITDA Margin

14.9%

16.0%

16.5%

16.9%

17.4%
The stock is currently trading at P/E of 8x, which is below the industry's P/E of 13x
Caterpillar Inc is a manufacturer of construction and mining equipment, diesel and natural gas equipment and industrial gas turbines. Even though the firm is more known for its construction equipment, its operations in gas engine manufacturing should not be underestimated, since it is expected to bring big fortunes as the shift to natural gas as a fuel is made. It has come under limelight after its deal with Westport Innovations to produce natural gas driven engines rather than diesel engines for locomotive and mining equipment. Its ROE of 39%, almost thrice that of the industry, has a lot more to say about the stock's progress.
PACCAR Inc (NASDAQ:PCAR) designs, manufactures and distributes commercial trucks and related aftermarket parts. Its trading near to the industry's average P/E of 11.57x might not impress investors. However, having the industry's largest lineup of natural gas-powered vehicles as at March 2012, the firm has bright prospects of increased earnings, especially given the fact that trucks transport almost 70% of the goods delivered in the U.S.
Ryder System (NYSE:R) provides transportation and supply chain management solutions. The stock is currently trading at a cheap P/E of 10x, almost half of the industry average (18x). The firm has shown keen interest in renting out CNG trucks to different firms. The firm has recently decided to expand its renting operations in Michigan and Arizona after a successful year in California. The stock is ready to fly big, as the industry gradually adopts cheap natural gas as fuel.
Companies like General Motors, Honda Motors (NYSE:HMC) and Ford (NYSE:F) are also likely to benefit from this switch, as only one tenth of 1 percent vehicles run on natural gas at this moment on U.S. highways.
After having a cut in the Fitch credit ratings and announcing an unexpected first quarter loss, Navistar International Corp (NYSE:NAV) is closely trading to its 52-week low. Amidst this bad news, investors cannot ignore its potential for an upside, as the firm has diversified into natural gas trucks after its partnership with Clean Energy Fuels (NASDAQ:CLNE) to promote the usage of the alternative fuel. The stock currently trades at a meager P/E of 1.52x as compared to the industry's average of 13x, and therefore is projected to be a winner in the future.
After Waste Management (NYSE:WM) Inc's successful shift to a fleet of 1,400 CNG trucks, which led to a cost saving of almost $27,000 per truck (cash outflow not included), Waste Connections Inc (NYSE:WCN) is under investors' scrutiny to follow the same practice. A simple calculation tells us the following story:
| | |
| --- | --- |
| | Cost |
| Total Trucks | 3,000 |
| Currently on CNG | 25 |
| Rest | 2,975 |
| MPG | 2.5 |
| Miles per truck per year | 100,000 |
| Total Miles | 300,000,000 |
| Total Gallons consumed | 120,000,000 |
| Total Savings | $240,000,000.00 |
| 20% | $48,000,000.00 |
| PV of Annuity | $112,981,456.14 |
| Incremental Cash Outflow | $41,650,000.00 |
| (20%*2975*70,000) (1) | |
| PV of Cost | $25,861,373.11 |
| Overall Savings | $87,120,083.04 |
(1) 70,000 refers to the incremental cost of obtaining a CNG truck as explained earlier
*Qineqt's estimate
*discount rate=10%
*The model assumes that the change takes place at the end of fifth year
The firm has decided to convert one-fifth of its 3,000 fleet to CNG by five years time. It currently has less than one percent of its fleet on CNG. With diesel driven trucks only giving a mileage of 2.5 miles per gallon, this option seems to be extremely viable. The savings figure turns out to be almost 50% of the 160 million annual net income ((NYSE:TTM)) declared by the firm.
Energy Infrastructure Stocks
According to Goldman Sachs, the shale gas boom is likely to bring $57-65 billion in investment in the next 5-7 years for U.S. energy engineering and construction companies. The change is likely to be brought across five areas namely:
Gas Processing
Fractionation
Petrochemical
LNG export
Gas power
Gas Processing: After the rise in supply of natural gas liquids (NGL), around $10billion worth of projects are expected to be completed till 2014. Chicago Bridge and Iron Co. (NYSE:CBI) trading at P/E of 13x (one third of the industry average) and KBR Inc (NYSE:KBR) trading at 8x (industry average 46x) with special expertise in this field, hold a great opportunity.
Fractionation: This is the process by which NGL is separated into distinct products. It is expected to attract $4-6 billion. CBI and KBR are the probable winners.
Petrochemical: Intense competition in feedstock worldwide and growing demand for ethylene is likely to pull $18-20 billion. Alongside, KBR and CBI, Fluor Corp (NYSE:FLR) and Jacobs Engineering Group (NYSE:JEC) both of whom are trading at very low multiples, are the likely winners.
LNG Export: As divergence between U.S. natural gas and global LNG (linked to Brent Oil) price rises, customers are considering NA LNG (linked to U.S. gas). Driving $11-14 billion, this area's key winners are expected to be KBR, CBI and Foster Wheeler AG (FWLT); the latter is trading very close to the 52-week low.
Gas Power: With coal to gas switching on the rise, this area is likely to attract $14-15 billion in investment. Alongside, FLR, Shaw group Inc (NYSE:SHAW) and URS Corp (NYSE:URS), despite showing negative EPS, are likely to benefit from the opportunity.
In a nutshell, it is expected that all the related companies that have been mentioned above will benefit from the situation, with the firms trading at low multiples to benefit the most.
Disclosure: I have no positions in any stocks mentioned, and no plans to initiate any positions within the next 72 hours.