The market has moved up recently in spite of some very negative newsflow from Europe. These worries have been specifically related to Spain as well as more general fears regarding the economic climate.
Zooming out a bit, the 2012 market has been bipolar. From the start of the year to April, buying pressure was overwhelming and any dip was brief and quickly bought. However, then the market steadily trended down with any attempt by bulls to elevate prices met by selling, driving prices to lower lows.
Many stocks wiped out their entire gains made year to date. The indexes have remained somewhat resilient with the SPDR S&P 500 ETF (NYSEARCA:SPY) about 6% higher year to date. Recently, the market has enjoyed a rather impressive rally off the June lows. In this article, I want to give my reasons for selling into this rally as well as identify some troubling divergences that, in my opinion, have augmented the odds of a quick and rapid move down.
Distribution Days
The bulls' argument is that the June 4 selling marked an important low that indicated a climax of fear given the uncertainty surrounding the Greek (NBG) elections and Spanish (NYSEARCA:EWP) banks. Some positive news emerged with the pro austerity party winning the Greek elections and Spanish banks were given a package to alleviate concerns. Indeed, the market has enjoyed a relief rally of sorts, providing plenty of opportunities on the long side.
However, since the rally began, there have been 3 distribution days. A distribution day is essentially high volume selling, indicating institutional selling with volume higher than the previous day and often a higher open and lower close.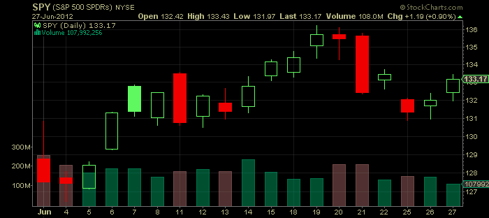 Click to enlarge
I want to compare this current advance to previous advances which kicked off multi-month uptrends, which provide optimal conditions for making money on the long side.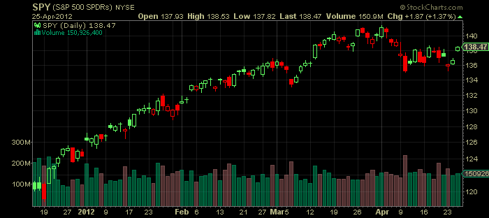 Click to enlarge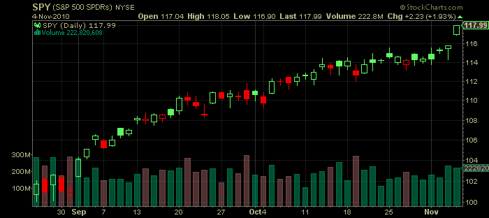 Click to enlarge
The price action off the lows in both charts indicate a capitulation of some sorts with huge advances in short amounts of time. Down days are either on low volume or fail to close at the lows. The current advance does not indicate a selling exhaustion rather it is showing that institutions are using this move up to unload stocks.
Equal Weighted Indices
Another measure of market health is comparing the performance of equal-weighted indices with price-weighted indices. Two useful indexes are the Value Line Geometric Index which is computed with a larger universe of stocks and the S&P 500 equal weighted index (NYSEARCA:RSP). It takes more liquidity and buying power to move the equal-weighted indexes, thus we find in the "buyable" rallies more often these will outperform, while in rallies that are to be sold or shorted into, these lag.
Currently, these are not confirming the advance in price.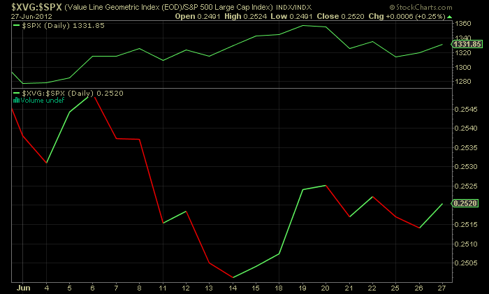 Click to enlarge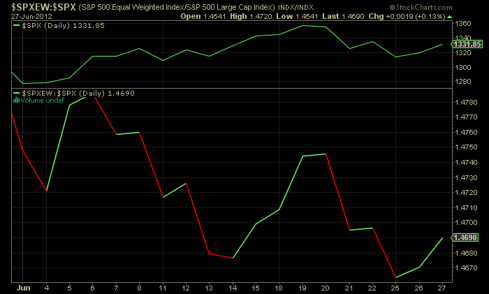 Click to enlarge
Small Caps
Studying individual sectors and stocks, one theme continuously emerged, there is a great deal of pessimism regarding economic prospects that I don't think one would understand by simply looking at a chart of the SPDR DOW Jones Industrial Average ETF (NYSEARCA:DIA). This theme is evident as well in comparing the small-cap stocks to large-cap stocks. Small-cap stocks (NYSEARCA:IWM) tracked by the iShares Russell 2000 Index (ETF) are more leveraged to the domestic economy, thus their outperformance/underperformance is a useful gauge of the market's expectations for the economy.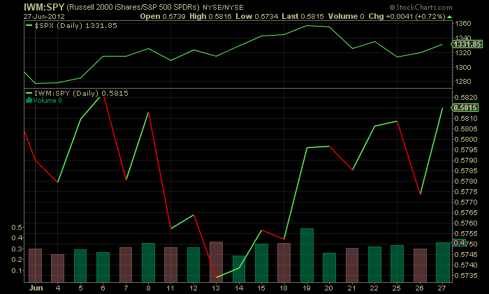 Click to enlarge
After underperforming in the first half, small caps have outperformed. However, over the course of the rally, both basically have a ratio of 1. This again differs from previous multi-month, sustainable uptrends in which small caps impressively outperformed. I think the Direxion Daily Small Cap Bear 3x Shares (NYSEARCA:TZA) is one way to play the potential move down. One note on leveraged ETF products - they work great for trades, however they simply cannot be held long term.
Lack of Panic
Two measures lead me to conclude that there was not a sufficient amount of fear given to mark a lasting bottom, especially given the divergences in the marketplace. The first is the lack of high volume in the June low. Bottoms, almost by definition, occur with a climax of fear and huge amount of shares moved from weak hands to strong hands.
The VIX (NYSEARCA:VXX), which is a measure of premium options sellers are charging for puts, is one gauge of fear in the market. Although, the VIX was elevated, it did not hit levels that correspond to previous bottoms. The iPath S&P 500 VIX Short Term Futures TM ETN is one way to play the VIX, although I do not recommend it at all. VXX is a very flawed instrument, and often times does not track VIX effectively. Under no circumstances, should it be held long term, as its very design will destroy its value.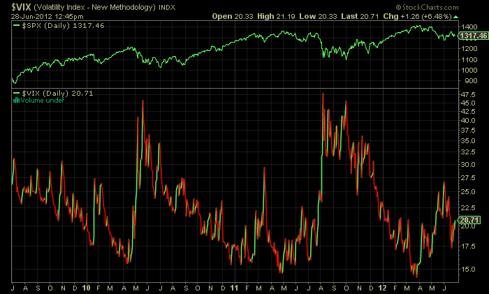 Click to enlarge
Conclusion
In Part 2, I will be discussing some more troubling developments in this market advance such as high yields on Spanish and Italian debt, the resilience of dollars and bonds, and the woeful underperformance of cyclical stocks and commodities. I think a true, sustainable rally only emerges with either some sort of fundamental game changer emerging from Europe to address the issues that are weighing on the market or some sort of capitulation in which prices are free to rise as sellers are taken out of the market.
Since neither of these criteria have been met, I have to take a more cautious stance toward the markets. I think on the long side, risk needs to be managed more carefully and one should take some precautions against a multi-standard deviation move to the downside.
Disclosure: I am long TZA.