Gold and silver didn't do much yesterday as gold edged up while silver slipped. The rise in the U.S pending home sales index and U.S core durable goods may have contributed to the rise in stocks and commodities prices. The EU Summit will start today. If there will be big headlines coming out of the Summit, it could affect forex and commodities markets. I suspect it will end up to be another storm in a teacup. On today's agenda: U.S Jobless claims weekly update and U.S. GDP for Q1.
Gold edged up on Wednesday by 0.22% to $1,578.4. Silver on the other hand declined by 0.338% to $27.0. During the month gold increased by 0.91% while silver fell by 2.73%. Furthermore, yesterday the SPDR Gold Shares (NYSEARCA:GLD) also edged up by 0.13% and reached by June 27th 150.37. Currently however GLD is falling down (by 1.61%).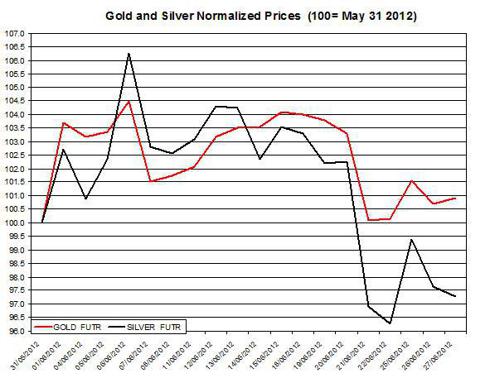 Click to enlarge
On Today's Agenda
All Day (two days) - European Council Meeting: If a decision will be made in the European Council Meeting, it could affect the forex markets. I suspect this Summit won't be much different from many previous summits and as long as Germany is against euro bonds there won't be much progress coming out of this summit.
Final Estimate of U.S GDP 1Q: In the recent estimate the U.S GDP in the first quarter rose by 1.9%; in the 4Q2011 the GDP growth rate was 3%. If there will be a sharp shift in this estimate it could also affect not only the USD but also commodities rates (for the recent estimate of US 1Q GDP).
U.S. Jobless Claims: In the latest report the jobless claims declined by 2k to 387,000; this upcoming weekly update may affect the USD.
Daily Outlook
Bullion didn't do much yesterday and the positive reports regarding the U.S economy may have helped rally not only the U.S stocks but also commodities. Today will commence the EU Summit about the debt crisis. If traders will be optimistic about the summit's results it could pull up the euro which could also pressure up metals prices. The upcoming U.S reports won't affect much commodities and stock markets unless they will show a substantial change. I speculate gold and silver will continue to trade with no clear trend and will continue to trade down throughout the day.
For further reading: Gold & Silver | Outlook for June 25-29.
Disclosure: I have no positions in any stocks mentioned, and no plans to initiate any positions within the next 72 hours.