Before he passed away, Steve Jobs famously stated that he had figured out the TV for Apple (NASDAQ:AAPL). After getting a good grasp on the PC, conquering the portable music player, and reinventing the tablet, everyone is expecting great things -- though some are forecasting doom for this new product offering by the world's largest company.
Click to enlarge image.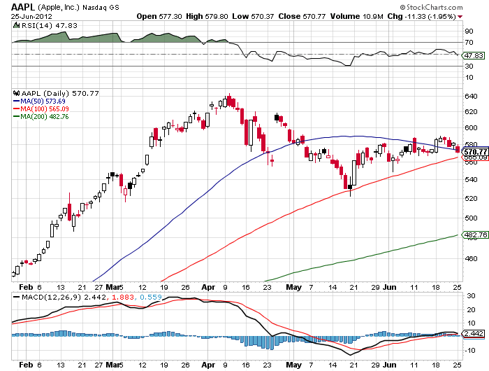 Click to enlarge
With Jobs gone, it falls on Tim Cook to shepherd this new product into the world. Given recent events, it is somewhat in question whether or not things will roll out as smoothly as they did in the past.
One of These Things Is Not Like the Other…
Jobs was against a dividend and stock buybacks. Cook is implementing both.
Jobs was against cannibalization of the iPad product line with a seven-inch offering. Cook is building one.
Jobs was against subscription services. Cook may be breaking that covenant as well if recent Epix talks bear fruit.
Combine this with the recent iPad 3/The New iPad debacle and you have a CEO who is operating very differently than what was seen with Jobs.
Sure, Cook is still relatively new to the role and Apple is a very large boat to attempt to captain, but Apple has been successful by operating in a specific way. Lately, Cook has demonstrated a desire to chart a significantly different course.
iTV, Not Apple TV
There has recently been some confusion as to what the new product is going to be. While Apple already offers a Roku equivalent in the Apple TV, this new product will be something quite more substantial than a simple streaming aggregator. The iTV is going to be a large screen television and should not be confused with Apple TV, the streaming add-on for existing televisions.
Taking the most recent developments in Apple products, we could see some very interesting features from the iTV:
Retina Display
iCloud integration
Apple TV integration
SIRI technology
Facetime integration
I would not be surprised if the iTV had some limited capacity to operate as a computer or even act as the screen for an iPad or other Apple product. Anyone saying that the iTV will not be revolutionary is simply underestimating the capacity for innovation that still remains in the box we all spend too much time in front of.
It seems that with Jobs out, the current management is turning Apple into a less dynamic, more generic version of its former self. While this does not fill me with tons of confidence for the medium- to long-term future product offerings, there is a good chance that the iTV could have enough of the "Steve Jobs magic" left to impress many.
Disclosure: I have no positions in any stocks mentioned, and no plans to initiate any positions within the next 72 hours.