While many are concentrating on the effect of the Supreme Court decision on hospitals, Medicaid providers, and insurance providers, the biggest winner in my opinion is Weight Watchers (NYSE:WTW).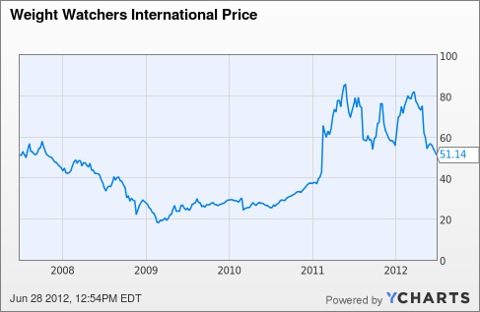 Shares of Weight Watchers spiked 3% after the Supreme Court decision approved The Patient Protection and Affordable Care Act, or ACA. Weight Watchers has declined about 35% in the past three months, led by concerns of Arena Pharmaceuticals' (NASDAQ:ARNA) weight loss drug Lorcaserin. Many believe that the first weight loss drug approved in the past 13 years is bad news for diet companies. However, this drug is not a substitute for dieting. It is a supplement that makes dieting easier. Pills will not substantially affect Weight Watcher's business, especially since the effectiveness of the pill is still under much scrutiny.
On May 7, the Financial Times reported that firms are cutting healthcare costs and boosting productivity by offering workers memberships to health programs like Weight Watchers. American Express (NYSE:AXP) has a VP of US healthcare and over 27,000 employees are enrolled to health programs. With the Supreme Court decision, uncertainty over the mandate is now gone. The ACA will happen whether we like it or not. Businesses will face higher costs of health insurance, and small businesses will fret hiring over 50 employees.
According to Credit Suisse, we will spend $2 trillion more on healthcare with the ACA than we would have without it. Employers are going to be pay for this extra burden. Obesity is the leading cost of healthcare, and considered the "new smoking" when it comes to health concerns. According to Charles Borrady, it costs 50% more to cover medical costs for someone who is obese versus someone who is at a healthy weight. Weight Watchers will successfully cater to corporate customers. Also, insurance companies like UnitedHealth Group (NYSE:UNH) incorporate Weight Watchers into their anti-obesity program. Now that insurance companies will have millions of more customers to cover, look to see a proportional rise in Weight Watchers customers through these programs.
Currently trading at about 13.3 times earnings, along with significant growth in the online business, Weight Watchers offers significant value to long-term investors who are looking to profit from the Supreme Court decision on the ACA. Here are some other reasons why I believe the stock is ready to rise:
FCF - Weight Watchers generated $292.7 million in cash over the past year. That is 16.1% of its revenue.
An annual dividend of $0.70 gives you a healthy yield of 1.3%, returning some of the free cash flow to investors. I believe this dividend will increase as time goes on.
The company raised guidance in May, estimated EPS in the range of $4.60-4.80, up from earlier guidance of $4.20-4.60. This gives the stock a forward P/E of 9.2.
The company has authorized the repurchase of $1.5 billion of stock.
With over 5 million shares short, short covering could boost the stock.
Investors should not invest in the hospitals and insurance companies that are surging today solely on this decision. A political battle will continue delaying implementation of the ACA in the states. However, the general trend of well-being and employer driven programs to reduce health costs will not change regardless of the outcome of the presidential election. Look for Weight Watchers to climb higher.
Disclosure: I have no positions in any stocks mentioned, but may initiate a long position in WTW over the next 72 hours.