Petrobras (NYSE:PBR) is a Brazilian state-controlled company operating in the Oil & Gas industry. It's a domestic company given that more than 90% of Petrobras revenues and oil reserves are based in Brazil. The company is passing through a transformational cycle and, in the long-term, Petrobras offers investors a unique growth opportunity within the major global oil companies. It should have oil production, revenues, and earnings growth rates well in excess of its peers, although much more geographically concentrated.
Petrobras offers an interesting income stream given the current dividend yield of almost 6%, based on its ADR dividend history and current price. However, investors who bought Petrobras' shares over the last few years aren't being rewarded accordingly. Indeed, over 5 years (-3.5%), 3 years (-15%), 1 year (-21%) and since the beginning of 2012 (-16%), all total returns (including dividends) are negative. Furthermore, in 2012 Petrobras is one of the worst investments among the world's biggest oil companies, underperforming emerging-markets peers like PetroChina (NYSE:PTR), or Ecopetrol (NYSE:EC).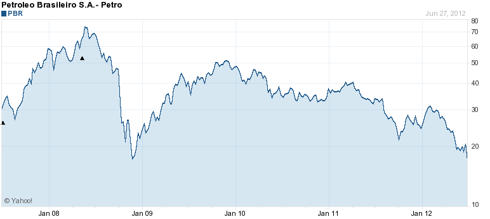 Click to enlarge
Source: YahooFinance
Government Influence
With almost half of Petrobras capital held by the government, the company is 'quasi public', similar to Chinese peers like PetroChina, Sinopec (NYSE:SHI) or CNOOC (NYSE:CEO). Government ownership of the stock can influence decisions in order to pursue public interests, such as retail fuel prices subsidies. This is one of Petrobras main weak points, given that large state ownership means corporate objectives may not always align well with those of other shareholders.
The government interference in the company by setting fuel prices can be very negative for the remaining shareholders, as was clearly evident this week when Petrobras announced lower than expected fuel price increases. Petrobras shares tumbled by more than 8%, the steepest decline since 2008. However, this is an issue that adds volatility in the short-term, but over the long haul the company link fuel prices to international markets and is neutral for the company's earnings power.
On the other hand, regarding dividends this problem of government influence is less severe as government and minority shareholders should have the same goal, which is each year to receive part of the company's profits through cash dividends.
Oil Production
Along the way from transforming itself from being a small operator to becoming the largest deepwater oil producer in the world, Petrobras has delivered historically consistent production growth. However, and despite its huge long-term potential, Petrobras oil production is growing at the slowest pace since 2007 as new fields in the pre-salt region failed to counter declines at deposits where it has been pumping for decades.
The company recently released its new 2012-16 business plan, which assumes higher capital expenditure needs, lower production targets, and no price increase for fuels in the domestic market. Petrobras slashed its production target in 2020 by 11%, and now plans to reach 5.7 million barrels a day down from the previous target of 6.4 million.
In 2011, output rose 1.5% falling short of the 7.7% target, and last April production hit a 20-month low. The company expects production levels in 2012-13 to be close to the 2011 levels, accelerating from 2014-15 and the largest production increase is expected during 2016 and onwards, due to the ramp-up of pre-salt production.
Another issue that can hurt oil production growth is the local content requirements. All concession contracts signed in Brazil require that a minimum level of goods and services from Brazilian providers are used in the exploration, development and production phases. In the medium to long term, the Brazilian oil equipment industry can have difficulties supplying Petrobras, resulting on project delays that will slowdown production growth. This can put pressure on Petrobras' cash flow generation and its ability to pay dividends.
Dividends
Petrobras dividend policy is to pay dividends which must not be less than 25% of its profits. Form 2006 to 2011, dividends grow at an average annual rate of 5.8% and the average payout ratio was below 30%, which is quite low.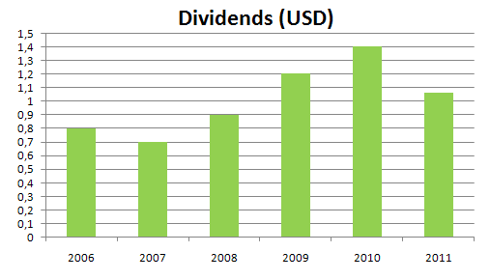 Click to enlarge
Source: Petrobras
Since 2008, the company's cash generation from operations wasn't enough to fund its investment expenditures. Petrobras' cash flow should continue over pressure over the next few years, due to the company's aggressive capex plan. The company expects to spend $236.5bn for the 2012-2016 period or, on average, $47.3bn per year. An inability to achieve the production targets will negatively affect Petrobras' cash flow generation and its ability to fund investments and even more dividends.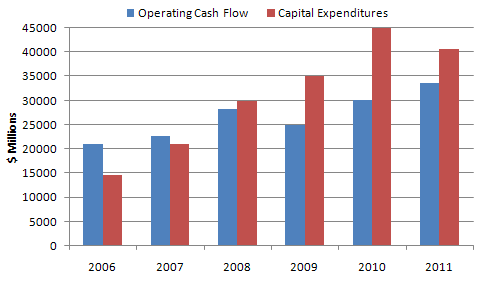 Source: Bloomberg
Due to its huge capital expenditures outflows Petrobras' free cash flow is negative, which means that dividend payments aren't funded organically. Basically, dividend payments to shareholders are mainly funded through debt financing.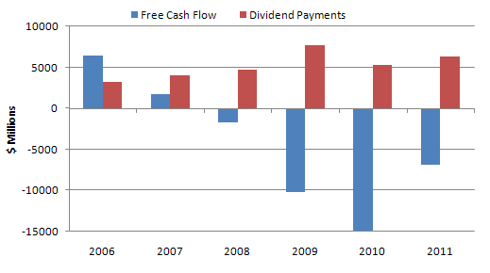 Click to enlarge
Source: Bloomberg
The net debt has been increasing consistently over the last years, a trend that should continue over the following years also due to its investment plans. The company expects that the debt requirements will average between $16-18bn to finance capex and dividends over the following years. If we have another crisis like 2008-09 (when the credit markets were frozen) this can put the dividend in jeopardy.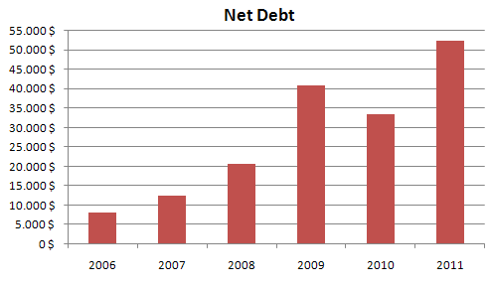 Click to enlarge
Source: Bloomberg
Petrobras wants to maintain its investment grade credit status. According to the company, in order to meet this target, it has to maintain below 2.5x its Net Debt /EBITDA ratio and a net debt/equity ratio below 35%. Although the leverage ratio has been increasing over recent years, it's considerable below this threshold.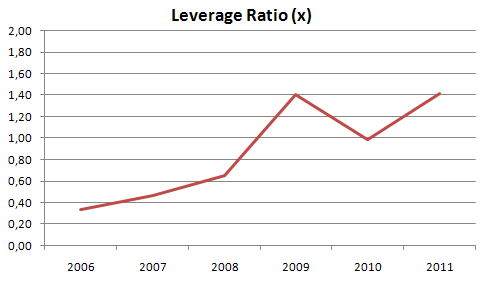 Source: Bloomberg
Conclusion
Petrobras dividend quality, based on cash flows, is relatively low because is supported by external financing. Given the current macroeconomic weaknesses around the globe and a potential credit crisis if Europe's crisis intensifies, there are safer dividend payers within the major integrated oil companies as I discussed in my article "4 integrated oil stocks with yields higher than 5%". Nevertheless, Petrobras shares seems cheap trading at around 6.7x forward earnings, given the high growth expected over the following years.
Moreover, Galp can also be a good alternative for Petrobras' shareholders, having a large exposure to Brazil and also the advantage of controlling and minority shareholders interests being aligned, as I discussed in my previous article "Galp Energia: An alternative for Petrobras shareholders to play the Brazilian oil story". Galp's current dividend yield is of 3.5%, which although smaller than Petrobras is also attractive.
Disclosure: I have no positions in any stocks mentioned, and no plans to initiate any positions within the next 72 hours.