Arena Pharmaceuticals Inc. (NASDAQ:ARNA), a clinical-stage biopharmaceutical company, engages in discovering, developing, and commercializing oral drugs that target G protein-coupled receptors in the therapeutic areas of cardiovascular, central nervous system, inflammatory, and metabolic diseases. Currently, the company's strategy is to focus on Lorcaserin for the treatment of obesity. The company also provides manufacturing services. Arena Pharmaceuticals, Inc. was founded in 1997 and is based in San Diego, California.
The New Drug:
Shares of Arena Pharmaceuticals (ARNA) have shown a sharp increase of 29% to a price of $11.39 on June 27, 2012, due to one of its drugs (Belviq) getting FDA approval. Belviq - formerly known as Lorcaserin - is a weight-loss drug. The announcement of approval is notable because it is the first new prescription diet pill to be cleared for sale in the U.S. in over 13 years.
On July 1st, 2010, Arena Pharmaceuticals signed an agreement with Eisai Co of Japan, giving it the license to market and distribute its diet drug, Lorcaserin (Belviq), in the United States, after it attained FDA approval. The agreement was that Arena Pharmaceuticals would manufacture the drug at its facility in Switzerland, and then sell it to Eisai Co, who would have complete marketing rights. According to the agreement, Arena Pharmaceuticals was to get $50 million upfront, with a possible additional $20 million on approval and $65 million upon DEA designation and launch.
Even after getting FDA approval, there are still concerns about limited efficacy and safety of Belviq. In 2010, a similar drug, Meridia by Abbott Laboratories (NYSE:ABT), was removed because of safety concerns. Sanofi-Aventis SA (NYSE:SNY) also abandoned its request for U.S. approval of an obesity pill, Acomplia, in 2008, after it was linked to depression.
Despite the concerns, ARNA now thinks that it would take further 4-6 months to get DEA scheduling for the drug, as a controlled substance, after which it can proceed with the commercial launch of Belviq.
Demand and Expected Sales of Belviq:
The drug has a huge market in the U.S. because almost one-third of the American population is obese (roughly 80 million people). Moreover, obesity among Americans is expected to increase to 42% of the population by 2030. Globally, there are around 500 million people suffering from obesity, which is a good number if ARNA wants to expand abroad. ARNA is already seeking regulatory approval for Lorcaserin in the European Union.
Before Abbott Laboratories pulled out Meridia, it was expecting $30 million in sales from the U.S. for 2010. Edward Tenthoff, an analyst with Piper Jaffray & Co., is of the opinion that insurers would probably not cover Arena's pill until they see greater benefits than the modest weight loss shown in clinical trials. Still, sales could hit the $2 billion mark by 2020 if we consider two doses a day at a cost of $2 per dose.
Competition:
With the news of the FDA approval for Belviq, many competitors of ARNA also saw an appreciation in their share price e.g. Vivis Inc. (NASDAQ:VVUS) was up by 7% and Orexigen Therapeutics (NASDAQ:OREX) was up by 20%. This was probably because both these companies are going to seek FDA approval for their own weight-loss drugs. Approval of Belviq might be seen as a good sign for the approval of their respective drugs.
Vivus is expected to get FDA approval for its drug Qnexa on July 17. Orexigen Therapeutics will seek approval for its weight-loss drug Contrave, provided it gets positive results from an ongoing heart-safety study. OREX is expected to get that in 2014.
Vivus's Qnexa seems to have an edge over Arena's Belviq in terms of efficacy. Patients who tested Arena's pill in three studies lost about 3 to 3.7 percent of their body weight, compared to those who took a placebo, while people who took part in trials on Vivus's Qnexa lost 6.7 percent and 8.9 percent more of their body weight on mid and high doses, compared to those who used a placebo. This might lead to a tough competition between the two companies.
Arena's Valuation:
As seen by the graph below, the stock price for Abbott laboratories rose when its diet drug Meridia was approved by the FDA in November 1997. Six months before approval, it was trading at a price of $61. Post approval, the stock showed an impressive 50% increase (adjusted for share split in June 1998) over a period of one year from November 1997 to November 1998. Abbott got $340 million in 2008 and $311 million in 2009 from global sales of Meridia before it was pulled out of the market.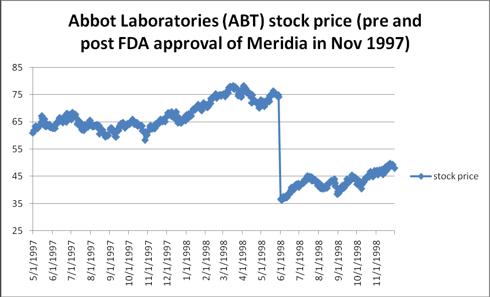 Click to enlarge
The large dip in the above graph on 1 June, 1998 is due to a 2:1 stock split.
Consensus forecast data from Thomson Reuters shows analysts expect Arena's drug to take in $62.8 million in 2012 sales and reach peak annual sales of $822 million. Analyst LeCroy currently predicts Lorqess (Belviq) sales of $600 million in 2015.
Arena currently has a short ratio of 2.6 as compared to OREX's 4.4 and VVUS's 6.8. This shows that investors are bullish on ARNA and expect the stock price to increase.
OREX's average expected EPS for the next year is $-0.81 worse than the current year's $-0.58. On the other hand, Arena is expected to recover slightly from its current loses of $-0.42 per share, to an expected $-0.23 in 2013. Vivus is expected to recover the most from an EPS of $-0.59 to an expected EPS of $0.38 in 2013.
ARNA can be a valuable long term investment if Belviq does not go down the same path as Abbott's Meridia and gets pulled out over security concerns. On the other hand, we do not favor OREX based on the rationale that its drug is expected to come out in 2014, much later than its competitors. It would not have the first mover advantage as two drugs would have significantly penetrated the market by then. Moreover, Belviq and Qnexa had better chances of approval from the FDA, since there is a pressure for having a weight-loss drug in the market. OREX's Contrave would not enjoy that advantage in its approval.
We recommend buying Arena and Vivus , and selling short OREX.
Disclosure: I have no positions in any stocks mentioned, and no plans to initiate any positions within the next 72 hours.