Oil and Airlines
Fuel costs seem to have replaced those of personnel as the most significant cost for airlines. The former will account for around a third of the industry's total cost this year. However, the industry seems to have not benefited from the recent dip in the now-low oil prices.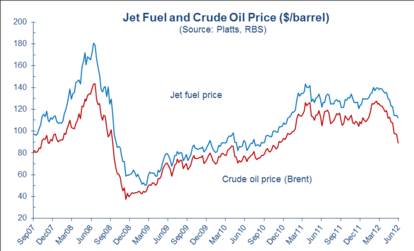 Click to enlarge
A reduction in jet fuel costs typically favors the Airline Industry, although not all carriers tend to benefit from such a development. This time around, oil prices are coming down over fears of a slowdown in the global economy. The European debt crisis, and the cooling down of China's economy combined with sluggish growth in the U.S., have driven the WTI Crude oil spot price down to $80.
Airlines that extensively manage their exposure to volatility in fuel prices by hedging their future needs have little respite to their cost pressure. However, airlines that conservatively hedge their fuel needs will benefit from the recent weakening of oil prices. The International Air Transport Association estimates that the global airline industry's fuel bill will grow by $40 billion this year, from about $177 billion in 2011.
Delta Airlines (NYSE:DAL)
For DAL, the second largest airline by traffic with a fleet of 770 aircrafts, fuel costs consist of 40% of total costs. The company uses extensive hedging strategies to hedge its fuel needs. However, the recent sharp slide in oil prices has adversely impacted DAL. Although, owing to other factors, DAL's management announced significant improvements in earnings for 2Q2012 and FY2012 in its guidance. DAL also announced on Wednesday, June 26, that its expected loss of derivatives is $155mn for the quarter ending June 2012, compared to $151mn for the quarter ended March 31, 2012.
Latest Developments
DAL struck a deal to spend $150mn on the purchase of a refinery from ConocoPhillips, to offset the risk of higher fuel prices. The management at DAL thinks this purchase would save them $300mn a year on fuel expenses, once the refinery starts operations in 3Q2012. It also believes that 80% of the fuel needs would be covered by production from this refinery.
U.S. Airways (LCC)
LCC is the only major airline that does not engage in fuel hedging activities. The decline in oil prices in the current quarter will benefit LCC and translate into an improved bottom line for the second quarter.
Latest Developments
Despite the decline in oil prices, the company seeks a hike in surcharge. Permission by regulators to increase the surcharge would further enhance the airline's ability to grow its bottom line.
Disclosure: I have no positions in any stocks mentioned, and no plans to initiate any positions within the next 72 hours.