Consumer Staples Select Sector SPDR (NYSEARCA:XLP) is one of the best-performing sector ETFs over the past few months. Over the past three months the S&P 500 has lost 3.6%, while XLP returned about 0.7%, according to Morningstar data.
Consumer stocks are steady performers and many of the companies in this sector provide low-cost necessities that report reliable sales every year, reports Stan Luxenberg for The Street. It is for this reason that the consumer staples sector is considered a safe haven in tough markets.
According to Williams Capital, consumer staples is expected to be one of the best sectors to protect capital in the summer's risk-off atmosphere. Moreover, consumer staples are likely to continue to "aggressively put cash to work"-meaning dividends, share buybacks and acquisitions-and possibly book upside earnings surprises now that commodity prices have fallen, reports Forbes.
"Consumer staples have outperformed the S&P 1500 index in seven of the past 11 years. Recently, it's been even more consistent. Since 2008, only one summer saw the index beat consumer staples. On average, consumer staples managed 4.9% of out performance in those eleven years," Abram Brown wrote in a recent Forbes article.
Furthermore, the dividend yield featured with consumer staple stocks and ETFs has been an added benefit for investors that are seeking yield.
Be forewarned, however, that consumer staples can underperform in a bull market. On the flip side, this sector can outperform in a down market and provide haven-like safety for giddy investors.
Other consumer staples ETFs:
iShares Dow Jones US Consumer Goods Sector Index Fund (IYK)
iShares S&P Global Consumer Staples (KXI)
Vanguard Consumer Staples Index Fund (VDC)
Consumer Staples Select Sector SPDR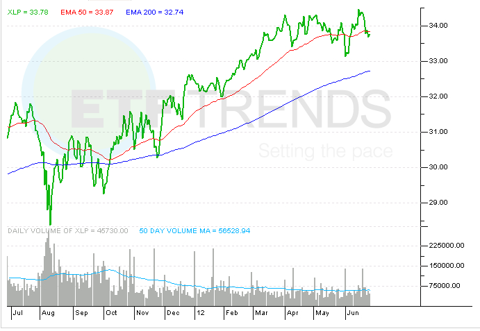 (Click to enlarge)
Disclosure: I have no positions in any stocks mentioned, and no plans to initiate any positions within the next 72 hours.