Fertilizer companies sell nutrients for crops. When crops are short, the fertilizer companies do better because farmers want to produce more to fill the shortage. They want to capitalize on the higher prices for the crops. Hence they are willing to spend more on fertilizers in order to do this. One of the best fertilizer companies is the Mosaic Company (NYSE:MOS). It has been hit hard. A good crop last year combined with a slowing world economy this year have hurt business. The stock price has fallen as a result. The MOS stock price has also been kept low in the last year by the absorption of the Cargill sellout of its 64% stake in Mosaic. The effects of this are mostly over now. The two-year chart below of Mosaic shows just how strong this downtrend has been.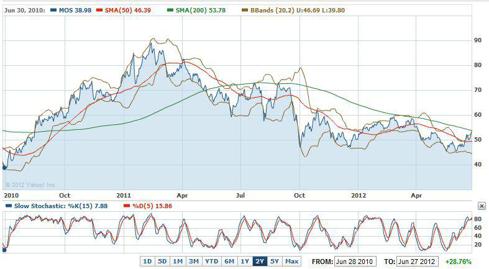 Click to enlarge
The main chart shows that the 50-day SMA has been substantially under the 200-day SMA for approximately one year. The downtrend started even earlier in February of last year. The price line has already moved up through the 50-day SMA, and it is attempting to cross the 200-day SMA on its way upward. This may be a signal that the downtrend is over (a buy signal).
There may be some fundamental reasons behind this. There has been a huge heat spell in the U.S. in recent weeks. This has diminished expectations for the U.S. corn and soybean crops this season. As the heat wave goes on, expectations will be further decreased. For now the USDA's weekly report late Monday showed the condition of corn and soybean crops was the worst for this time of year since 1988, when one of the most damaging droughts in U.S. history occurred. On top of this the Russia's grain harvest began 10 days earlier than normal because crops have matured faster in the current hot weather, but yields averaged just 2.72 metric tons a hectare on June 27 compared with 4.8 tons a hectare on the year-ago day. The above circumstances have caused huge jumps in grain prices (more than 10% in one week). If the current hot conditions persist in the U.S. for much longer without substantial rain, large part of these crops will be destroyed.
How will the weather be in the near future? The following charts from the NOAA of the 8-14 day outlooks give an idea of what may occur. The first chart (below) is a temperature outlook.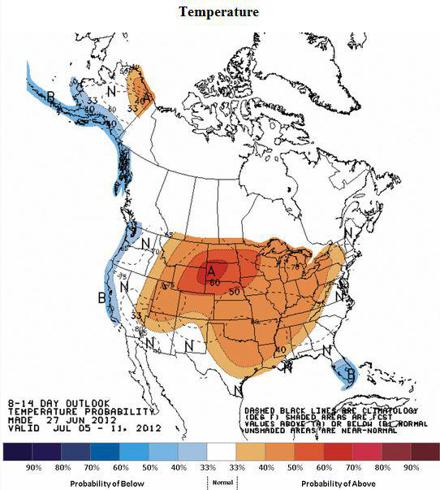 Click to enlarge
The "A" in the shaded brown area above symbolizes that above-normal temperatures are expected in that area. The variety of brown shading indicates the relative certainty with which those results are expected. The chart below shows the expected precipitation during the same period.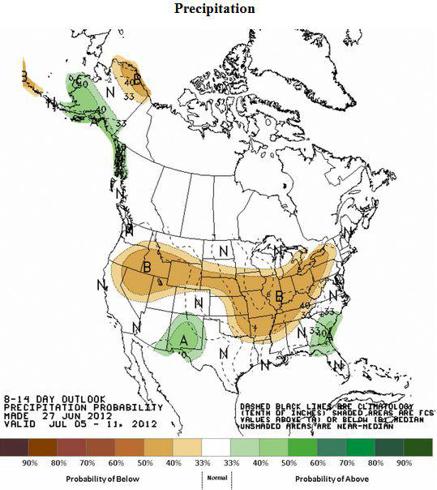 Click to enlarge
The "B" in the brown shaded area above indicates that the probability of precipitation in the shaded area is below normal. The color of the shading indicates the certainty with which NOAA believes it will be below normal. Both of these charts indicate with good certainty that NOAA expects conditions to remain hot and dry for the next 8-14 days. If they do, it could mean substantial damage to the U.S. grain crops, especially the U.S. corn and soybean crops.
Thus far not too much damage has been done except in Indiana. Here both 36% of the corn and 36% of the soybean crop is now classified as in "poor" or "very poor" condition. The tables below give the current statistics for many of the big grain crop states. The first table is the corn crop conditions.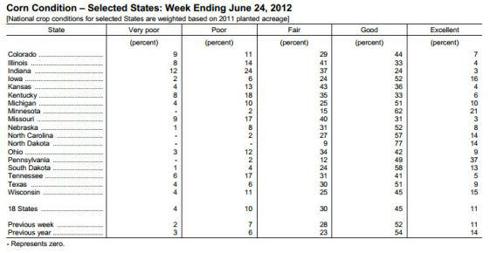 Click to enlarge
The second table is the soybean crop conditions.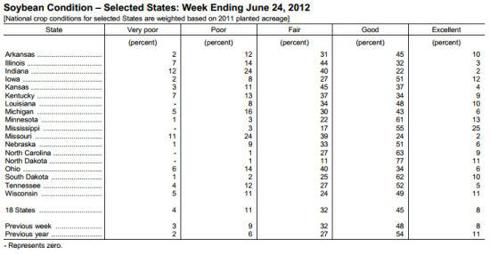 Click to enlarge
The USDA's weekly crop ratings rated U.S. corn 56% good to excellent as of Sunday June 24, 2012. This was down 7 percentage points from a week ago, and it was well below a 61% average estimate in a Reuters poll. Soybeans were 53% good to excellent. This was down from 56% a week earlier. Corn ratings have fallen for three straight weeks. This has led to cuts in expectations for a bumper crop this autumn. The market was counting on this to replenish tight U.S. stocks.
With the current crops situation and the current weather outlook, one is inclined to believe that farmers will want to buy a lot more fertilizer than previously anticipated for their winter crops and perhaps even for their summer crops this year. These purchases should help fertilizer stocks like Mosaic Company make better-than-anticipated profits. These fundamentals make one think that a trend reversal (to upward) for MOS may be at hand, even in the face of the EU troubles, etc.
Nothing is a sure thing. The USDA is coming out with another report on Friday, June 29, 2012. This report is expected to raise the government's estimates for expected corn and soybean plantings by 0.1% and 2.3% respectively. Depending on the actual result this could put upward or downward pressure on the respective commodities prices. At the same time (8:30 am EDT) the USDA will also release figures for domestic grain and soy inventories as of June1, 2012. The inventory information may play an important role in price action too.
With all of this in mind, you are at least prepared for Friday and for the following weeks. It looks like fertilizer stocks may be a good buy for the near term. If the drought suddenly ends, you may want to sell them. However, you may make good profits on them with a continuing drought.
Another point that should be mentioned with regard to MOS is the outcome of the Potash (NYSE:POT) - MOS lawsuit. The two companies settled that out of court at the end of last year. MOS must continue to supply POT with 1.3 million more tonnes of potash to be completed by the end of 2012. After that MOS will have the tolling rights to the Esterhazy mine production. In effect it will have 1+ million more tonnes of potash to sell per year at market prices. It had been selling this potash to POT at near cost. The addition to profits should help MOS in 2013 and beyond. Hence if you are a long-term investor, this is a matter you want to consider. The difference in profits should be substantial.
Mosaic provides a non-negligible dividend of 0.90%. It has a PE of 11.38. It has a current price of $53.45 and a 1-year analysts' target price of $84.46. This means analysts on average think there is the possibility of a 58% rise in the stock price within a year. This is quite a good gain if it materializes. Considering that forecast was made before this latest dry spell, the 1-year estimate could go up. Even if the analysts are wrong by half, you would still get a 29% gain. This would be terrific in these troubled times. Bad news can sometimes be good news. It usually pays to take advantage of it. Averaging in can still be a good strategy. MOS and other fertilizer stocks could reverse abruptly, especially with a sudden spate of rain. However, playing the percentages is usually a winning strategy.
I prefer Mosaic Company because it will get a free big bump in potash to sell next year and beyond. Its biggest products are potash and phosphates fertilizers. However, the other three big North American fertilizer companies are also good companies: Potash Corp of Saskatchewan (POT), Agrium (NYSE:AGU), and CF Industries Holdings (NYSE:CF).
NOTE: You should be aware that the major potash manufacturers have been accused of attempting price fixing. Negative news for the fertilizer stocks could come out on this from time to time. It could affect your investment(s).
Some of the above fundamental fiscal data comes from Yahoo Finance.
Good Luck Trading. Watch for the USDA reports tomorrow (Friday June 29, 2012).
Disclosure: I have no positions in any stocks mentioned, but may initiate a long position in MOS over the next 72 hours.