In our 2010 report, "Unconventional Wisdom: A Case for Employment Growth," we showed that businesses would see more benefits from hiring more workers than embarking on capital expansion.
Firms had gotten into the habit of thinking that increasing their capital stock is a sure way to improve their output potential. Businesses oversupplied themselves with capital to such an extent between 1980 and 2009 that capital growth actually rose faster than overall output 21 times - or 70% of the time - during that period, resulting in negative capital productivity.
At the same time, labor productivity had strengthened considerably. Part of this was due to the increased availability of capital. However, value-added productivity gains from upgraded capital are not well defined.
It is possible that what firms are associating with growth in capital productivity is really just efficiency gains from management strategies.
As such, without guaranteed gains in output from the purchase of new capital, it may not be in the firm's best interest to continue to deploy an enhanced capital stock.
Firms may be more productive if they forgo the purchase of capital and instead hire more workers. If firms hire enough workers so that the capital/labor input ratios return to pre-recession growth levels, the unemployment rate could fall by 2.3 percentage points.
Since firms already own the necessary labor to maintain their capital intensity levels, hiring growth can occur immediately and turn a jobless recovery into a full-blown labor recovery.
While there is some uncertainty regarding future labor costs, they are currently substantially lower than labor output. There is plenty of room for growth without damaging profitability.
Since our report, businesses have largely followed that advice.
In 2011, labor inputs increased by 2.0%, the largest annual gain since 2006. At the same time, capital services per hour of labor, or the usage of capital, was unchanged, marking the first time that measure did not increase since 1994.
With capital utilization rates approaching 80%, the demarcation line that normally represents the start of a capital investment cycle, the latest productivity data now suggests that capital improvements may be the smarter business strategy.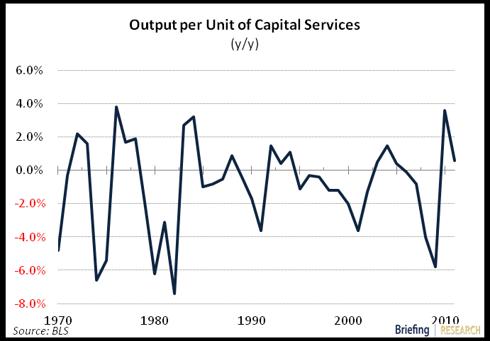 For the past two years, capital productivity has been positive. In 2010, capital productivity increased by its largest amount, 3.6%, since growing by 3.8% in 1976.
During the early stages of the economic recovery, businesses upgraded or invested in new capital on an as-needed basis. That meant that many firms bypassed the normal upgrade cycles and were using capital that many suppliers deemed obsolete.
The firms that upgraded their capital in 2010 and 2011 were running a machine that was at least two generations newer than their old one. By skipping an upgrade cycle, the productivity gains from the new capital investments became firmly positive. As the recovery continues to expand, businesses that invest in new capital today should experience stronger productivity improvements as well.
With borrowing costs at historic lows, businesses may now find it in their best interest to upgrade their capital equipment and take advantage of the newfound productivity gains in place of hiring more labor.
Beneficiaries of a capex cycle range from multinational industrial giants include General Electric (NYSE:GE) to Honeywell Intl (NYSE:HON), and Emerson Electric (NYSE:EMN) as well as tech giants like IBM (NYSE:IBM) and Oracle (NASDAQ:ORCL).
The energy sector, notably Concho Resources (NYSE:CXO) and Evolution Petroluem (NYSEMKT:EPM), has already seen a capex cycle in progress spurred by the shale boom.
Sources:
Rosen, Jeffrey. 2010. "Unconventional Wisdom: A Case for Employment Growth." Briefing Research.
Disclosure: I have no positions in any stocks mentioned, and no plans to initiate any positions within the next 72 hours.