CIT Group (NYSE:CIT) noted in its Analyst/Investor Day held on June 14, 2012 that the events in Europe are presenting opportunities for the company related to its energy business, as European banks have withdrawn from the segment.
CIT Group provides commercial financing to small and middle-sized businesses, often secured with collateral. CIT Group has been in business for over 100 years, was acquired by Tyco in 2001 and then divested by Tyco in 2002. CIT Group entered and emerged from bankruptcy in 2009. A cease in desist has been lifted for the company, giving the company freedom to increase brokered deposits, however, a written agreement with the Federal Reserve Bank of New York is still in effect which requires prior approval for payment of dividends, distributions and the purchase/redemption of stock. (CIT Group Form 10-K, filed February 29, 2012)
CIT Group recently sold $10 billion of non-core assets and has also reduced its funding costs by 200 basis points. Additionally, the company now has $1.5 billion of assets received via the Internet.
In CIT's Q1 2012 earnings call held on April 24, 2012, the company noted increased activity from manufacturers and also indicated activity in energy and entertainment segments. Additionally, the company indicated trends in the rail segment are improving.
Significant call option volume for CIT Group recently popped up on the radar as shown below: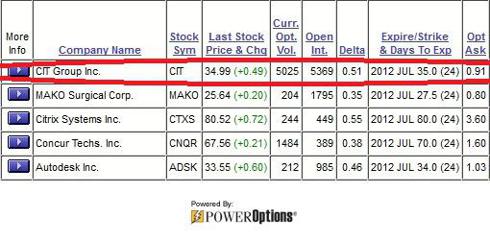 Companies also experiencing significant option volume include medical device company MAKO Surgical (NASDAQ:MAKO), information technology company Citrix Systems (NASDAQ:CTXS), travel and expense management company Concur Technologies (NASDAQ:CNQR) and software company Autodesk (NASDAQ:ADSK).
Call options for CIT with significant activity include the 2012 Aug 35 and the 2012 Jul 35 as shown below: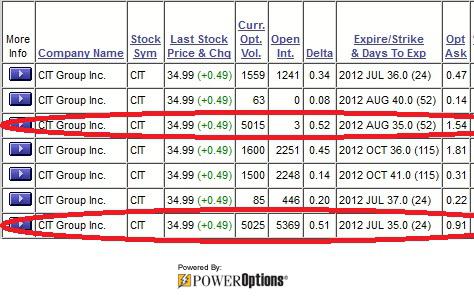 CIT Group's stock price has recently retreated from the $43 level, is below the 200 day moving average and appears to be forming a base at the $34 level as shown below:
The large amount of call option is bullish for CIT Group stock, however, with support in the $30 range, entry at this point could be painful in the short-term. An investor might consider entering a married put position for the company, as it positions for unlimited upside and limited downside. The married put may be entered by purchasing a put option against the stock. Typically, further out-in-time put options can be purchased which reduces the cost of the insurance per day.
Searching for 2013 Jan put options for married put positions revealed the following: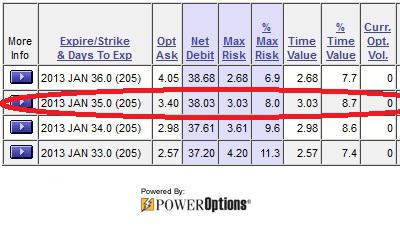 The married put using the 2013 Jan 35 put option purchased for $3.40 looks attractive with a maximum potential loss of 8% (at expiration). A profit/loss graph for one contract of the position is shown below: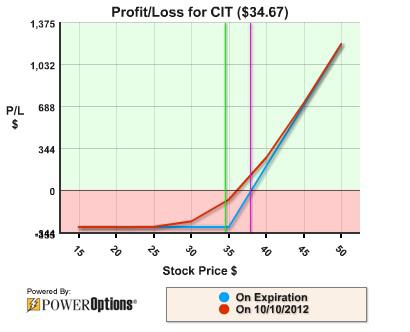 For a stock price below the $35 strike price of the put option, the value of the married put remains unchanged, so even if the price of the stock goes to zero, the maximum loss is 8% (at expiration). If the price of the stock increases above the put option's $35 strike price, income methods as described via RadioActiveTrading.com may be applied in order to reduce risk.
Disclosure: I have no positions in any stocks mentioned, and no plans to initiate any positions within the next 72 hours.