This note is part of my initiating report titled "Facebook Inc.: Compelling Growth; But Fairly Valued" dated June 25th.
Facebook (NASDAQ:FB) competes with traditional websites, such as Yahoo (NASDAQ:YHOO) and a number of social networks ranging from pure-play, such as Google+ (NASDAQ:GOOG), to niche players, such as LinkedIn (NYSE:LNKD). Below I will highlight both the pure-play domestic and international competitors.
Twitter
As of March 2012, Twitter attracts over 140 million active users who generate over 340 million tweets and 1.6 billion search queries per day. Twitter is an ideal information platform for users to follow influential figures and news sources, and broadcast updates to other users. Celebrities and important people use Twitter more than any other social network, and major news sources continuously update their Twitter feed with the latest news headlines.
Because of their concise nature, Twitter's messages could have higher viral effect than competing social networking platforms because users can easily grasp the significance of the messages. I note that the 2011 MTV Music Video Awards generated 8,868 tweets per second on Twitter.
LinkedIn
LinkedIn has over 160 million registered users and 103 million unique visitors who generate 9.4 billion page views from over 200 countries and territories. The platform focuses primarily on the niche market of casual networking among professionals.
I do not view LinkedIn and Facebook as direct competitors because users generally prefer to separate their personal and professional lives. Despite introducing BranchOut to enter the professional networking space, Facebook has been unable to retain consistent user engagement on the platform. I note that BranchOut's MAU has declined from 13 million in May to 4 million in June.
LinkedIn is also operational in China, where professional social networking is taking off. While local start ups such as Ushi and Tianji have gained some traction, the incumbents lack the global reach and network that LinkedIn possesses. In my view, LinkedIn could gain meaningful shares of China's professional social network market as Chinese professionals become increasingly global minded.
Google+
Google+ is a wild card in the social networking space. Google is trying to leverage its leading position in search and mobile OS, and its 350 million Gmail users to create its own social networking platform.
Google+ currently has 170 million users less than one year after its launch, making it the fastest growing social networking platform. The platform is adding approximately 625,000 users per day and is projected to have 400 million users by the end of year. However, user engagement ranks the lowest among all major social networking platforms, according to comScore.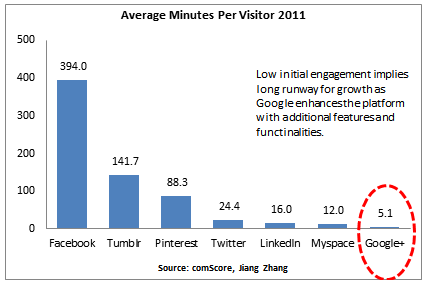 Despite initial lower engagement, Google+ differentiates from Facebook with its integration of Google products, such as search, Gmail, Calendar, Documents, and group video chat, which all Facebook lacks.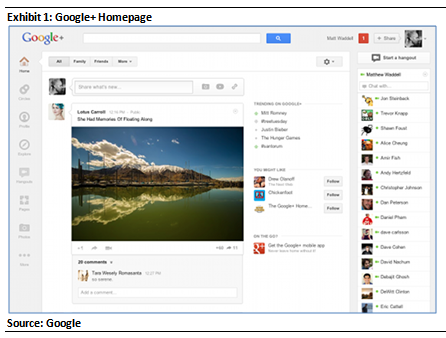 The fully integrated platform not only allows users to connect with one another but also be more productive with files and group activities (eg. Video conference), resulting in greater adoption and superior user experience.
Finally, it is possible for users to import Facebook contacts to Google+. According to lifehackers.com, users can use Facebook Connect to import contacts from Facebook to Yahoo, and then import the contacts to Google+. While the process is cumbersome, this raises the concern of users switching from Facebook to a competing platform.
Tumblr
Tumblr is a micro blogging platform that allows users to post multimedia to a short-form blog. As of June 2012, the platform has 59 million blogs and 24.7 billion total posts. According to comScore, Tumblr was the second fastest growing social network in terms of users with 172% growth in 2011, behind China's Sina Weibo.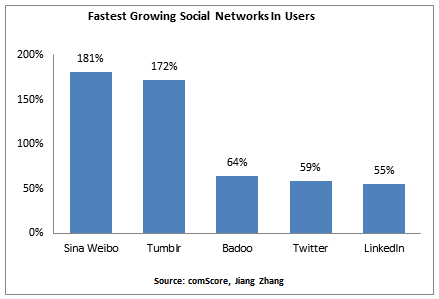 Tumblr also experienced one of fastest increases in user engagement compared to its North American and international peers, according to comScore.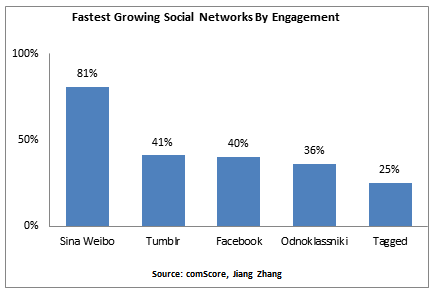 Finally, Tumblr is a direct competitor of Facebook in terms of winning user engagement. I note that approximately 70% of Tumblr's user base is from the 12-34 age groups.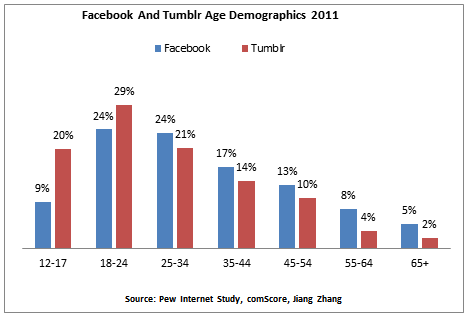 Pinterest
Pinterest allows users to create and manage theme-based images and collections on an online pin board. According to comScore, Pinterest had 18.7 million unique visitors in March 2012, of which 83% are women.
Pinterest is a favorite among retailers because its users have the second highest purchasing power, purchase more items and spend more frequently than users from the other social networks. In addition, it generates more referral traffic to retailers than LinkedIn, Youtube and Google+, combined.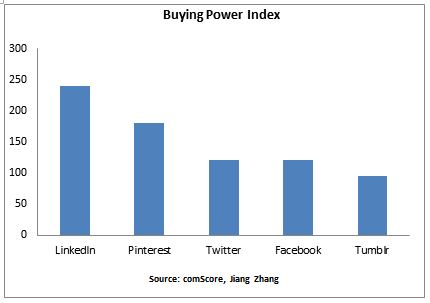 MySpace
MySpace is still relevant. According to Compete, monthly unique visitors on MySpace have shown three consecutive months of growth after hitting the bottom in April 2012.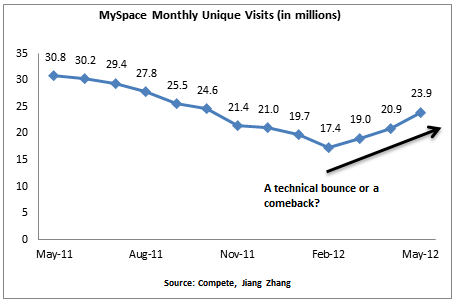 A partial explanation for MySpace's success could contribute to its rebranding of becoming a music-oriented platform. For example, MySpace features a top music discovery engine that is one of highest rated on the web. While MySpace is unlikely to compete head-on with Facebook anytime soon, its niche focus in music could rekindle user traffic and take online ad share away from Facebook.
Path
Path is a mobile social networking platform, in which users can only communicate and share information with close friends and families on mobile devices. The platform limits each user to 150 contacts so that users can feel comfortable sharing information among only their trusted contacts.
Path currently has over 3 million users. Despite lacking Facebook's scale, Path's emphasis on mobile and a more personalized network could negatively affect Facebook's mobile engagement, as users generally prefer to follow the status of their closest friends rather than all the people they have met.
International Competition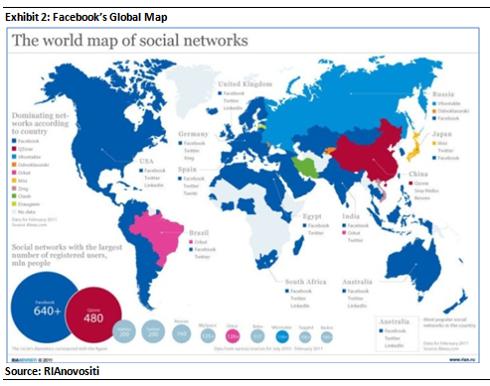 Click to enlarge
As of 1Q12, Facebook's 901 million MAUs are located evenly as percentage of total among the four core regions: US and Canada, Asia, Europe and the rest of the world. Emerging economies in Asia and Latin America show the greatest increase in user base while the weight of users from North America and Europe is declining, partially due to market saturation.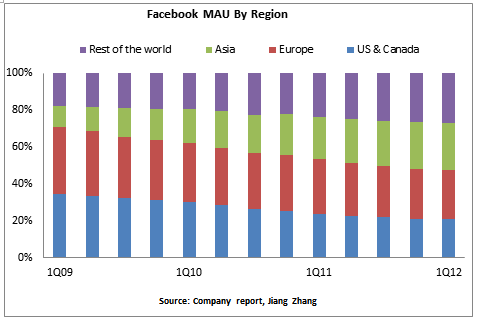 Facebook has the highest percentage of internet user penetration in US and Canada with 69% while still have yet to penetrate half of the internet users in Asia and Europe.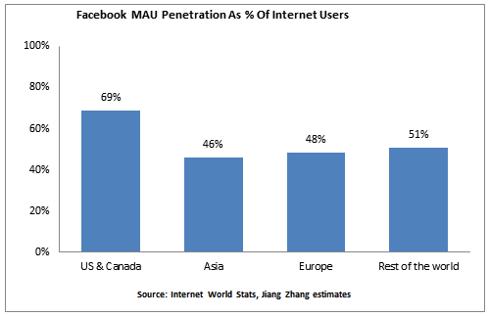 Click to enlarge
While Asia and Europe seem to present Facebook with attractive growth opportunities, the company will likely be challenged by both regional incumbents and global players that have already established barriers to entry with their first-mover advantage, strong network effect, high switching cost and/or government support. Below, I will provide a brief analysis of the key markets and the competitors/challenges Facebook is facing:
Brazil
According to comScore, Latin America is the most engaged social networking region in the world in terms of average hour per visitor.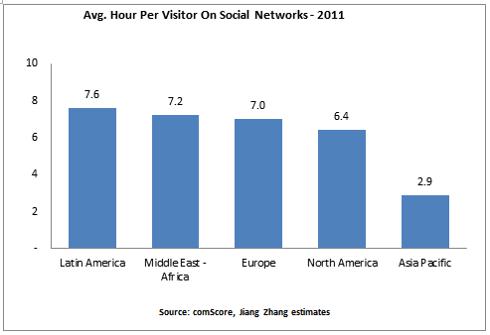 Click to enlarge
Brazil is the largest social network market in Latin America. According to eMarketer, Brazil had 66.2 million social network users in 2011, and will continue to lead other major economies such as Meixco and Argentina in terms of user base. In a separate study by PhoCusWright, a global travel market research company, 85% of Brazilian internet users age 15 and over access a social networking site, compared with 74% in United States and 77% in Japan. Brazilians also average 8.5 hours per month on social networking sites, compared with 6.5 hours in the US and 4 hours in Japan.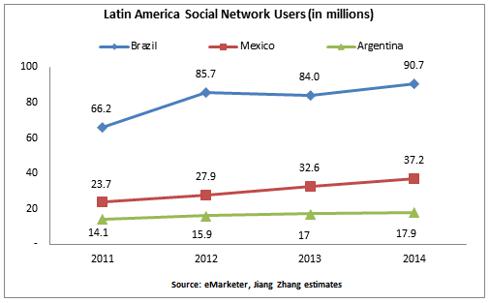 Click to enlarge
In 2011, Facebook witnessed 192% growth in unique visitors and surpassed rival Orkut, owned by Google, to assumed the top position in Brazil's social networking market. Currently, Facebook penetrates 44% of Brazil's internet users.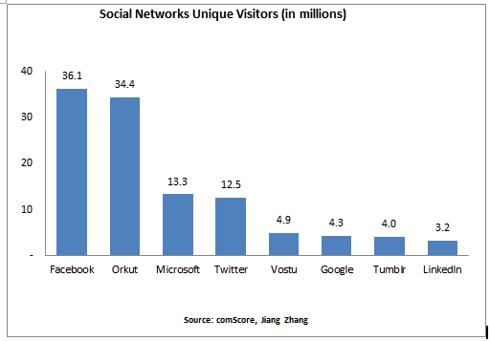 Click to enlarge
While Facebook's growth in Brazil is truly impressive, I believe that the company's growth will be challenged because Orkut:
Still has a strong Brazilian root and a more "community feel" than Facebook due to its understanding of Brazilian preference
Is widely adopted by rural internet users in internet cafes
Has not been completely marginalized by the Facebook adopters since they tend to keep both accounts to communicate with various people
Still experiences user growth, although at a slower pace than Facebook
China
China has the world's largest internet user base and the biggest obstacle for Facebook to overcome.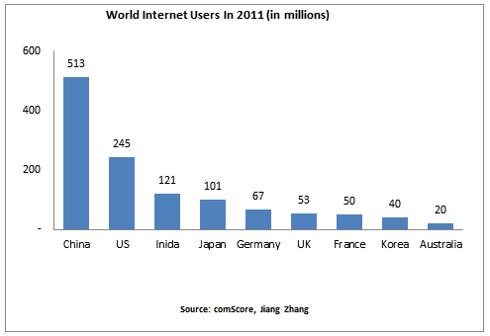 Click to enlarge
In my view, Facebook will not be allowed to operate in China unless it contradicts its own social mission of making the world more connected. In the eye of the Chinese government, Facebook's freedom of self-expression, the ability to amplify information sharing and expansive global reach is a threat to China's stability because it could spark massive social unrest. Unless Facebook abides by Chinese regulation of strict censorship, the company is unlikely to make inroads in China.
Even if it does manage to operate in China, the social network market is dominated by local sites, such as Tencent, Sina (NASDAQ:SINA), Kaixin and Renren (NYSE:RENN).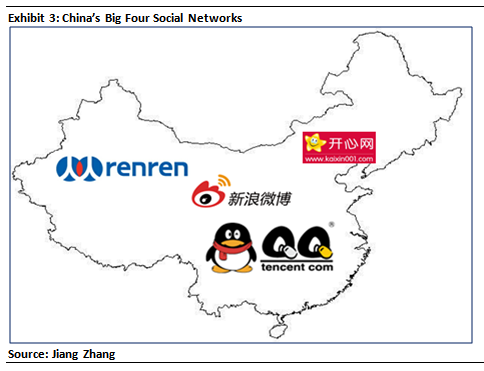 Tencent operates China's largest instant messaging platform, QQ, which has over 700 million user accounts at the end of 2011. The company is able to capitalize on its large user base of its instant messaging product by branching out into social networking with QZone, which has over 530 million users.
Sina operates China's largest microblog, Weibo, which has over 300 million users. In addition, over 130,000 enterprises and 20,000 government agencies and officials have created Weibo accounts to better connect with customers and constituents. Because an increasing number of Weibo users access the platform via mobile devices, Sina is well positioned to capitalize on the mobile ad market.
Renren operates the largest real-name social networking site in China with over 154 million users and 40 million MAUs as of 1Q12. The company's large database of real-name profiles makes it the ideal platform for targeted ads. In addition, Renren is also keen on developing its mobile initiative through partnership with HTC to introduce a Renren-integrated smartphone and its own Android-based mobile OS.
The high barrier to entry due to government regulation and local incumbents make China a difficult market for Facebook to enter and to gain meaningful traction. I have not factored Facebook's entrance into China in my model because the chance of Facebook operating in China is close to nil.
India
As of 1Q12, India is Facebook's second largest market with 51 million MAUs, an increase of 107% y/y. While growing internet penetration and usage by young and educated users have contributed to its growth in India, Facebook could face headwinds due to low advertising spending and social media fatigue.
In 2011, India's online ad spend was $176 million compared to $32 billion in the US as companies faced challenges including lack of trust toward online ads, a low literacy rate, and language barriers. Furthermore, a majority of internet users have not yet been exposed to virtual transactions, creating another headwind for Facebook's payment business.
Another area concern is rising social media fatigue among young users. A recent survey done by Associated Chambers of Commerce and Industry of India on 2,000 urban males and females from the 12-25 age group indicates that 55% of the respondents voluntarily reduced time-spent on social media because excessive social networking caused insomnia, depression, poor inter-personal relationships, distraction, anxiety, ignorance and/or rudeness. Rather than grooming their digital identity and replacing real-life social interaction with online social media, young users prefer chat applications such as Blackberry Messenger, Watsapp, Google Talk and Yahoo Messenger to connect with friends.
Lower ad spends and emergence of social media fatigue makes Facebook's growth in India uncertain.
South Korea
South Korea has the world's highest internet penetration rate at 81% and its internet speed is four times faster than the world average, which bodes well for data-intensive platforms such as social networking, online video and gaming.
However, Facebook only penetrated 16% of South Korea's internet population due to lower adoption of profile-based SNS and weak mobile presence. According to a survey done by the Korea Internet & Security Agency, 84% of respondents prefer blogs, followed by topic-based online communities and personalized homepages that are linked to Cyworld, South Korea's largest social networks. Both profile-based social network sites and microblogs trail other social media platforms by a wide margin.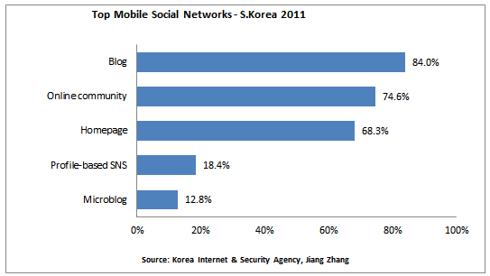 Click to enlarge
Cyworld leads Korea's social media platforms in reach, according to Burson Marsteller.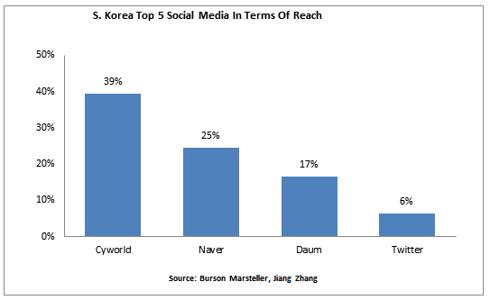 Click to enlarge
Mobile is another headwind. South Korea has 85% mobile penetration and social media engagement via smartphones is the fastest growing segment according to KISA.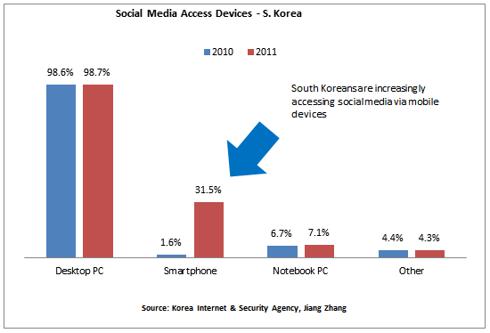 Click to enlarge
Facebook's penetration will be challenged by incumbents such as Cyworld, which dominates mobile visits among popular sites, according to Burson Marsteller.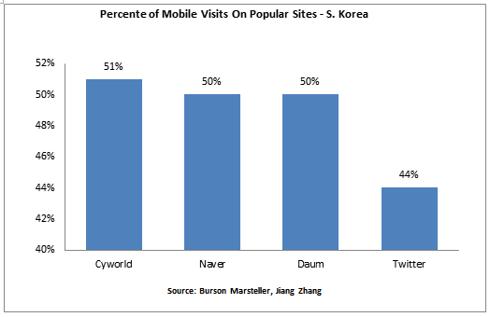 Click to enlarge
Emerging players, such as Kakao and Samsung, are also gaining ground. Kakao allows smartphone users to send and receive messages, including photos and videos for free. The platform currently has over 46 million registered users and 22 million DAUs.
Samsung could also enter the social media space with its Family Story platform that allows owners of Samsung products, such as smart TVs, mobile devices and tablets, to chat, share photos and communicate.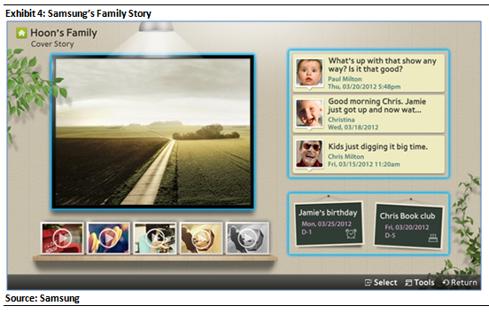 Click to enlarge
According to a report by Korea Times, Samsung plans to pre-install Family Story on all Samsung products starting first quarter of 2013 and integrate with Amazon Cloud. Samsung's entry into mobile social networking is a concern given that the company is more informed of South Korea's market and user preference. Wide adoption of its social networking product by the ubiquitous Samsung mobile devices will pose a serious challenge for Facebook in the country.
Japan
Facebook only penetrates 8% of internet users in Japan. As of March 2012, Facebook has 10 million MAUs compared to Japan's social networking leader, Mixi, which has 15 million MAUs.
Despite the strong growth over the past two years, Facebook's user growth is expected to slow considerably in the near-term, according to estimates from eMarketer.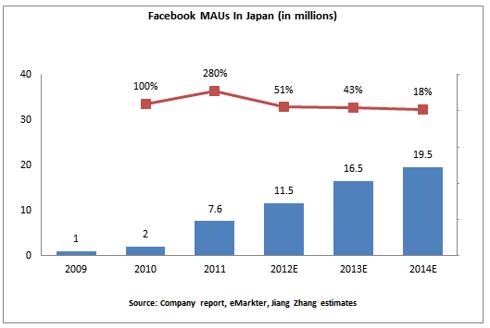 Click to enlarge
I believe that Facebook's growth in Japan will be challenging due to its cultural disadvantage and weak presence in Japan's mobile-oriented society.
Traditionally, Japanese people prefer not to disclose their personal information online. Hence Mixi is popular among Japanese users due to its non-real name social networking platform that allows users to check who has visited their profile as users prefer to be informed of their visitors. Because Mixi operates similarly to Twitter, both companies formed a partnership in ad sharing to fend off Facebook's growth in the country.
Non-real name and visitor information features are not available on Facebook and it is uncertain whether Facebook will adapt to the Japanese preference. Failure to adapt could greatly hinder user growth but altering its platform contradicts Facebook's strength in authentic identity, social graph and value creation for the advertisers, making international growth a difficult balancing act between adaptation and standardization.
Japan is also extremely mobile-centric. According to a recent survey published in January 2012 by SendenKaigi, 49% of the companies surveyed said that they will increase advertising budgets among social media networks. Specifically, more than 35% prefer smartphone as an advertising channel, followed by Facebook (19%) and Twitter (2%).
Unfortunately, Facebook has minimal mobile penetration. According to comScore, Mixi is the leader in mobile social networking in Japan with 11.3% penetration among total mobile population, followed by Twitter and Gree at the end of 2010.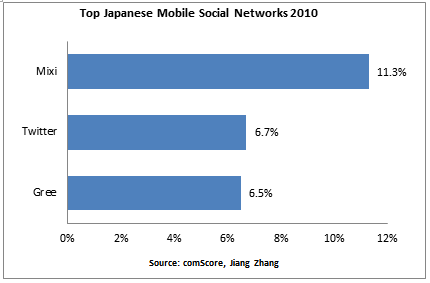 Russia
According to comScore, Russia is the third most engaged social networking country in the world, behind Israel and Argentina. However, Facebook only penetrates 9% of Russia's internet population as of March 2012.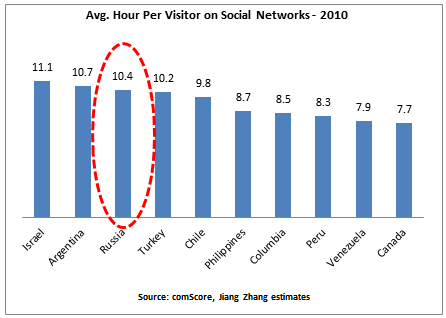 VKontakte, or VK, dominates Russia's social network market with 119 million accounts and is the 4th most visited Russian website. VK shares many similarities with Facebook in terms of functions, features and interface. According to TNS Media, VK attracted over 21 million visitors in January 2012, or ~50% of Russia's 12-49 year old age group.
However, figures could be misleading as many Russians spend a majority of their time on social networking sites to conduct P2P file sharing. In May, the Russian court ruled that VK broke copyright laws and the social networking site might need to take out the P2P function. Although this might sound like a victory for Facebook, investors should note that if P2P file sharing is the largest incentive for users to use social networking site then Facebook is unlikely to emerge as a winner.
Both the domestic and international competition limits the visibility for Facebook's user growth and ARPU. My base case price target of $29 is based on double digit MAU growth for the next five years, followed by low single digit growth as Facebook penetrates a majority of the world's internet population. Ad revenue per MAU was forecasted to grow double digit followed by a slight increase due to mobile monetization. However, if both domestic and international competition intensify, my bear case assumed low single digit MAU growth and mid single digit ad revenue per MAU growth, which derive a bear case target of $17.
Disclosure: I have no positions in any stocks mentioned, and no plans to initiate any positions within the next 72 hours.