By Joey Vazquez, Oxen Group Contributor
We continue our search for the most attractive companies to buy and sell right now. The markets fell today as European leaders gathered in Brussels and after the U.S Supreme Court upheld Obama's Affordable Care Act of 2010. Today, I strive to find attractive companies with strong or weak fundamentals and technicals that will outperform or underperform the markets. Should you buy or sell these companies?
Flowserve Corp. (NYSE:FLS):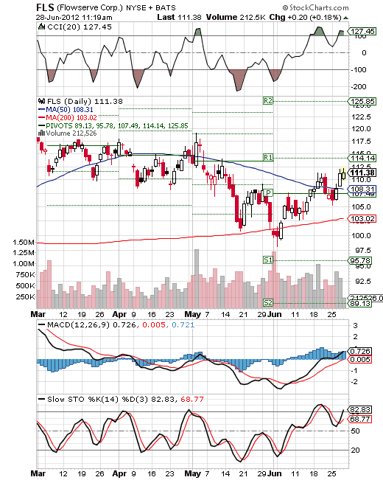 Flowserve looks attractive after an upgrade by UBS AG (NYSE:UBS) yesterday, reaffirming the Buy rating on the stock. Moody`s Investors Service returned FLS rating to investment grade on the 22nd of June, saying FLS should maintain good liquidity while adopting a new capital structure. Both points seem solid as helping placing a bottom in FLS. FLS has recently bounced off support from its pivot point and broke through its 50-day MA on the way up. FLS CCI indicator returned to the +100 area today, implying the start of a new bullish trend. Its stochastics have turned back up and will look to head higher. FLS MACD indicator has been in a strong upwards channel and will look to continue that path.
Trade Idea: Go Long FLS
Entry Range: 111.17- 111.73
Targets: 112.56, 113.68
Stop Loss: 109.22
Our Entry: 111.45
Quanta Services (NYSE:PWR):
(click to enlarge)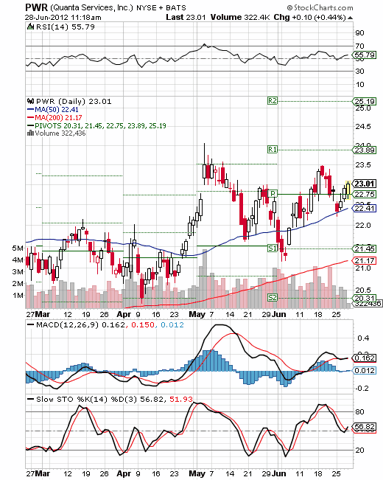 Industrial goods companies have not been extremely strong due to cyclical weakness, but the company has bottomed with the rest of the market. Quanta Services received an upgrade over at DA Davidson in Early May and raised the price target to $25 a share, citing an improved outlook following first quarter results. PWR was recently facing weakness, but it was able to hold its 50-day MA and the stock propelled upwards. PWR re-took its pivot yesterday and will look for it to hold as support now. Its stochastics has crossed over its signal line and is headed higher, signaling a bullish trend. Its MACD indicator looks to be ready to separate from its signal line and head higher as well, a move that would confirm our bullishness. Its RSI indicator is trending higher, but it's only at 55, leaving plenty of room for more buying.
Trade Idea: Go Long PWR
Entry Range: 23.05- 23.17
Targets: 23.34, 23.57
Stop Loss: 22.65
Our Entry: 23.11
Blackrock Inc. (NYSE:BLK):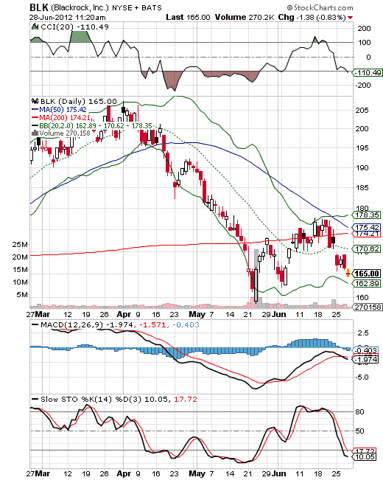 The financial sector has been weak for the most part of the year, especially the Asset Management industry. We like to exploit this weakness by going short Blackrock and its main competitors - UBS AG, Financial Engines Inc. (NASDAQ:FNGN), Invesco (NYSE:IVZ) and Morgan Stanley (NYSE:MS). These companies suffer during weak markets as they have a lot of ties to market direction. BLK started the year on the right path but has fallen apart since the start of April. BLK very recently tried to rally but it was shot down by the resistance of its top Bollinger Band. BLK broke down through its crucial 200-day MA and middle BB price channel. All the weakness BLK is facing is forming a death cross on its chart, giving us a huge bearish indicator. Its CCI indicator entered the -100 area, implying the bearish is going to continue. BLK MACD indicator has just crossed its signal line and is another strong bearish indicator. Its stochastics have been headed lower since BLK failed to break its top BB and will look to continue to go lower.
Trade Idea: Go Short BLK
Entry Range: 165.35- 164.53
Targets: 163.29, 161.64
Stop Loss: 168.24
Our Entry: 164.94
Dow Chemical Co. (NYSE:DOW):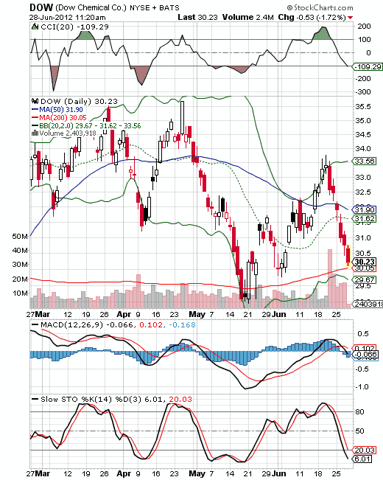 Dow Chemicals has been very weak as of late breaking key levels on its ways down. JPMorgan (NYSE:JPM) took notice of this weakness and downgraded DOW to Neutral from Overweight on the 26th of June. JPM downgraded DOW based on relative valuation, negative operating leverage and near-term earnings weakness. DOW was forming a nice rally in early June but its top BB proved to be very strong resistance and could not break it. DOW broke down through its 50-day MA and middle BB price channel. DOW will now look to break down through its crucial 200-day MA, a move that would be very bearish. Its CCI indicator is indicating it will do so, as it entered the bearish the -100 area, implying the continuation of this weak trend. Its MACD indicator has just crossed its signal line down giving us yet another bearish indicator. DOW stochastics have been headed lower and will look to remain going down, confirming our bearishness.
Trade Idea: Go Short DOW
Entry Range: 30.10- 29.95
Targets: 29.73, 29.43
Stop Loss: 30.63
Our Entry: 30.03
Disclosure: I have no positions in any stocks mentioned, and no plans to initiate any positions within the next 72 hours.