When Disney (NYSE:DIS) acquired Marvel Entertainment, analysts and investors thought the deal was too rich. However, Disney considered the transaction a smart way to strengthen its licensing division and gain access to some blockbuster movies. With the tremendous success of The Avengers and a recent announcement of plans to open a Marvel-themed entertainment park in the United Arab Emirates, the deal may be paying off.

Click images to enlarge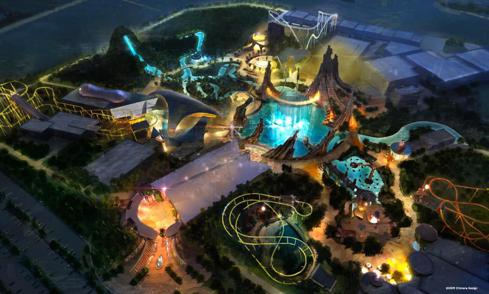 Click to enlarge
The newest announcement calls for the theme park, Marvel Adventures, to open in late 2013 in the United Arab Emirates. The park is part of a project to transform the City of Arabia, which includes entertainment attractions, restaurants, and shops.
Initial plans for a Marvel park in United Arab Emirates were announced in 2007, however, those plans were put on hold as a result of the global financial crisis. The park's original plans called for several roller coasters and thrill rides using Marvel characters. The rides that were announced included:
Flying With Spidey
Fastasticar
X-Men: Danger Room
The project is underway once again, and now sees Disney as a licensee with a hands-off approach to the park. However, it seems that the new park will be scaled back to focus more on interactions between characters and visitors.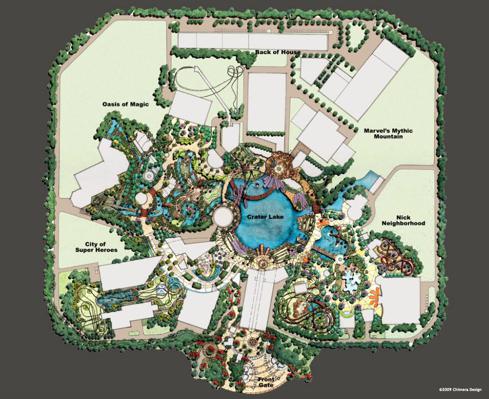 Click to enlarge
Since the Marvel acquisition, investors and comic book fans alike have wondered how Disney would integrate Marvel's vast library of characters into its theme parks. It appears the UAE park is its first attempt, with Paris the next likely destination. In the United States, Universal Studios has exclusive rights to the Marvel characters at its theme parks. Whether Disney will move at some point to reacquire the rights to the characters is unclear at this point.
With its acquisition of Marvel Entertainment, Disney also gained the undervalued Marvel Studios. Previously, Marvel Entertainment had licensed its characters to larger movie companies. Then Marvel decided to create an independent entity, and Marvel Studios was born. After receiving a large loan, it was able to self-finance its movies. Movies made by Marvel Studios are listed below with rounded figures in $millions from Box Office Mojo:
| | | | |
| --- | --- | --- | --- |
| | US Box Office | Foreign Box Office | Total Worldwide |
| Iron Man | 318.4 | 266.8 | 585.2 |
| Incredible Hulk | 134.8 | 128.6 | 263.4 |
| Iron Man 2 | 312.4 | 311.5 | 623.9 |
| Thor | 181.0 | 268.3 | 449.3 |
| Captain America | 176.7 | 192.0 | 368.6 |
| The Avengers | 600.4 | 837.9 | 1,044.0 |
Marvel Studios plans to release at least three more movies in the next two years, including:
Iron Man 3 - 05/03/13
Thor 2 - 11/08/13
Captain America 2 - 04/04/14
Additionally, other characters rumored to be in the movies include:
Ant-Man
Daredevil (reboot)
Fantastic Four (will soon reacquired licensing rights back)
Iron Fist
Dr. Strange
The Inhumans
The Guardians of the Galaxy
Marvel has a library of more than 5,000 comic book characters. Many are smaller and are not well known enough to star in their own big blockbuster movies. However, Marvel can begin cross-promoting its characters within movies to gain awareness, and can also utilize a new The Avengers movie to show off some new characters.
Some of Marvel's best characters have already been licensed away to competing movie studios. For instance Sony (NYSE:SNE) owns the rights to Spider Man, and X-Men has been licensed to 20th Century Fox (NASDAQ:NWS).
Nonetheless, Marvel has bought back rights from other companies before. The rights for The Incredible Hulk were reacquired from Universal, and the rights to Iron Man were gained back from Viacom (NYSE:VIA). Similarly, The Avengers was repurchased from Paramount. Incidentally, Paramount will still receive around 8% of box office and DVD sales for The Avengers.
Disney handsomely rewarded Marvel Entertainment investors in 2009. What's more, those who have patiently held onto their Disney shares have prospered. The 2009 buyout paid Marvel shareholders $30, plus 0.7452 shares of Disney per Marvel share owned. At the time of the buyout, that was good for $53.90 per share at closing. Investors who kept their portion of Disney shares have realized a value of $65.36 per share as of today. When adjusted for dividends, shares of Disney are up 51.1% since the close of the Marvel deal.
In another possible win for its parent company, Disney-owned ESPN today reported a 10-year renewal deal for the Rose Bowl. The deal could prove noteworthy, as it includes the rights to the game no matter how the playoff format shakes out. College football fans have been calling for a playoff format to determine the best team in the country. The deal means ESPN will keep a bowl game, which is likely part of the playoff, on its network through 2026. ESPN continues to be a huge part of Disney's revenue base, making up 30% of fiscal 2011 total sales.
Disney shares were trading at $47.45 at the time of this writing. According to Yahoo Finance, analysts estimate that Disney will earn $3 a share in fiscal 2012, and $3.46 the following year. Disney has actually beaten each of the last four estimates from the same analysts by 5.5%, 11.1%, 9.3%, 6.8%, respectively. This leads me to believe that the recent success of The Avengers and strength of ratings from the NBA Finals on ABC could mean Disney will beat analysts' earnings yet again. Shares trade at 16 times this year's earnings and 14 times forward earnings. Despite trading close to an all-time high, I believe Disney has many years of growth ahead. So I think Disney is a buy on any pullback to $45.
Disclosure: I have no positions in any stocks mentioned, and no plans to initiate any positions within the next 72 hours.