March, April and May are busy times for farmers. March and April mean planting spring wheat, corn and oats. May begins the planting season for soybeans, and in some years, winter wheat can begin to be harvested.
What farmers decide to plant, and how much of it, is determined by many criteria, but the most importance is crop prices. Obviously, farmers seek to maximize the volume and price of their crop for the least expense.
Last year, farmers planted a ton of corn due to high corn demand for corn-based ethanol. Soybeans, oats and cotton were the losers in terms of planting volume ... which probably had something to do with the fact that wheat and soybean prices reached all-time highs in February and March.
So where does that leave the Midwest farmer? Staring into the wind on a cold blustery February morning, running chunks of frozen soil through his fingers, worried about his kids' college fund. Corn, wheat, oats, soybeans or cotton ... some crops are better than others for individual climates, but if you've got a piece of land that can grow one or more on a rotating basis, which horse do you bet on to win?
The USDA releases a Prospective Plantings report at the end of each March - it's the ag investors' bible, more coveted than Louis and Billy Ray's orange juice report. This year's edition is only a couple of weeks away, but of course, already analysts are making predictions as to what farmers are planting this spring, and by definition, the median expectation is baked into current prices. In-print predictions are all over the place: predictions of fewer cotton plantings and even gin closures, or maybe soybean prices will be the deciding factor and we're heading for a soy glut. There's nothing really new here: how-much-of-what is the main water-cooler talk for commodity analysts.
But what does the market itself say? By looking at how each commodity's contracts are priced and if they are in backwardation or contango, can we get an idea of what the market thinks will be planted?
Oats
Not a common grain to think about, but oats can be competition for the other crops. Oats are interesting because they are the only commodity we're talking about here that are continually in contango from the near-month contract all the way out.
Oats CBOT

Mar'08

393'0

May'08

401'6

Jul'08

412'0

Sep'08

420'0

Dec'08

428'4

Mar'09

430'4

May'09

430'4
2007/08 saw the lowest area planted and harvested ever for oats. With harvesting usually occurring August through September, the new crop will be seen in December 2008. That month's contract is trading at a premium of 8.28% to current prices. In other words, the market thinks oats plantings are heading down ... and oats pricing is heading up.
Corn
Because last year saw huge numbers of acres planted with corn, most analysts think that less corn will be planted this year. Other factors? First, soybeans and wheat are commanding high prices, making corn less attractive. Second, the cost of growing corn has risen: Fertilizer costs have skyrocketed in the last two years, and corn takes a lot of fertilizer to grow. That means despite the price of corn, profit is being pinched. Third, look at the contango/backwardation picture.
Corn Day CBOT

Mar'08

556'6

May'08

567'2

Jul'08

579'4

Sep'08

578'6

Dec'08

579'0

Mar'09

586'6

May'09

589'0

Jul'09

592'0

Dec'09

553'4

Mar'10

558'4

Jul'10

562'0

Dec'10

550'4
Corn is in pretty steady contango. A roll from March to May would cost you 2% right now - that's pretty steep. The only bright spots for the roll yield in 2008 are July rolling to September, which is backwardated. Other than that, the prices rise steadily. The Dec'08 contract, the new-crop contact, is trading at a 4% premium to the Mar'08 contract. It looks like the market is expecting less corn available even as the new crop comes in, and ergo, higher prices.
Wheat
Wheat has been incredibly active in the past month or so, with prices in a steady climb due to tight market conditions. Just recently there have been some price drops which analysts say is not because of any change in fundamentals, but because investors believe the gains were overdone.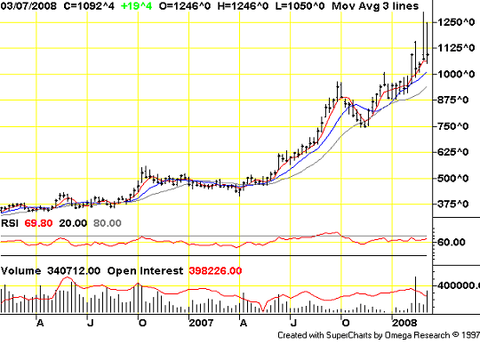 Back to the contracts:
Wheat Day - CBOT

Mar'08

1270'0

May'08

1282'4

Jul'08

1245'0

Sep'08

1251'4

Dec'08

1257'4

Mar'09

1264'0

May'09

1174'0

Jul'09

1133'0

Sep'09

1126'0

Dec'09

1140'0

Jul'10

1110'0
Wheat is in contango through May, then flirts with backwardation for the July contract and then reverts to contango for the next year. Since now is the time that spring wheat is being planted to be harvested starting in July, and given that the July contract is priced at a discount to the current month, it looks like the market believes farmers are going to try and cash in on the recent all-time highs of wheat and plant a bigger wheat crop.
Soybeans
Earlier this week we looked at why's and wherefore's of the soybean market. Now let's take a look at the contracts.
Soybeans Day

Mar'08

1379'0

May'08

1395'0

Jul'08

1410'4

Aug'08

1400'0

Sep'08

1365'0

Nov'08

1317'2

Jan'09

1323'0

Mar'09

1332'0

May'09

1333'0

Jul'09

1341'0

Aug'09

1341'0

Sep'09

1290'0

Nov'09

1278'0

Jul'10

1300'0

Nov'10

1270'0
Contango reigns supreme for the first three months out, but then an interesting thing happens as we slide into the August contract: Backwardation takes over for the following three months. The November contract trades at a 4% discount compared with the current month. Coincidentally, November is when the new crop enters the market (harvesting lasts from September to November). More soy on the horizon?
But Remember
Contango and backwardation have no direct bearing on what gets planted - market forces and individual farmers make those decisions. Supply and demand play into contract prices just like they do commodity prices. If, say, the soy contract for September '08 was 1500, chances are that farmers, smelling an opportunity, would sell the heck out of the contract, knowing that they've effectively pre-sold their crop and can deliver when the time comes. That drives the contract price down, making it less attractive with each incremental sale.
Looking at contango and backwardation can give us an idea of what investors - suppliers, consumers and financial players - think is happening in the field. Historically, financial players have mainly looked one contract out because they are most concerned with rolling their investments forward - demand that puts contango pressure on the near-contract almost regardless of what's happening in the farmer's field. It is only recently that various funds have come out with products to combat the negative effects of contango, effectively letting them hunt and peck to find the best contract for their fund. This (theoretically) has the effect of lowering demand for the near month, and increasing it for sweet spots of backwardation further out, ultimately flattening the curve.
Spreading the financial players' demand across more months - again, theoretically - could increase the overall market's sensitivity to the real supply demand forces. So while looking at contango/backwardation probably gives us more insight into the Prospective Plantings report than most one-off analysts, we won't really know until the crops are in the ground.
Links
Feed Outlook USDA, Economic Research Service, March 13, 2008
World Agriculture and Demand Estimates USDA, March 1, 2008
Farmers expected to plant less cotton Commercial Appeal, March 1, 2008
Rising soybean prices may lead farmers to switch crops in 2008 Minnesota Public Radio, January 6, 2008