On news of the Supreme Court upholding the ACA and anxiety over the Euro summit, silver sold off today to hit a 19-month low.
Silver, which has industrial uses that gold lacks, exceeded gold's losses Thursday. Silver is used in electronics, solar panels and photography. The July-delivery contract slumped 2.6% to settle at $26.247 an ounce. That is the lowest ending price since November 2010.
In light of this, you'd think silver investors would be cutting and running. However, this hasn't quite happened yet, according to Gene Arensberg from Resource Investor:
"More recently, as silver has fallen below $30, instead of SLV holders acting all fearful and rushing the exits, they have been doing a little dip buying instead. For example, in late April with silver then near $30 and threatening to break lower, SLV reported holding 9,552.14 metric tons of silver metal in their London-based custodian's vaults," he said.

"Today, as we write, with silver trading either side of $27.00, not far above its $26 implied support, the silver trust reports holding 9,875.75 tons, or more than 323 tons more silver than in April," Arensberg wrote. "That doesn't sound like the silver bears have gotten into the thought centers of the funds holding SLV, does it?"
Seeing what tomorrow will bring in terms of news from Europe (as well as silver and GLD prices) should be interesting. Obviously, any increased liquidity measures from central banks would give precious metals a solid boost. But with silver breaching implied support (at least for today) and the ETF hitting fresh lows, why hasn't a massive sell-off been triggered?
My operational theory is that the consolidation/downtrend has eliminated many of the players who "hopped on the silver bandwagon" after the historic run-up from Aug '10 into May of last year. These "investors" (note the airquotes) weren't necessarily in it for the long-term, but hoping to grab some quick profits. It's quite possible that many of them bought near the peaks, or even in summer before the second leg down in September, and these "investors" have been unable to bear the 20-50% losses they've sustained. As such, the majority of those still holding silver ETFs are the same type of investors holding physical bullion: those in it for a longer term. These types of investors are less likely to sell off right now, because they believe in the long-term fundamentals for silver that I've described previously.
While this is obviously just a theory, I think there's some anecdotal support in volume data. See the chart below -- volume has been dropping in the ETF, which suggests that there's less "trading" going on.
(click to enlarge, source: FreeStockCharts.com)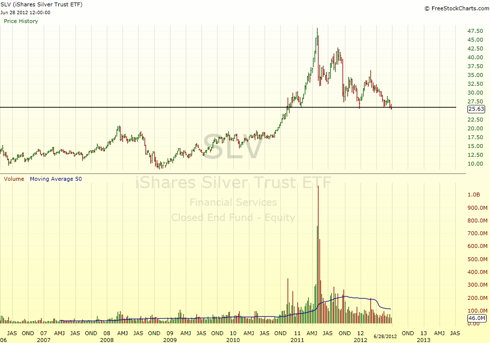 The market bears close watching during the next few weeks. Some investors have suggested that silver will hit $40 by year end, while others believe it will first breach support and head to the $23-$24 range or possibly lower.
Whatever the case, given silver's history of volatility, it's highly unlikely silver prices will remain sticky for long. So whether you're a bull or a bear, now might be a good time to put your cards on the table.
Disclaimer: I am an individual investor, not a licensed investment advisor or broker dealer. Investors are cautioned to perform their own due diligence. All information contained within this report is presented as-is and has been derived from public sources & management. Always contact a financial professional before making any major financial decisions. All investments have an inherent degree of risk. The future is uncertain, and actual results may be materially different from those expected. Past performance is no guarantee of future results. All views expressed herein are my own, and cannot be interpreted as the views of my employer(s) or any organizations I am affiliated with. Presentation of information does not necessarily constitute a recommendation to buy or sell. Never make any investment without conducting your own research and reading multiple points of view.
Disclosure: I am long SLV.