Main revenue drivers of online advertising companies like Yelp (NYSE:YELP) are local advertisements and product ads. According to Yelp's business model, companies are required to either to pay fixed fee or share profits in order to take advantage of Yelp's sponsored placement. This feature allows companies to be on the top of Yelp's search and appear while viewing any related businesses. Based on the pre IPO statistics the biggest portion of Yelp clients were Restaurants (42%), Shopping (20%) and Nightlife, Beauty/Fitness and Arts (22%).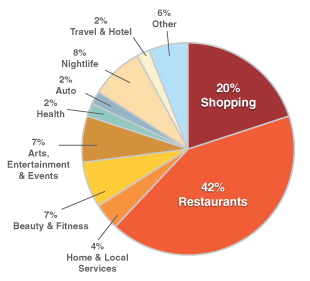 A "sponsored user" is not necessarily a "paying customer"
Since Yelp's main operational drivers include the number of paying customers, growth of customers database and average fee per customer our analysis included more than 30 companies within various industries spread all around USA that were using local advertising services on Yelp to elicit any information regarding possible drawbacks in main revenue drivers.
Impressions and information gathered from at that time current Yelp customers was very diverse. However there was a pretty interesting overlap between "sponsored ad" users and non-paying customers.
In order to get a sponsored placement on Yelp, a business should either pay a flat fee of $300 a month or sponsor a Yelp deal with 30%/70% revenue breakdown after discount. This allows businesses to stay on the top of search and appear on pages of related businesses. However, Google (NASDAQ:GOOG), as the biggest generator of traffic, doesn't give any preference to businesses that sponsor their placements and only ranks best rated companies on the top of Google search. This phenomenon doesn't allow companies with sponsored placement to get the most out of their invested capital.
Another important observation was that about 40% of companies that had all privileges of sponsored placement haven't paid a penny to Yelp. It may sound surprising at first, but it turns out that once a business agrees to do a Yelp Deal promotion it automatically upgrades to a paying customer. As we were told by several business owners there are no rules or guidelines for these deals, which allows businesses to come up with any deals they want. As a result some businesses were running deals that had a very low likelihood of ever being purchased. One Mediterranean Restaurant in Georgia had a 30% off deal that offered $240 worth of food for $168 while the average menu item was priced at $7-$8 dollars. Disclosure note of this promotion mentioned that this deal can only be used from 11 A.M to 3 P.M Monday-Thursday (this restaurant doesn't serve any alcohol).
People want reviews, not promotions
The initial idea of Yelp is different from the one that Groupon (NASDAQ:GRPN) has. Yelp is valuable for reviews and not promotions. People realize that having a yellow square around company's name or being on the top of search with very few reviews/ratings means the business is paying for it. That's exactly the reason why many non-paying business owners will never do a sponsored placement through Yelp, because it simply destroys their value. In addition to that it sounded as if most companies that were successful in driving additional traffic through Yelp were Yelp's non-paying customers that didn't see any value in additional advertising.
Even though the number of companies we conducted research on may not be enough to draw conclusions about drawbacks in Yelp's business model, it's definitely enough to see that these problems exist and may negatively impact future company's performance.
Disclosure: I have no positions in any stocks mentioned, and no plans to initiate any positions within the next 72 hours.