In light of the Supreme Court upholding most of the health care bill today, many healthcare companies are worth a look. One such company is Aetna (NYSE:AET), a major health insurance company. The stock has been suffering lately, but might be worth a look at current valuations. The market's immediate reaction to the announcement was largely negative, and fallout may continue for a few days or even weeks -- but nonetheless, Aetna's worth a look for several reasons.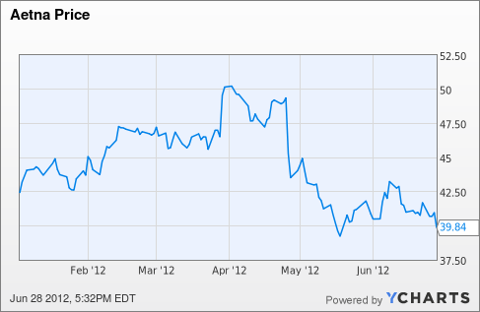 The Supreme Court's announcement on the health care bill has provided markets a definitive answer on the future of the health care industry. This clarity could spur a rally in healthcare stocks that investors were afraid to touch due to the lack of certainty. (It's also worth noting that according to Aetna, their business strategy has not changed due to ACA. And, of course, there's a good chance that Romney will win the election and subsequently repeal the healthcare law.)
Aetna has a lot less debt to deal with than many of its peers: Aetna's Debt/Equity ratio of 38%, while the Health Care Providers and Services industry has an average of nearly 100%.
Forward EPS growth is projected at a very solid 10.5%, in line with Aetna's five-year history of 12% annualized EPS growth.
Aetna's trailing P/E is a dirt cheap 7.97, which is about half of the healthcare industry's average of 15.73. Aetna's PEG clocks in at 0.77, suggesting future growth is not adequately priced in the stock.
Aetna has positive analyst consensus behind it. Of the 22 firms with reports on Aetna, 7 have a "strong buy" recommendation, 5 have a "buy" recommendation, 9 say "hold," and only 1 says "reduce." No analysts have outstanding "sell" ratings.
Analyst price targets range from a low of $44 to a high of $59, with a mean of $51.60. The mean target represents an upside of over 20%.
While Aetna's dividend isn't staggering, it does provide investors with some guaranteed return. The current dividend yield is 1.71% and the dividend has been increased twice in the past two years.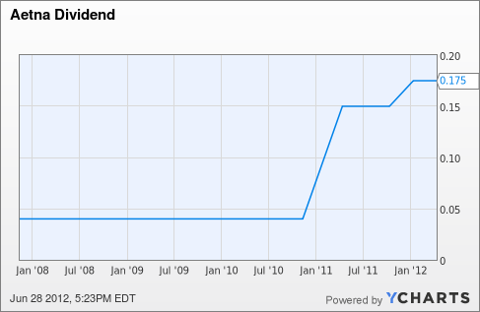 AET Dividend data by YCharts
Disclaimer: I am an individual investor, not a licensed investment advisor or broker dealer. Investors are cautioned to perform their own due diligence. All information contained within this report is presented as-is and has been derived from public sources & management. Always contact a financial professional before making any major financial decisions. All investments have an inherent degree of risk. The future is uncertain, and actual results may be materially different from those expected. Past performance is no guarantee of future results. All views expressed herein are my own, and cannot be interpreted as the views of my employer(s) or any organizations I am affiliated with. Presentation of information does not necessarily constitute a recommendation to buy or sell. Never make any investment without conducting your own research and reading multiple points of view.
Disclosure: I have no positions in any stocks mentioned, and no plans to initiate any positions within the next 72 hours.